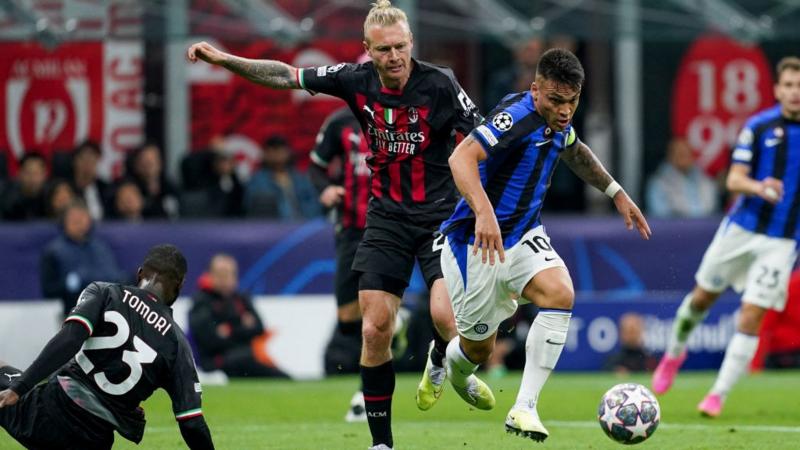 AC Milan 0-2 Inter Milan 'Worse than AC Milan wildest dreams' but will Inter have big regrets?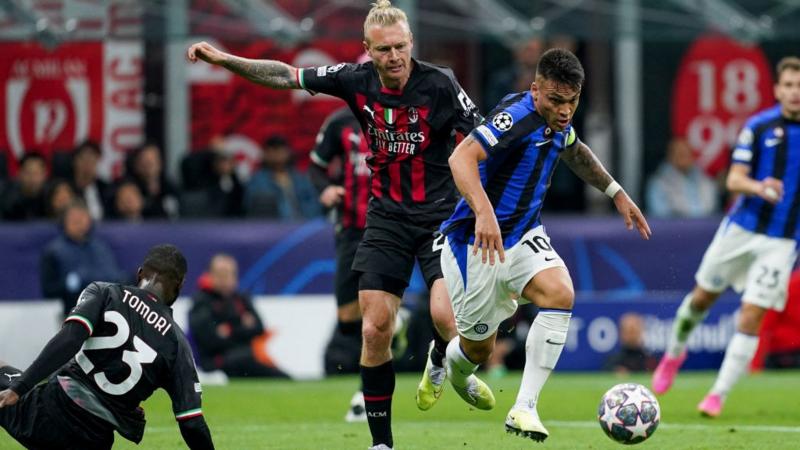 For one team, it was a nightmare start.
After weeks of hype about the first Milan derby in the Champions League since 2005, AC Milan trailed 2-0 inside 11 minutes.
This had not been the plan. Before kick-off, the 'home' supporters – both legs will be played at San Siro – unfurled a giant display of a devil's face, along with the words: "Hell is empty, all the devils are here!"
But it was quickly heaven for Inter fans, thanks to goals for Edin Dezko and Henrikh Mkhitaryan.
"Everything that could have gone wrong for Milan has done," said former AC Milan goalkeeper Asmir Begovic at half-time.
"It is an absolute disaster and one in their wildest dreams they could not have imagined."
But after a host of missed Inter Milan chances and a controversial video assistant referee decision, have AC Milan been handed a lifeline they didn't deserve?
'AC Milan had stage fright'
A Milan derby is always a memorable occasion but one in a European competition is something to savour.
Only twice before Wednesday's Champions League semi-final first leg had AC Milan faced their fierce city rivals Inter on the continental stage and both sets of supporters were determined to make the most of it.
AC Milan, the designated home team at the San Siro stadium the two sides share, had by far the greater number of fans inside. A wall of noise, red smoke flares and large banners made for an intimidating atmosphere.
But it was the away side who came out swinging. After racing into a two-goal lead, they also hit the woodwork through Hakan Calhanoglu as AC Milan were left exposed time and time again.
Inter even had a first-half penalty awarded to them for a foul on Lautaro Martinez before the decision was controversially overturned following a VAR review.
Inter Milan boss Simone Inzaghi said: "We played a brilliant first half, but it's a tight scoreline for what we did out there.
"It's a hugely positive night which gives us a lot of satisfaction but we're missing one more piece to attain a dream that we believed in since August."
Former Liverpool striker Peter Crouch said on BT Sport: "I found it bizarre for AC Milan to be so passive. Inter could have been out of sight."
Ex-Manchester United defender Rio Ferdinand added: "Inter came out like a bunch of sprinters at the Olympics and AC Milan had stage fright."
'He threw himself down'
The big decision came in the 31st minute. Inter were awarded a penalty as Martinez went down inside the box following a Simon Kjaer challenge.
But when referee Jesus Gil Manzano was urged to check the pitchside monitor by VAR, the decision was overturned.
Manzano did not feel there was enough contact from Kjaer, who had grabbed Martinez's shirt before he went down.
"He absolutely tried to con the referee. He felt a hand on his waist and threw himself down," said BBC Radio 5 Live pundit and former Chelsea winger Pat Nevin.
"I am delighted the referee changed his mind."
But others were not so sure.
"I think there is contact so I am surprised they overturned it," former Manchester United and Bayern Munich midfielder Owen Hargreaves told BT Sport.
"It is a penalty. He gets clipped and had an arm around him. If he feels something, he is going to go down.
"Inter Milan were brilliant but with the penalty and missed chances, there will also be big regrets."
Ex-Liverpool captain Steven Gerrard added: "I think he kills himself by the reaction. I think technically the penalty should have stood. The ref looks and thinks the contact is not enough for the reaction. He goes to the screen and sees it is minimal contact."
'A world-class striker'
Inzaghi put his faith in experience and it paid off as 37-year-old Dzeko got the opener after eight minutes before 34-year-old Mkhitaryan got the second.
It was the first time two players aged 34 or above have scored for a team in a Champions League knockout match.
"Dzeko is a world-class player," said Begovic, who played alongside Dzeko for Bosnia-Herzegovina. "It is no surprise to me he is doing this, having known him for 15 years. He has hold-up play, technique, maybe lacking a bit of pace.
"He is dedicated to the game, disciplined, looks after himself immaculately. He leads the front line perfectly."
Only one team in Champions League semi-final history have won the first leg by two or more goals and not reached the final – Barcelona, who lost a 3-0 lead against Liverpool in 2018-19.
But, despite the two-goal advantage, Inter know their place in a first Champions League final since 2010 is not booked yet.