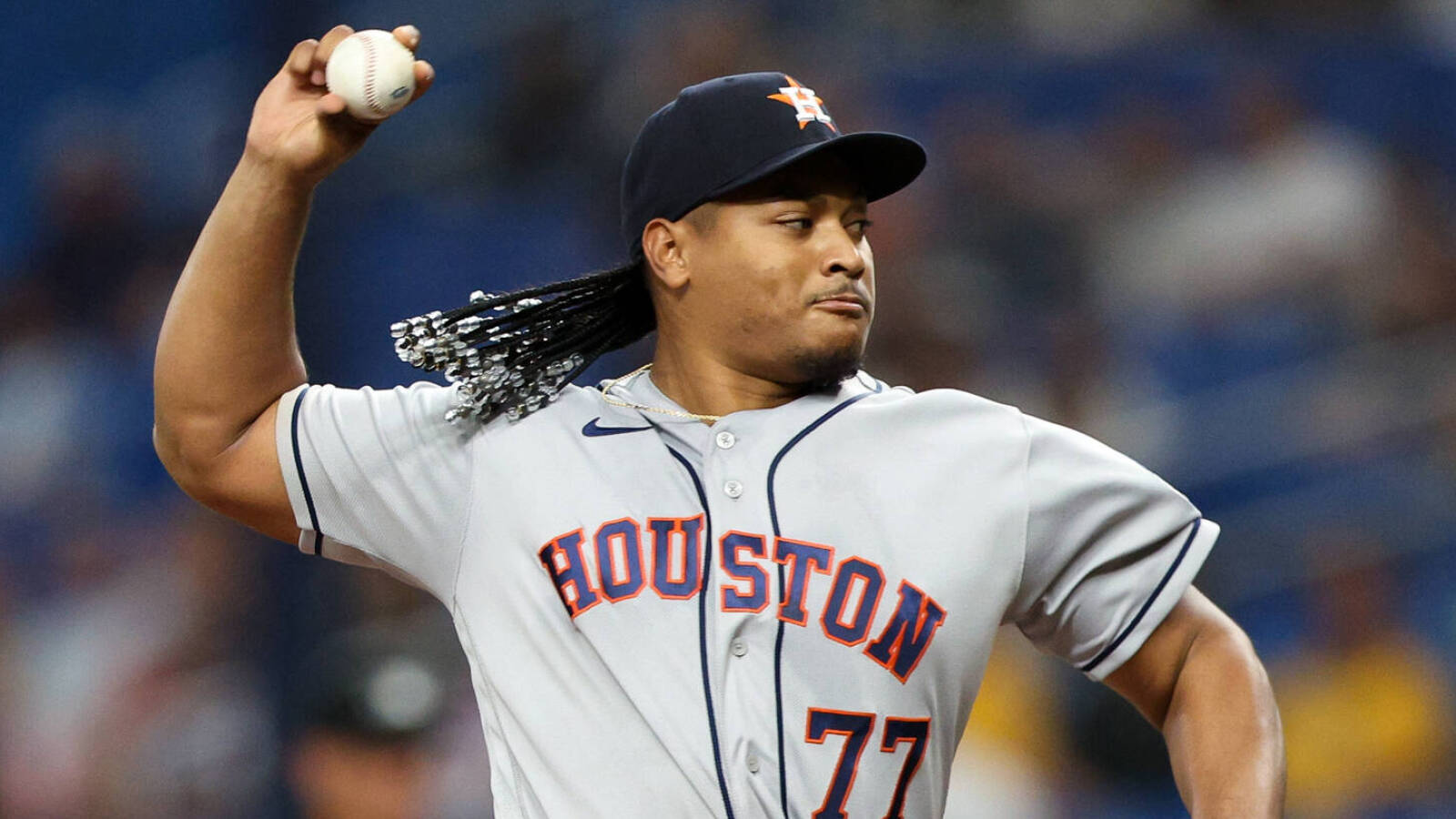 Astros starting pitcher to undergo Tommy John surgery
Astros starter Luis Garcia will undergo Tommy John surgery, per a team announcement. He'll miss the rest of the season and quite likely a good chunk of the 2024 campaign as well.
It's a brutal blow to the defending World Series champions. Garcia has been a pivotal member of the starting staff. After a brief debut during the abbreviated season, Garcia secured a rotation spot in 2021. The Venezuelan-born hurler started 28 games in each of the next couple of years, tossing between 155 and 160 innings. He allowed fewer than four earned runs per nine with better-than-average strikeout and walk rates during each year.
The 26-year-old had been off to a similar start in 2023. Through six starts, he tallied 27 frames of 4.00 ERA ball. Garcia had punched out 27% of batters faced against a serviceable 8.7% walk rate. For his career, he's now up to 352 innings with a 3.61 ERA while fanning a little more than a quarter of opponents.
Unfortunately, Garcia departed Monday's start in the first inning with elbow discomfort. He'd thrown just eight pitches and was working with diminished velocity before his early exit. The Astros sent him for an MRI that apparently revealed damage to the UCL in his throwing elbow.
Houston is also without José Urquidy and Lance McCullers Jr. at the moment. Urquidy has been dealing with shoulder inflammation and is midway through a 10-day shutdown period. McCullers is building back from a muscle strain in his throwing arm. Garcia's injury is even more serious and leaves the club with a top-heavy starting staff. Framber Valdez, Cristian Javier and rookie Hunter Brown make for an excellent top three. The final two spots have been thrown in flux. Brandon Bielak is moving into the starting staff, while 28-year-old J.P. France is coming up for his major league debut Saturday.
Bolstering the rotation midseason could well be a priority for general manager Dana Brown and his front office. Houston has started the season with a pedestrian 16-15 record. They're still within 2.5 games of the division-leading Rangers, and it'd be a surprise if the Astros weren't in position to add to the MLB roster midseason. Notable external solutions aren't likely to be available for over a month, though, leaving Houston to rely upon a group of mostly inexperienced depth starters from the upper minors.
Garcia is already on the 15-day injured list. He'll be transferred to the 60-day IL whenever the club needs to free a spot on the 40-man roster. He can remain on the IL for the rest of the season but will need to be reinstated onto the 40-man over the winter. Garcia will collect service time for his rehab time, pushing him past the three-year mark by the end of the season. He'll be eligible for arbitration for the first time next offseason and isn't ticketed for free agency until the 2026-27 offseason.