Canberra Raiders v Cronulla Sharks, Brisbane Broncos v South Sydney Rabbitohs results, kick off time, updates, Round 1 news, Corey Harawira-Naera re-signs
The Raiders have received a boost ahead of their first match of the season, with confirmation international forward Corey Harawira-Naera has signed a new deal with the club.
The New Zealand forward, who joined the Raiders in 2020 from the Bulldogs, has committed to the club until the end of 2025.
"The club has been really welcoming since I've been down here after leaving another club," Harawira-Naera said. "It's very exciting, I love my life down here and I love the boys and I'm glad that the club want to have me as well because most players struggle and get a bit worried when their contract is on the line.
"I'm glad to get it done and I can focus on the season."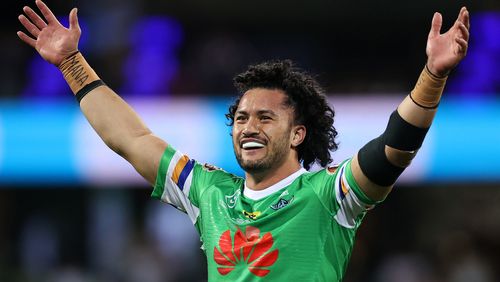 The 26-year-old said the club was hoping to improve on a 10th place finish last year.
"Last year was probably really disappointing for the whole club and us players in general, but it's been a fresh and good start in the preseason," he said. "In the trials, the boys played well, and everyone is looking fit, and everyone is keen for the season to start now."