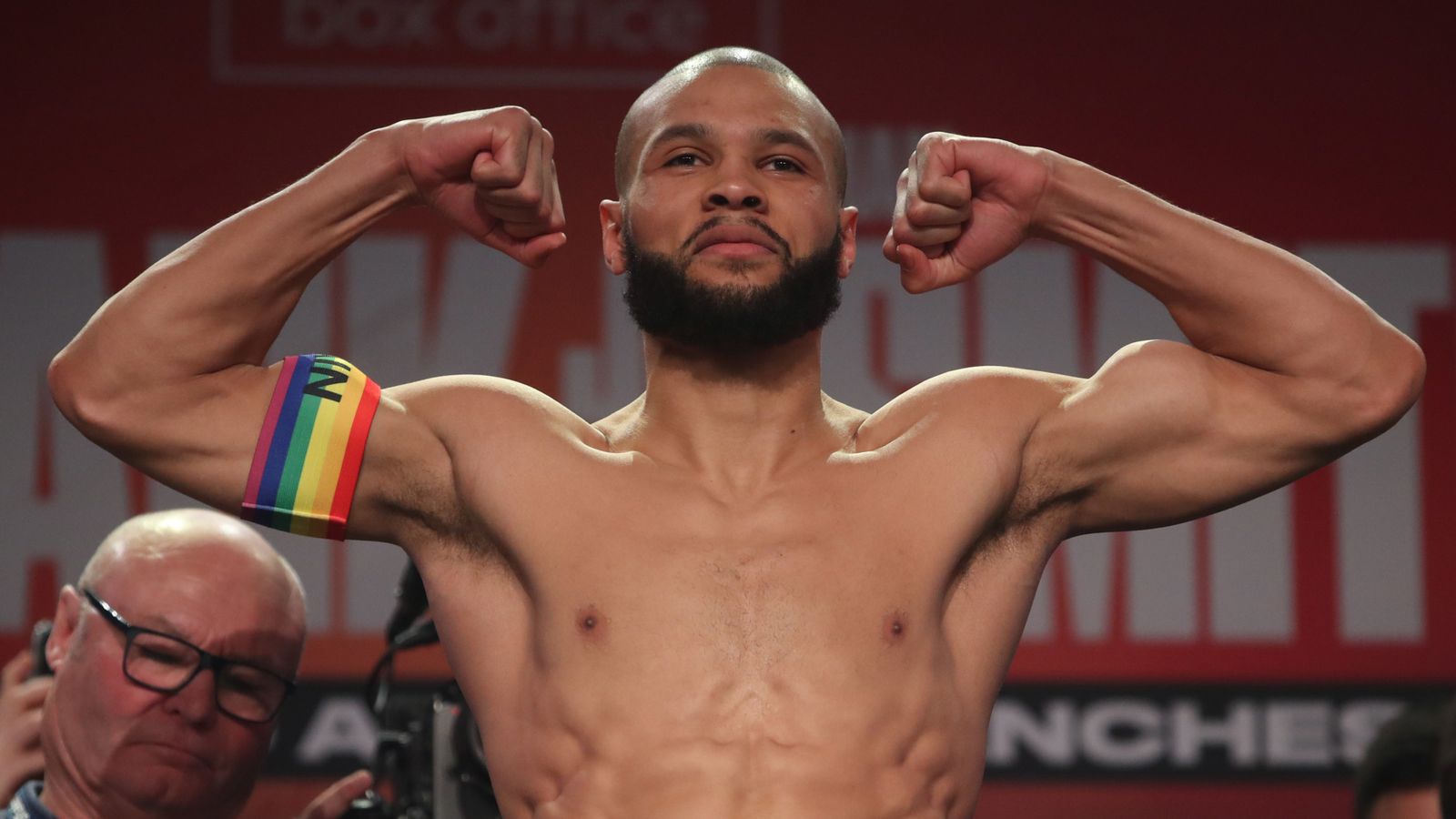 Chris Eubank Jr: 'The ferocity is always there, waiting for the right time to be unleashed' | Boxing News
It is the night before what would be the biggest victory of Chris Eubank Jr's career.
He sits on a sofa in his hotel suite, arms folded, knowing better than anyone that this time tomorrow he will in all likelihood be sat in his dressing room at the Manchester Arena, preparing to fight.
He boxes Liam Smith live on Sky Sports Box Office on Saturday night and now all that's left for him to do is wait.
Chris Eubank Jr and Liam Smith face off at the weigh-in ahead of their huge fight in Manchester

"It's now the twilight hours the night before the fight. You've got to relax, refuel, rehydrate, calm your mind, body and soul to get ready for war," he said quietly.
"And that's what really this fight will be. I think it will be a war. I think it's going to be a savage display of boxing. And the fans are in for a hell of night."
Although he can fight with a ferocious, perhaps impetuous, style, he needs to keep an element of that calm focus in Saturday's contest.
"It's a mixture of both, sometimes you've got to be ferocious, sometimes you've got to move your head, think, move, defend. But the ferocity is always there, waiting for the right time to be unleashed," he told Sky Sports.
"It's the type of fighter I am."
Now the fighters have made weight, they can regroup and focus solely on their real task, the fight.
Chris Eubank Jr says he plans to win in devastating fashion after weighing in against Liam Smith

At Thursday's press conference, on the final day of their weight cuts, tempers frayed as the public event descended into insults and derogatory language.
Eubank was the subject of homophobic taunts and Smith the subject of taunts about social class.
Smith apologised afterwards. The British Boxing Board of Control has said it will be considering the conduct of both boxers.
"I think that was mainly on his side. I was reacting to what was being said to me and I fought fire with fire, which as a fighter is what you have to do. He wanted to get personal," Eubank said. "I took it there with him.
"He came out swinging like that as far as I remember," Eubank continued.
"It felt like he had a lot of stuff that he had built up in his mind that he was going to say. He just waited for that chance to shoot it all out there and a lot of it came out wrong. Or maybe it didn't?
"People didn't appreciate it and neither did I and all I can do is apologise to the people he may have offended. And if I said anything that offended anybody, then I guess I apologise too."
At Friday's weigh-in, Eubank Jr took to the scales wearing a rainbow armband in an apparent signal of support for the LGBTQ+ community.
Eubank Jr later tweeted: "We don't discriminate… we don't alienate. We want boxing and sport as a whole, to be all inclusive."
Both made weight on Friday and with one last staredown completed could turn away from one another. They won't face each other again now until it's time to step into the ring.
Liam Smith insists that Chris Eubank Jr made their fight personal and he's 100 per cent confident he'll secure the victory

Eubank Jr has felt a shift in the tide of public opinion.
At the weigh-in at Manchester Central, he heard the boos for him, the cheers for Liam Smith, but he also heard his own name being cheered too.
"It was about 50-50, maybe. A couple of cheers, a sprinkle of boos. My last weigh-in and press conference it was all boos. So we're 50 per cent better this time. Working our way up slowly," he said with a smile.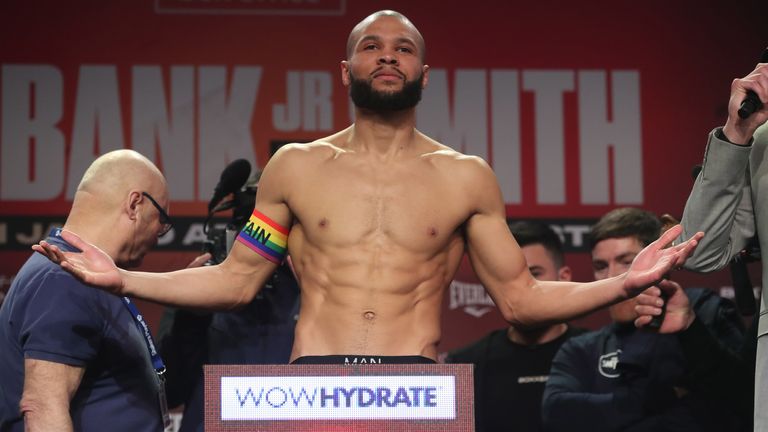 "It'll be interesting to see the reception on the night."
What will win over the crowd in Manchester, though, will be the nature of the contest.
"At the end of the day, where you're from, who you support, none of that actually matters. Whoever performs, whoever's the better fighting man on the night, they are appreciated and they are respected," Eubank said.
"So I have to make sure that's me."
Chris Eubank Jr vs Liam Smith is on Saturday January 21, live on Sky Sports Box Office. Book it now if you are a Sky TV subscriber or a Non-Sky TV subscriber.