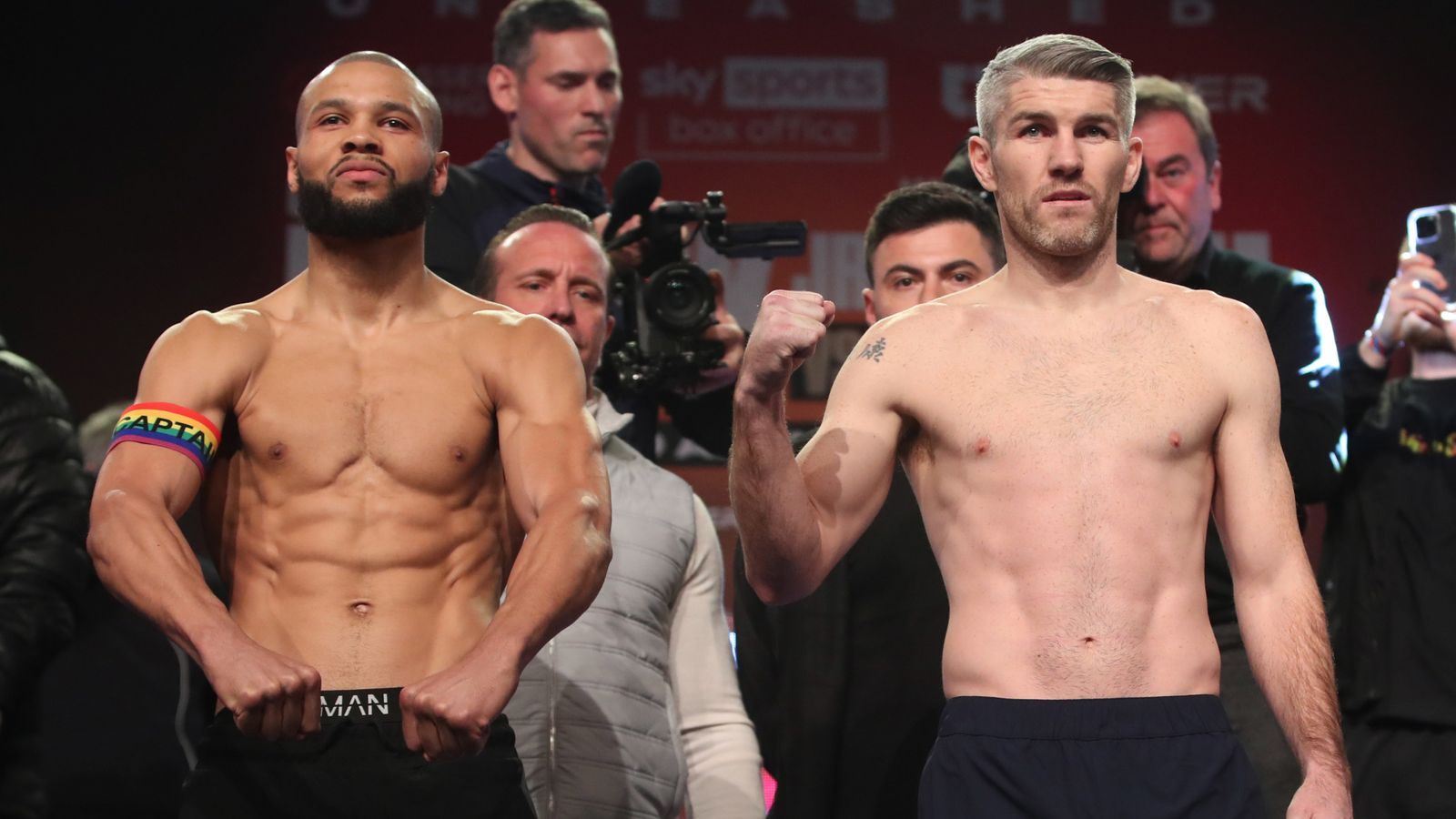 Chris Eubank Jr vs Liam Smith: Predictions from boxing experts ahead of much anticipated all-British showdown | Boxing News
We asked boxing experts for their predictions ahead of Chris Eubank Jr's showdown with Liam Smith tonight at the Manchester Arena, live on Sky Sports Box Office.
George Groves
I've got a Eubank win. Liam Smith is a good, solid, well-rounded pro. He was an elite amateur, he won an ABA title, he's from a boxing family. He's been a professional now for 12-plus years and he lives the life, he's working hard, he's been in big fights, he's a former world champion but he's giving away a lot of size against Eubank.
Eubank's lost to me, he lost a split against Billy Joe Saunders but it could have gone either way. So he's not in the company of losing, he's not in the mindset of losing.
Jamie Carragher has backed Liam Smith to come out on top against Chris Eubank Jr, but expects it to be a close fight

If he punches with spite and volume, he might even stop Liam Smith, who has been stopped before by Canelo Alvarez who is obviously a pound-for-pound fighter. But he can be hurt, he can be hurt to the body. If Eubank targets the body I think he might stop him.
Amir Khan
I've done some training with Liam Smith, a hard worker, trains very hard. He's a tough fighter especially when he puts that attack on you. He's got great pressure, throws some great shots and hits quite hard. I've got Liam winning that fight.
Even though a lot of people are going to favour the younger fighter in Chris Eubank Jr. I just feel experience, in this case, will take a toll.
Chris Eubank Jr and Liam Smith face off at the weigh-in ahead of their huge fight in Manchester

Joseph Parker
I'm quite on the fence, it is one of those fights. Eubank, you get in close, he's got the flurry of punches and he can continue doing it for the whole fight.
Liam Smith is one tough guy, but he has to come in and take shots to give shots. He's faced some great fighters as well.
I'm so intrigued, but I can't call it myself. I don't think it's going to go the distance – it's going to be exciting.
Chris Eubank Jr says he plans to win in devastating fashion after weighing in against Liam Smith

David Haye
Chris Eubank Jr, stoppage, round 10. I'm hoping he's not overlooking [Smith]. I hope he's not looking at "GGG" [Gennadiy Golovkin] and people in the future because this is his toughest fight to date. He has to win this fight.
Not only does he have to win it, he has to win it looking good, if he wants to send a message out to the rest of the division, middleweights, super-middleweights: 'I'm the guy in this division, look what I've just done.'
Talking to Roy Jones Jr, talking to Ronnie [Davies], his coaches, they both said to me he's in tip-top shape. So they're expecting something special.
Liam Smith insists that Chris Eubank Jr made their fight personal and he's 100 per cent confident he'll secure the victory

Andy Lee
It's a great fight and I'm back and forth. One day I think Liam's going to win, the next day I think Chris because you can see how both guys could win.
Eubank's very good when you step into his range. He can punch all day. When you're in that mixer with him, in that range, he just doesn't stop punching. There's a lot of fight in him.
Liam's not just your basic come-forward type of fighter. There's a lot of craft and skill to what he does.
It's a real hard one to pick a clear winner. When you know both guys as well, it's really hard to say that one is going to win.
Liam Smith dismissed Chris Eubank Jr's punch power as the pair clashed repeatedly at the final press-conference

Liam Williams
I feel like Smith is going to win this fight. It's interesting because Smith doesn't like to take a backward step. Eubank is not one to be bullied. He's got that mindset. His mindset is almost like he's unbeatable. He's strong mentally, that's not to say he can't be beaten.
They're both very mentally strong, I feel and I just think they're not going to want to be bullied or pushed back. So I think it's going to be a cracking fight.
It's a very even fight. But I think Smith might just have that little too much work rate and nick it on the cards.
Roy Jones Jr claims that Chris Eubank Jr is not stuck between styles like critics have suggested and adds that his fighter is 100 per cent ready to face Liam Smith on Saturday night

Johnny Nelson
I'm going Chris Eubank Jr to win. I think I changed my mind this week. Probably the one with the most boxing talent is Liam Smith. Timing is everything. He's not what he was but what he is now beats most fighters in Europe.
The timing on this one may be right for Chris, with his fitness, his size, his engine. So that evens it up for his lack of boxing ability compared to Liam. He's a good fighter, not a bad boxer but he's a better fighter than he is a boxer.
So I think the size and the timing is everything.
The bad blood between Chris Eubank Jr and Liam Smith showed no sign of ending at the head to head following the press conference

Frazer Clarke
My prediction is Liam Smith. I've got Smith just edging it. I can see a close fight, I'm not sure which way it's going to go but Smith-Eubank 2, I can already see that in the summer.
Eubank is as tough as old boots. He's a fighter through and through. When it gets tough and in the trenches, he's got it. I think the one thing he might struggle with is he doesn't have as much experience. That could be a little factor for me. It's all about IQ and who can box the best.
Chris Eubank Jr vs Liam Smith is on Saturday January 21, live on Sky Sports Box Office. Book it now if you are a Sky TV subscriber or a Non-Sky TV subscriber.