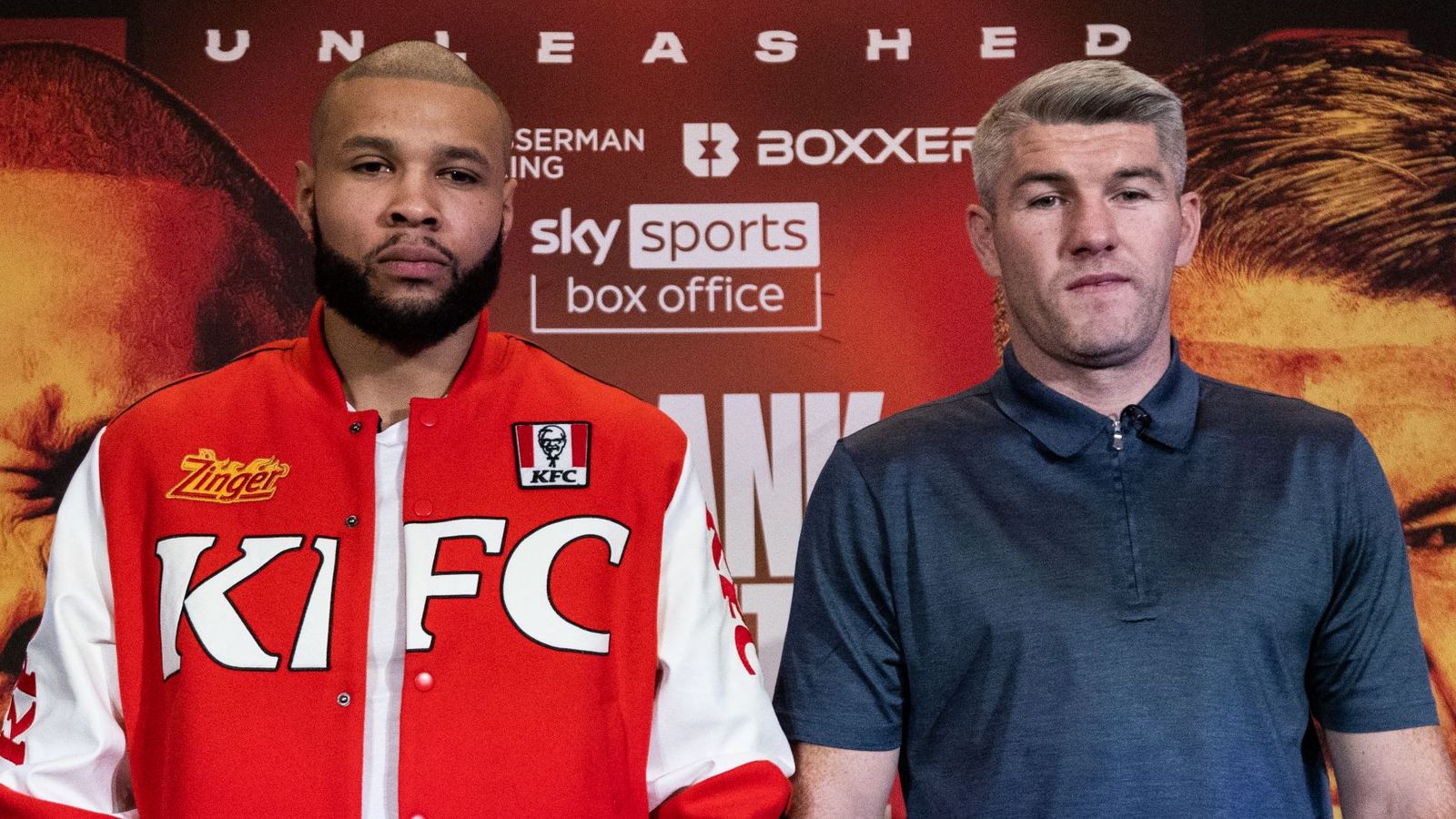 Chris Eubank Jr vs Liam Smith: Who they are, why they're fighting and where to watch it | Boxing News
Chris Eubank Jr and Liam Smith will finally collide this Saturday at the Manchester Arena live on Sky Sports Box Office.
Who is Chris Eubank Jr?
Chris Eubank Jr is the son of British boxing legend Chris Eubank. In a long professional career which he began over a decade ago, he has forged his own identity as a fighter.
He's fought big name opponents on the British boxing scene in James DeGale, George Groves and Billy Joe Saunders.
Chris Eubank Jr sparked a heated exchange with Liam Smith by branding his opponent as a 'dirty fighter' ahead of their British battle on January 21

Now 33 years old, the man from Brighton is a star in the sport. He's amassed a 32-2 record with 23 of those victories inside the distance.
Eubank Jr is known for his toughness, ferocity and high intensity combination punching.
Most recently he boxed Liam Williams in the latter's Cardiff hometown, knocking him down four times on his way to victory.
Who is Liam Smith?
Liam Smith is also from a British boxing dynasty. He and his three brothers, Paul, Stephen and Callum, have all been British champions. They've all challenged for world titles. Liam as well as his brother Callum have both previously been world champions.
A leading British professional who made his debut in 2008. Liam Smith won the WBO super-welterweight world title in 2015.
The following year he met Mexican superstar Canelo Alvarez at a major stadium fight in Texas. Canelo, who would go on to win titles at middleweight, super-middle and even light-heavy, caught Smith with a vicious body shot to stop him in nine rounds.
Liam Smith says the lessons he learnt in his nine-round TKO loss to Canelo Alvarez will help him in his showdown with Chris Eubank Jr on Saturday

Now, even at 34 years of age, Smith has found a rich vein of form. He suffered a highly contentious points loss to Magomed Kurbanov in Russia, beat Liverpool rival Anthony Fowler in their hometown and dominated Jessie Vargas and most recently Hassan Mwakinyo.
Why are they fighting?
More than seven years ago the two fighters sparred. It spawned a rivalry that has ultimately led to this fight.
Eubank was dismissive of the notion that Smith had success against him in their sparring sessions, while it left Smith adamant that he could move up to 160lbs and beat Eubank.
The only way to settle that question is to fight.
They looked to be on a collision course early in 2022 when Eubank beat former Smith opponent Liam Williams. But Eubank agreed to box Conor Benn, the son of his father's great rival Nigel Benn in October.
That bout was called off after Conor Benn's adverse drug test finding emerged. Eubank moved on and locked in this clash with Smith for January 21.
They are the two best active middleweights in Britain and the winner will be propelled back to world title contention.
Chris Eubank Jr feels he already has the better of Liam Smith ahead of their showdown on January 21, and insists he has not considered retirement

What's at stake?
Neither man can afford to lose. Smith is determined to become a two-time world champion. A strong performance against Eubank would open up options for him at 160lbs. He also is highly rated in the weight class below. He's ranked number three with the WBC, two with the WBO and four with the WBA, so victory would keep him on course for world honours at 154lbs too.
For Eubank, this is the first super-fight of his year and he is hoping it will lead him to a mega-fight with Gennadiy Golovkin or even Canelo Alvarez.
Defeat to Smith would shatter all those plans. He knows it could well shut him off from a path to a world title fight once and for all.
"If I don't get the victory my career is in dire, dire straits. It's in jeopardy. Victory is the most important thing in my life at this moment in time," Eubank said.
Speaking ahead of Saturday's clash with Liam Smith in Manchester, Chris Eubank Jr admits a defeat would ruin his world title aspirations

"At this stage of my career I know I've got a lot to lose," Smith said.
"My fear is losing to somebody I should never be losing to. It's a big fear of mine. I feel I should never lose to Chris Eubank Jr."
How can I watch it?
Chris Eubank Jr vs Liam Smith is on Saturday January 21 at the AO Arena in Manchester. Watch it live on Sky Sports Box Office.
Book it now if you are a Sky TV subscriber or a Non-Sky TV subscriber.
Buy tickets here.