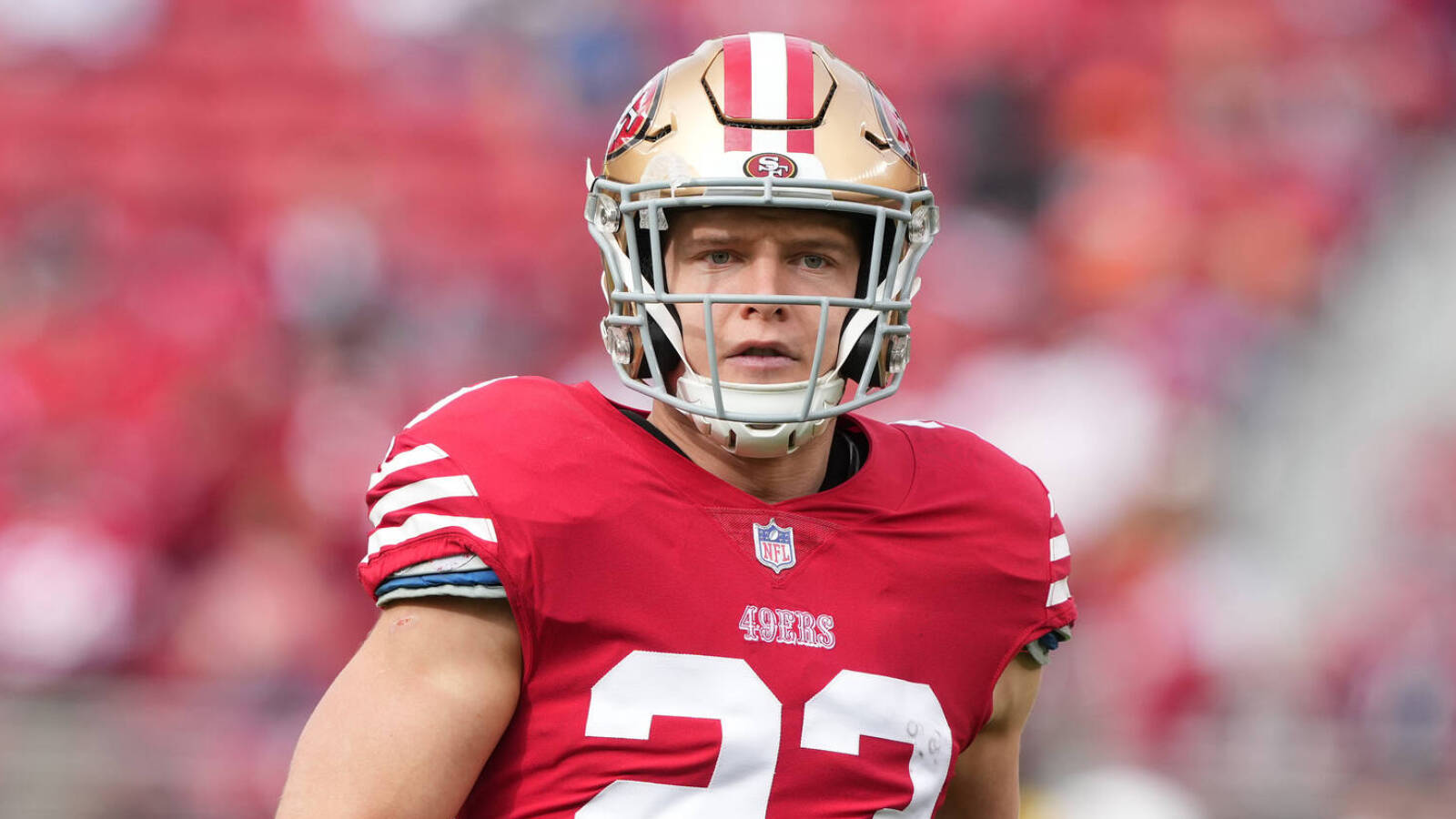 Christian McCaffrey trade ranks among best in-season deals
With a Super Bowl victory, San Francisco can claim its acquisition of Christian McCaffrey ranks among the greatest in-season trades in NFL history.
FanDuel TV's Kay Adams recently suggested the deal already ranks as the best.
McCaffrey breathed new life into San Francisco's season. Before McCaffrey, the 49ers were 3-3 and averaged 20.3 points per game. In his 10 games as a starter, they are 10-0 and average 30.5 points.
The team's last loss came in Week 7 to Kansas City, McCaffrey's first game with San Francisco (13-4). In that game, McCaffrey had 10 touches for 62 yards. In the 10 games since, he averages 20.1 touches per game for 114.8 yards.
Per Football Outsiders, San Francisco ranked 28th in rush offense defense-adjusted Value Over Average (DVOA) during the first six weeks of the season. That stat reflects how a rushing attack would fare against a league-average defense.
Since Week 8 — McCaffrey's first start in San Francisco — the 49ers are third in rush offense DVOA.
Such impactful in-season trades are uncommon. The Cowboys' trade of Herschel Walker to Minnesota in 1989 laid the foundation for the Cowboys' 1990s Super Bowl teams. For a trade that provides an immediate in-season boost, it's hard to top the Niners' deal for McCaffrey.
Two other in-season deals that rank among the greatest also involved running backs.
In 2010, Marshawn Lynch — acquired from Buffalo — helped lift a bad Seahawks team (7-9) to the playoffs. Lynch didn't have fantastic numbers when he arrived — 165 carries for 573 yards and six touchdowns — but his memorable run in the postseason beat defending champion New Orleans.
Seattle lost the following week.
In 1987, the Rams dealt Eric Dickerson to the Indianapolis Colts. The future Pro Football Hall of Famer joined a 3-3 team and made a strong impression, averaging 112.3 yards rushing a game. But the Colts lost in the wild-card round to the Browns.
McCaffrey may already have a leg up on his competition at running back thanks to the 49ers' regular-season success.
He'll have to win the Super Bowl to pass cornerback Mike Haynes for the title of most immediately impactful midseason acquisition.
Haynes was traded to the Raiders from the Patriots in 1983 and went on to intercept QB Joe Theismann in the Raiders 38-9 victory in Super Bowl XVIII.
Nothing can top a return on investment like that. It's something McCaffrey can only hope to match.