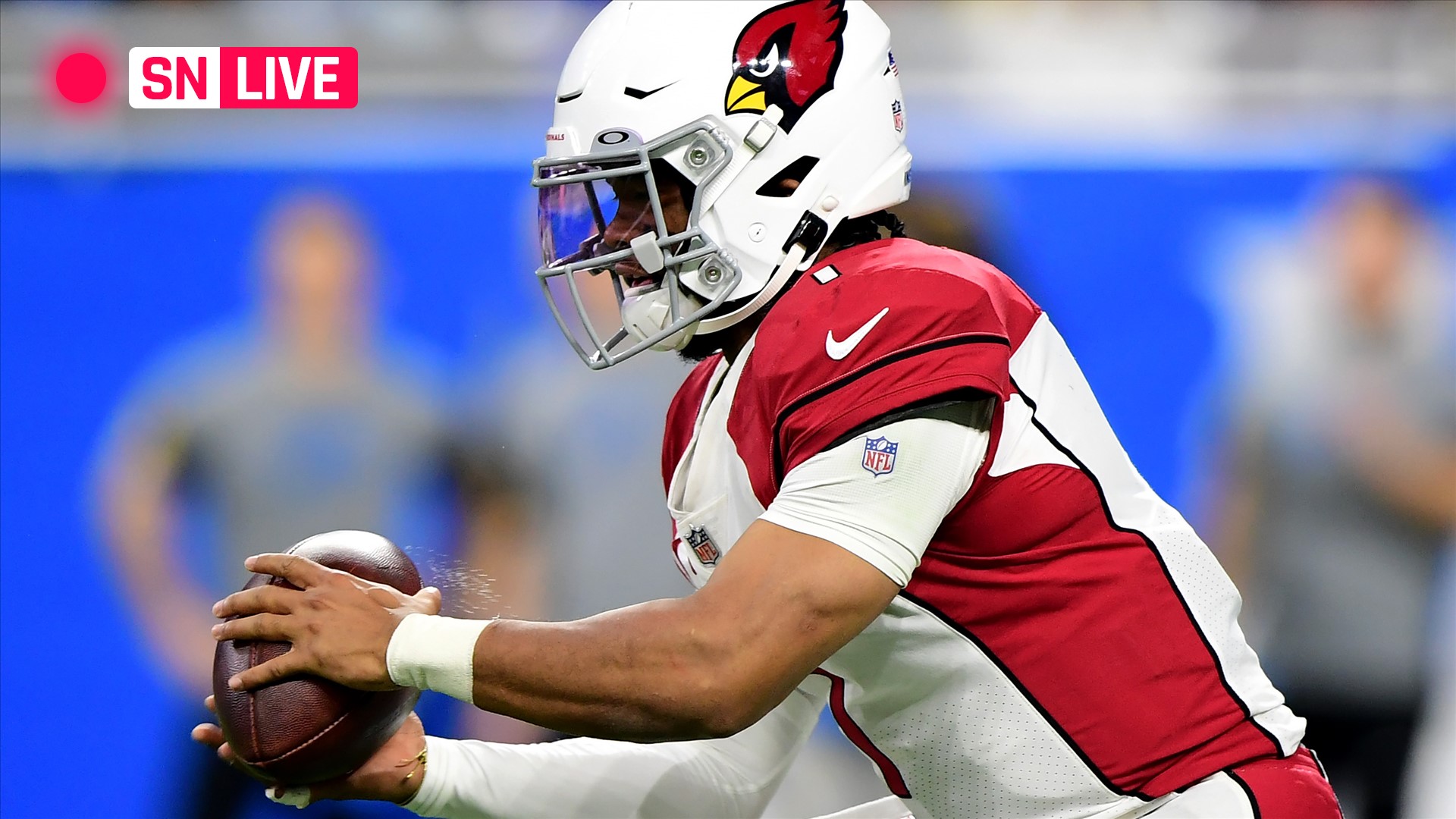 Colts vs. Cardinals live score, updates, highlights from 2021 NFL Christmas game
The Cardinals will battle the Colts to stay on top in the NFC West. 
Arizona is tied for first at 10-4 with the Rams. The Cardinals will be challenged to stop running back Jonathan Taylor, who continues to light up the Colts' offense. 
The Cardinals will look to snap a two-game losing streak after losses to the Rams and Lions. During Arizona's 30-12 loss to Detroit last week, Kyler Murray completed 23 passes for 257 yards with a touchdown and an interception. He's thrown six interceptions in his last five games. 
Taylor will look to stay hot in Arizona. During the Colts' 27-17 victory over the Patriots in Indianapolis, Taylor had 29 carries for 170 yards and a touchdown. He also rushed for 143 yards with two scores during the Colts' 31-0 shutout against the Texans. Quarterback Carson Wentz, who threw two interceptions last week, will likely rely on Taylor to lead the Colts' offense. 
Sporting News is tracking live scoring updates and highlights from Colts vs. Cardinals on Christmas 2021. Follow below for complete results from the NFL Week 16 game.
MORE: Watch Colts vs. Cardinals live with fuboTV (7-day free trial)
Colts vs. Cardinals score
| | | | | | |
| --- | --- | --- | --- | --- | --- |
|   | Q1 | Q2 | Q3 | Q4 | F |
| Colts | 7 | 2 | – | – | – |
| Cardinals | 6 | 0 | – | – | – |
Colts vs. Cardinals live updates, highlights from NFL Christmas game
All times Eastern.
9:22 p.m.: Wentz connects to Pittman on consecutive plays for a combined 26 yards and positions Indianapolis at the Cardinals' 32. 
9:13 p.m.: SAFETY COLTS. Garcia fumbles at the 11 and is recovered by Murray, who attempts a pass. After his attempt is ruled intentional grounding, the play results in a safety. 
9:08 p.m.: Wentz completes to Hilton for 2 yards on third down, and falls short of the first. Colts punt and give Arizona possession at their own 8. 
9:02 p.m.: Jones sacks Wentz for a loss of 10 yards and forces the ball loose. Jones recovers at the 50, but an illegal contact call against Arizona gives Indianapolis a first down at the Cardinals' 45. 
8:54 p.m.: Murray connects to Ertz to 16 yards on fourth down. After Indianapolis challenged the completion, the call was reversed and Colts take over on downs at their own 34. 
8:50 p.m.: Badgley misses a 53-yard attempt and allows the Cardinals to take possession. 
First Quarter: Colts 7, Cardinals 6
8:42 p.m.: Wentz connects with Dulin for 43 yards and gives the Colts a first down at the Arizona 46. 
8:38 p.m.: TOUCHDOWN CARDINALS. Edmonds rushes into the end zone for 2 yards and attempts to tie it up in Arizona. After Prater misses the extra point, Colts lead 7-6 with 3:03 remaining in the first quarter. 
8:35 p.m.: Murray finds a hole and breaks free for 57 yards before getting tackled at the Indianapolis 2. 
8:32 p.m.: Edmonds rushes for 10 yards and goes out of bounds at the 28.
8:30 p.m.: TOUCHDOWN COLTS. Wentz connects with Hilton in the end zone and gives Indianapolis the first lead. Colts lead 7-0 with  6:11 remaining in the first quarter. 
8:27 p.m.: Wentz finds Pittman for 9 yards and goes down at the 4. 
8:25 p.m.: Taylor breaks free and rushes for 43 yards to put the Colts at the Arizona 16. 
8:23 p.m.: Murray throws an incomplete pass on third down and forces the Cardinals to attempt a field goal. Prater misses a 51-yard attempt and leaves Arizona scoreless.
8:20 p.m.: Murray completes a pass to Ertz for 10 yards and gets a first down at the Indianapolis 40. 
8:17 p.m.: Edmonds rushes for a combined total of 11 yards on consecutive plays and gets a first down at the Arizona 31. 
8:15 p.m.: Cardinals win the coin toss and elect to start with the ball on the kickoff. 
Colts vs. Cardinals start time
Time: 8:15 p.m. ET
TV channel: NFL Network
Live stream: Amazon Prime | fuboTV
NFL Network will broadcast the Colts-Cardinals game, so those without the channel will have to turn to streaming alternatives to watch it. One of those options is fuboTV, which comes with a seven-day free trial. Joe Davis, Kurt Warner, Melissa Stark and Peter Schrager are the broadcast team.
NFL schedule Week 16
| | | |
| --- | --- | --- |
| Game | Kickoff time | TV channel |
| Titans 20, 49ers 17 |  —  | NFLN |
| | | |
| --- | --- | --- |
| Game | Kickoff time | TV channel |
| Browns at Packers | 4:30 p.m. ET | Fox/NFL/Amazon |
| Colts at Cardinals | 8:15 p.m. ET | NFL Network |
| | | |
| --- | --- | --- |
| Game | Kickoff time | TV channel |
| Giants at Eagles | 1 p.m. ET | Fox |
| Rams at Vikings | 1 p.m. ET | Fox |
| Bills at Patriots | 1 p.m. ET | CBS |
| Buccaneers at Panthers | 1 p.m. ET | Fox |
| Jaguars at Jets | 1 p.m. ET | CBS |
| Lions at Falcons | 1 p.m. ET | Fox |
| Chargers at Texans | 1 p.m. ET | CBS |
| Ravens at Bengals | 1 p.m. ET | CBS |
| Bears at Seahawks | 4:05 p.m. ET | Fox |
| Steelers at Chiefs | 4:25 p.m. ET | CBS |
| Broncos at Raiders | 4:25 p.m. ET | CBS |
| Washington Football Team at Cowboys | 8:20 p.m. ET | NBC |
| | | |
| --- | --- | --- |
| Game | Kickoff time | TV channel |
| Dolphins at Saints | 8:15 p.m. ET | ESPN |