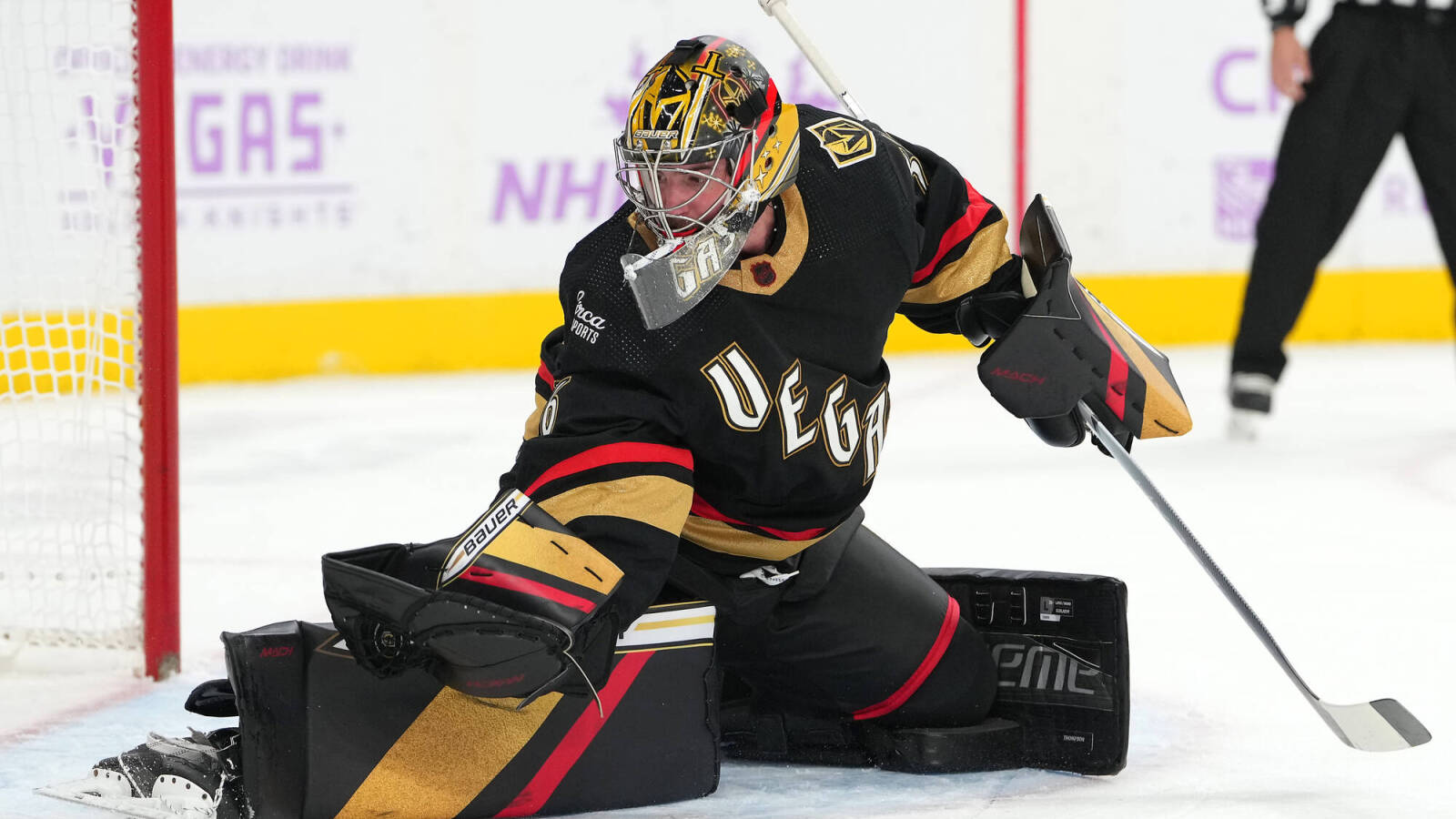 December NHL Calder Trophy update: Logan Thompson, Matty Beniers highlight rookie crop
With every team now over the 20-game hump, we're essentially a quarter of the way into the 2022-23 NHL campaign.
That's a solid sample size, and one that has given us a clear indication of who will be the top fighters for the Calder Trophy race. It's safe to say there are two realistic contenders right now with a consistent enough season to go along with it – Vegas' Logan Thompson and Seattle's Matty Beniers. But it's far from over.
Perhaps the top name early in the Calder race was Shane Pinto, the NHL's top rookie in October. Pinto had a miserable November, like the rest of the Ottawa Senators, recording just four points in 14 games last month. With Josh Norris out of the lineup, Pinto had a chance to seize the opportunity and build upon an incredible start that saw him heading toward a potential 60-point campaign. Instead, things have mellowed out, and the Sens, as a whole, are just looking for something to move the needle.
So, with that, here's a look at 10 of the top Calder Trophy candidates heading into November:
Logan Thompson, G (Vegas Golden Knights)
It's more challenging for a goaltender to win the Calder given they play fewer games than the rest of the rookie crop. But not only is Thompson one of the favorites to finish as top rookie, but he's also a leading Vezina candidate, too. He has a 12-4-0 record with two shutouts, a .934 save percentage at 5-on-5 and an even strength goals saved above average of 6.88. He's been spectacular for Vegas this year, stealing a few games while taking the No. 1 spot by the horns. Given how ugly Vegas' goaltending situation looked heading into the season, Thompson has exceeded all expectations and has kept the team near the top of the standings all year long.
Matty Beniers, C (Seattle Kraken)
Many had Beniers pegged as the favorite to win the Calder Trophy and that doesn't appear to be changing anytime soon. He leads all rookies with 20 goals in 22 games, good for third in team scoring behind veterans Andre Burakovsky and Jordan Eberle and has four multi-point efforts over the past five games. But it hasn't been completely smooth sailing – before this recent hot run, the 20-year-old had a six-game pointless streak, even while the Kraken were thriving. He's been streaky, but when Beniers is at the top of his game, he's easily a standout for the second-year club
Cole Perfetti, LW (Winnipeg Jets)
Rookie seasons can be full of streaks, which can really shake up the rookie-scoring race. That could be the case with Perfetti, who's been one of the hottest rookies as of late with seven points in his past five games. The hope was for Perfetti to give the Jets another dangerous scoring forward and he's fit in perfectly on the top line with Blake Wheeler and Mark Scheifele. He's a great setup man, and it looks like the missing link the Jets needed up front for a few years now. Expectations were always high for the 20-year-old Whitby native, and after missing most of last year with an injury, Perfetti is finally on track with 14 points in 21 games – and getting more comfortable every week.
Owen Power, D (Buffalo Sabres)
Power's rookie season hasn't been as flashy as some of the others on this list, but he's averaging 23:43 a night to lead all rookies by at least three minutes. He hasn't scored yet, but he's up to 10 assists and has formed a solid defensive pairing with Henri Jokiharju. The Sabres started strong but has fizzled out of the playoff race which was largely to be expected. Still, the 2021 No. 1 pick has looked good in Buffalo this season, and the Sabres blueline looks to be in good shape for the future.
JJ Peterka, LW (Buffalo Sabres)
It was easy to discount Peterka in the pre-season Calder Trophy chat because of his much more celebrated teammate. But Peterka has had a solid rookie campaign, recording 12 points in his first 23 games. Ten of those have come at even strength, sitting third behind Beniers and Perfetti early in the going. He's averaging a solid 2.04 points-per-60 this season in 12:48 of ice time, which is around the mid-tier level for rookie forwards. Peterka is on pace for around 45 points this season, which would be a nice output from the 20-year-old.
Stuart Skinner, G (Edmonton Oilers)
In a perfect world, Jack Campbell would have been the clear No. 1 and Skinner would play every few games or so. Instead, Skinner has been the much better goalie with a 6-5-0 record and a .914 save percentage, a huge step up from Campbell's .875 save percentage in 12 games. Skinner showed some promising signs a year ago in spot duty and while he hasn't completely stolen the opportunity away, he's doing a fine job given how much the Oilers have struggled this season.
Jake Sanderson, D (Ottawa Senators)
It hasn't been an easy season for the Ottawa Senators, who many, including myself, expected bigger results from this season. Sanderson, however, has done an excellent job playing heavy minutes on a weak Ottawa blueline that has had to deal with injuries to Thomas Chabot and Artem Zub. Sanderson, 20, missed significant time last year while at the University of North Dakota, so expectations were tempered for his first NHL campaign. But given how few positives there have been in Ottawa this year, it's good to see Sanderson succeeding – and he's just getting started.
Matias Maccelli, LW (Arizona Coyotes)
Maccelli likely wouldn't get the same ice time on a more competitive team, but that doesn't really matter. The 22-year-old rookie has 13 points in 18 games, including three multi-point efforts. He has just one goal, which, as a noted playmaker, is to be expected. He was more of a shooter in junior, but he's found his value as a setup guy in Arizona's top six. The Coyotes are in the Connor Bedard race, but Maccelli's since getting taken in the fourth round in 2019 is a reason for Coyotes fans to celebrate.
Kent Johnson, LW (Columbus Blue Jackets)
The Blue Jackets have one of the most exciting prospect cores, and Johnson has finally graduated to full-time NHLer status. The 2022 World Junior Championship hero has 11 points in 18 games while seeing his ice time fluctuate from game to game. His 2.18 points-per-60 is good for fourth among rookies with at least 15 games played, giving the Blue Jackets some much-needed scoring punch. He's still only playing on the third line right now, but Johnson has been an obvious bright spot this season.
Fabian Zetterlund, RW (New Jersey Devils)
What an excellent addition Zetterlund has been to the Devils. The 5-foot-11, 220-pound beast has 12 points in 18 games and was a big part of New Jersey's incredible run this past month. Zetterlund was drafted in the third round in 2017 but took a while to establish himself in New Jersey's system, but it's been smooth sailing ever since he cracked the team's top six. Keep on keeping on, Medium-Sized Z.