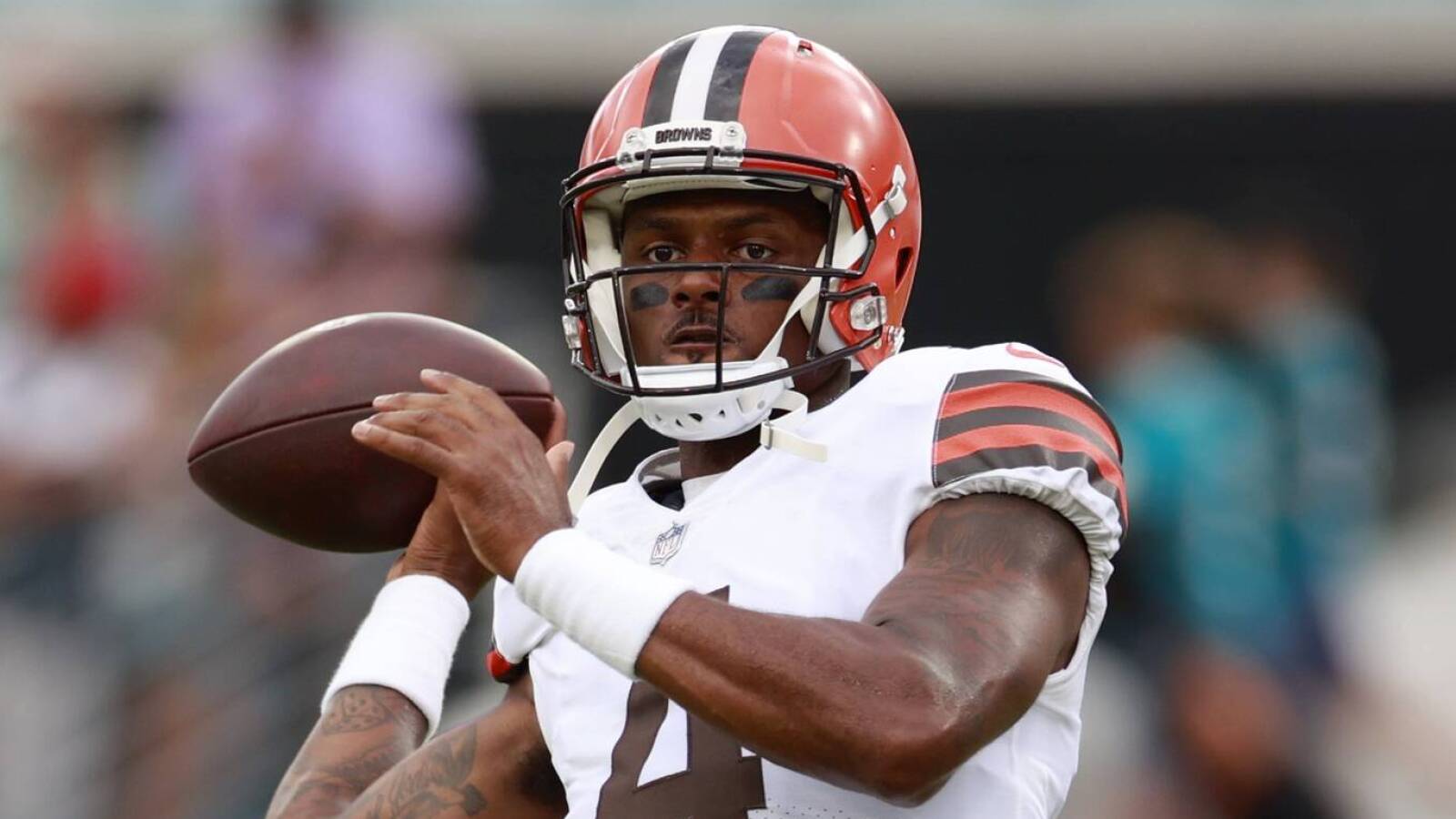 Deshaun Watson to be reinstated Monday, eligible to play vs. Texans
Quarterback Deshaun Watson is heading to the top of the Cleveland Browns' depth chart. 
According to Chris Bumbaca of USA Today, NFL spokesman Brian McCarthy confirmed that Watson will be officially reinstated by the league at 4 p.m. ET Monday following his 11-game suspension related to allegations of sexual misconduct during massage sessions. This will put Watson on track to make his Cleveland regular-season debut this Sunday at none other than the Houston Texans, his former club. 
Watson hasn't taken a snap in a meaningful NFL game since he last played for the Texans on Jan. 3, 2021, as he sat out the subsequent campaign following an offseason trade request. The Browns acquired Watson from the Texans this past March after it was learned he wouldn't be charged with a crime regarding the sexual misconduct accusations but before the NFL announced in August the 27-year-old would be banned for the opening 11 contests of the ongoing season. 
In total, Watson's legal team has reached settlements with 23 women who filed lawsuits against him. Two lawsuits are still active, including one filed last month. 
Backup Jacoby Brissett widely impressed fans and analysts with his performances starting in place of Watson but nevertheless was only able to help the Browns reach a record of 4-7. The Texans, meanwhile, are the NFL's worst team at 1-9-1. 
Per ESPN stats, Brissett heads to the Cleveland bench 20th in the league among qualified quarterbacks with an 89.1 passer rating, seventh with a 61.2 total QBR, 12th with 2,608 passing yards, and 20th with 12 passing touchdowns on the season. In his 11 starts, Brissett threw six interceptions and completed 64.1% of his throws. 
"I'm really happy for Jacoby, he's a great leader," Browns head coach Kevin Stefanski said of Brissett after he gave the 29-year-old the game ball for guiding Cleveland to a 23-17 overtime win over the Tampa Bay Buccaneers on Sunday, as shared by Jake Trotter of ESPN. "He battled like crazy. It was a great effort by him."
While the NFL website notes the Browns are 13th out of 16 clubs in the AFC playoff picture, they remain mathematically alive as it pertains to the postseason tournament as a three-time Pro Bowl selection takes over as their QB1.