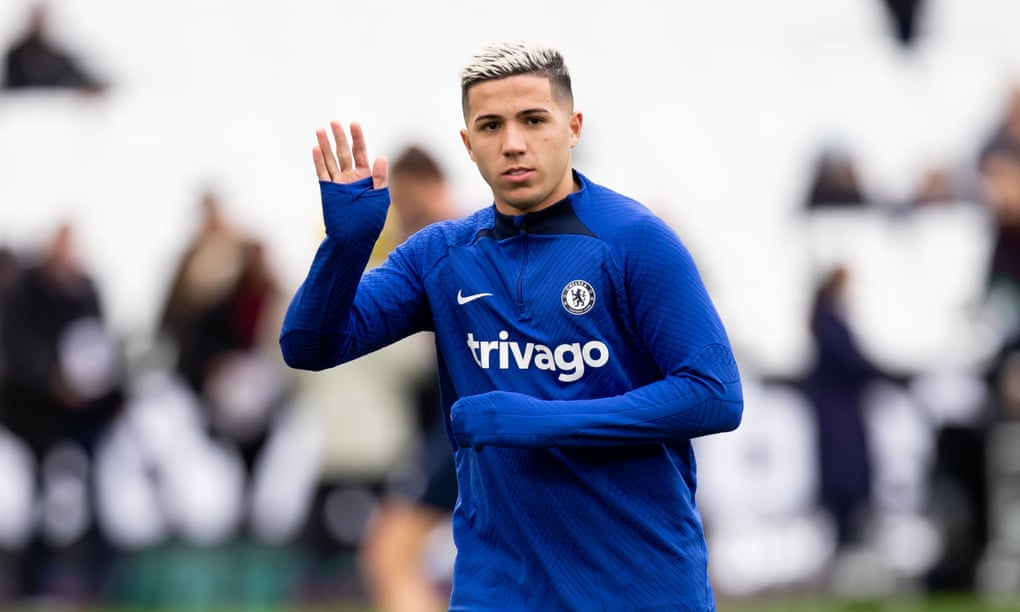 Enzo Fernández 'These figures are nothing to do with me. It's football'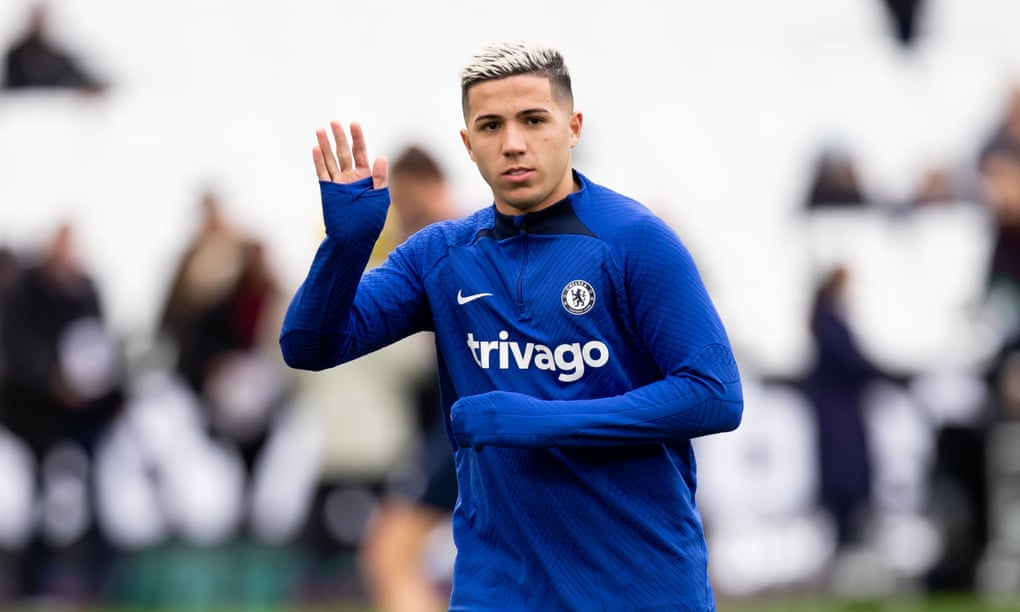 Chelsea midfielder on his £106.8m British record transfer from Benfica, Lionel Messi, and winning the World Cup with Argentina
It's all gone very quickly," Enzo Fernández says as he reflects on breaking into the first team at River Plate, emerging from the shadows to become an important figure in Argentina's World Cup triumph and "the nerves kicking in" as the minutes ticked away before he finally joined Chelsea for £106.8m on the final day of the transfer window.
"It's really just three years, my professional career. A lot has happened in a very short time. I still feel like I'm in a period of apprenticeship – a learning period, still a learning curve."
That may sound like an odd analysis from the most expensive player in the history of English football but, coming from the former Benfica midfielder, it feels right. Fernández, voted the best young player at the World Cup, has never pretended to have all the answers.
The 22-year-old moved to Europe only last summer and, when he made his debut for River three years ago, he did not get cocky; he considered his lack of subsequent playing opportunities, went on loan and continued his development at Defensa y Justicia under the guidance of the former Chelsea and Argentina striker Hernán Crespo.
"I've learned something at every stage of my career," Fernández says. "But you'd have to say River was the club where I really learned my stuff. They really developed me as a person, on and off the field. River were the ones who opened the door to Europe for me. Then, to win the World Cup with that amazing group of players, it's a dream isn't it?
"It's so hard to win the World Cup. But we had players with ability and a really strong mentality. You never lose that desire to learn. That's what's always signified my style, my play and my training – wanting to improve, wanting to be better as a footballer and as a man."
Fernández is easy company for 30 minutes at Chelsea's training ground. He answers in Spanish but his English is improving. At times he stops the interpreter's translation to offer a little more detail. The sense is that Fernández is not fazed by the fuss around him. "These figures are nothing to do with me," he says of his transfer fee. "It's part of football. My job is to go out and give my best."
Chelsea may well have found their next leader. Fernández, who says the club went "all out" to sign him, bats away suggestions that he went awol during January in an attempt to force Benfica to sell him. He is relaxed about Chelsea's poor form. They signed eight players last month and their owners have spent more than £500m since last summer.
However, Graham Potter's side are 10th in the Premier League before visiting Tottenham on Sunday, have struggled to score during a run of two wins in 14 games and are at risk of being knocked out of the Champions League by Borussia Dortmund.
"When you get that amount of young lads and we've all had 20 days to get to know each other, when you're talking about the standard of football here, it's hard to gel as a team," Fernández says. "But we've been given all the tools we need by the coaching staff and the manager. It's just a case of being patient."
Chelsea were booed off after losing at home to Southampton last week. "My message to the fans would be never forget that we are representing you," Fernández says. "Trust us. Trust the players, trust the backroom staff, trust the manager. Because we are all moving in the same direction. It is a restructuring of the club. We are going to be trying to win games, starting on Sunday. Then we can start to turn things around."
Fernández, who signed an eight-and-a-half-year deal, offers hope. He was outstanding during his six months at Benfica, helping them win their Champions League group. He can pick a pass, control a game, create a goal and shoot. He has also built a quick connection with João Félix. Fernández, who made Félix's goal during the recent draw with West Ham, hopes that Chelsea buy the Atlético Madrid loanee.
"He called me when I got here to ask if he could be any help," Fernández says. "When you get on with someone it helps on the field. He's a great player, isn't he? Let's hope that Chelsea can do all they can to keep hold of him."
Fernández, who is named after the former Uruguay forward Enzo Francescoli, appreciates talent. He thinks back to watching English football when growing up in Buenos Aires. "I always used to get up early. I know the times – Sunday mornings we used to tune in for the Premier League. Four hours difference in the winter, three hours in the summer.
"We'd watch teams like Chelsea, Manchester United and I was aware of the Argentinians playing over here – [Sergio] Kun Agüero, [Carlos] Tevez, [Gonzalo] Higuaín. I'm the youngest, my brothers and sisters had their own houses, so it would be me and my dad in bed with mate – the herbal tea – watching TV."
The love of football is clear. When Lionel Messi retired from international football in 2016 the 15-year-old Fernández pleaded with him to reconsider. Seven years on, they were teammates at the World Cup.
Fernández was the symbol of a new Argentinian generation. But he was a substitute when Argentina were stunned by Saudi Arabia in their opening game in Qatar. The second game against Mexico was tense. It was still 0-0 when Fernández came on. But Messi pricked the tension seven minutes later and Fernández made it 2-0 with a brilliant shot. "It was just priceless, that moment," he says. "Messi? It's not even up for discussion. He is the best player ever. It was a real privilege to share a dressing room with him."
Argentina kicked on, with Fernández pulling the strings in midfield, and won an incredible final against France. Messi had inspired them. "He's one of those leaders who are really positive all the time, both in the example he sets in his play but also on a human level in the dressing room," Fernández says. "He's down to earth and kind to everyone. He offers support to everyone within the squad, from the biggest stars through to the youngsters.
"I felt very conscious that he was with me all the way, giving me a lot of moral support. It was my biggest dream ever – to play with Messi. To then go on in that team to win the World Cup, it's almost like God has given me a huge gift." Are Messi and God different? "No, maybe not," Fernández smiles. "What can I take from that time with him? Energy. It was a special dressing room, a lively dressing room.
"Energy, positivity and a real will to win, but also keeping humble. I know I'm still young and I need to keep learning but maybe tomorrow, maybe at some point in the future, I want to really demonstrate that I'm a leader."