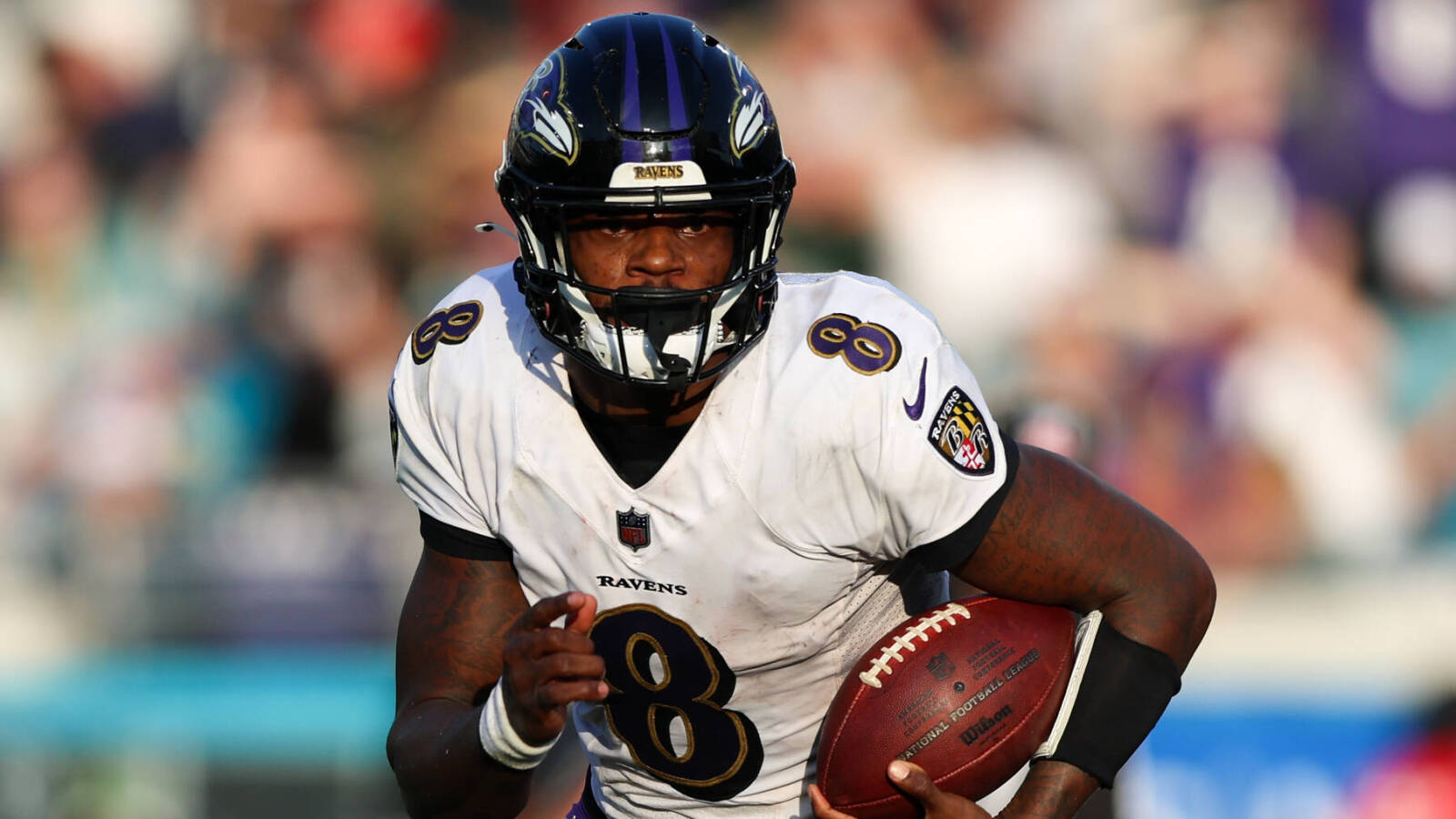 Examining Lamar Jackson's contract situation ahead of uncertain offseason
Ozzie Newsome's final draft as Ravens general manager in 2018 saw the team secure a succession plan for Joe Flacco at the quarterback position. With the Super Bowl XLVII MVP aging and approaching an important financial point in his contract, Lamar Jackson was selected to one day take over the reins of a transitioning offense.
That time came midway through Jackson's rookie season, when the Louisville product took over for an injured Flacco. He helped lead the Ravens to a 6-1 record and a playoff berth, cementing his status as the starter moving forward. 
The 2019 season saw Jackson deliver one of the most unique and historic performances in NFL history, culminating in the league's second ever unanimous MVP vote. Expectations have been through the roof ever since, but the situation between Jackson and the Ravens has soured recently with contract talks netting little progress over the past two years.
The 26-year-old was thought to be next in line for a mega-extension similar to the ones signed by Patrick Mahomes and 2018 classmate Josh Allen. The Ravens have been prepared to pay Jackson in a similar fashion to those two in terms of annual compensation in the neighborhood of $45M per season. As time wore on without much traction being gained during negotiations, though, the events of last offseason marked an important turning point.
After being the subject of a bidding war, Deshaun Watson was ultimately traded to the Browns and signed to a five-year, $230M deal. The surprise from Cleveland's willingness to part with three first-round picks for Watson was surpassed only by the fully guaranteed nature of his pact. Many around the league – including Ravens owner Steve Bisciotti – lamented the historic investment the Browns made in Watson, acutely aware of how it would likely affect Jackson's leverage in extension talks.
The previous season had seen Baltimore find itself atop the AFC standings before a reaching a tipping point on the injury front. That included Jackson missing time due to injury for the first time in his career. He was sidelined for the final five games of the year, and the Ravens narrowly missed the playoffs while struggling mightily on offense. Reports then emerged during the summer of 2022 that the two-time Pro Bowler turned down an offer including $133M in guaranteed money.
That figure would have ranked second in the league, but nowhere near the level of Watson's deal. New contracts signed by Russell Wilson ($124M fully guaranteed) and Kyler Murray ($103M) suggested teams were willing to ignore the Watson accord in terms of precedent on the guarantee front, something the Ravens' front office is holding firm on. Jackson made it clear he would pause negotiations during the 2022 season, one which was expected to provide clarity on his financial future.
Playing on the fifth-year option, Jackson and the Ravens instead followed a similar script this year. The former Heisman winner suffered a knee injury in Week 13, something which was not initially expected to cost him the remainder of the season. That ended up being the case, however, and much was made about his absence extending into the team's postseason loss. Jackson's decision to take to social media to elaborate on the extent of his PCL sprain, and later to issue a thinly-veiled directive to the team regarding his impending free agency, did not sit well.
Having missed 10 of the past 22 games, injuries have become a talking point with so much at stake in contract talks. That figure could give the Ravens (or any other interested team) perceived leverage, but Jackson has plenty as well. The Ravens are 46-19 in his starts, and 4-9 without him since 2019. The team's offense has averaged 10 fewer points per game without Jackson during that span.
New offensive coordinator Todd Monken is expected to produce schematic changes compared to Greg Roman, the OC during each of Jackson's four full seasons as a starter. Regardless of what takes place on that front, the Ravens' pass-catching corps (which lacks established playmakers outside of tight end Mark Andrews) will be a key area of focus. Additions – such as a long-term replacement for Marquise Brown, whose trade request was quietly granted last spring – will be hard to come by when Jackson takes up a substantially higher portion of the Ravens' cap, either through a mega-deal or a one-year charge brought on by the franchise tag.
The difficulty in acquiring and retaining pass-catchers increasingly became a point of contention after Flacco turned his 2012 playoff success into a franchise-record extension. Trepidation on the team's part in terms of looking to avoid a repeat of that scenario would be understandable up to a point, as the Ravens look to keep Jackson in the fold while not compromising an otherwise strong roster.
With the franchise tag being all-but certain in Jackson's case, this saga could continue for months to come. An offer sheet or tag-and-trade could come into play, depending on which tag the Ravens use and Jackson's perceived market around the league. Whether he signs his tag is another matter altogether, and sitting out the offseason could lead to a holdout situation similar to Le'Veon Bell in 2018. The then-Steeler skipped the entire campaign, forfeiting millions in compensation (albeit far less than what Jackson would be giving up if he followed suit). Bell still landed a big-ticket deal from the Jets in 2019, so the tactic could prove useful if a repeat were to be attempted. It's also worth noting, however, that Bell never replicated his pre-holdout success on the field.
No option is off the table at this point, from a franchise-record deal to the league's first ever trade involving an MVP under the age of 30.