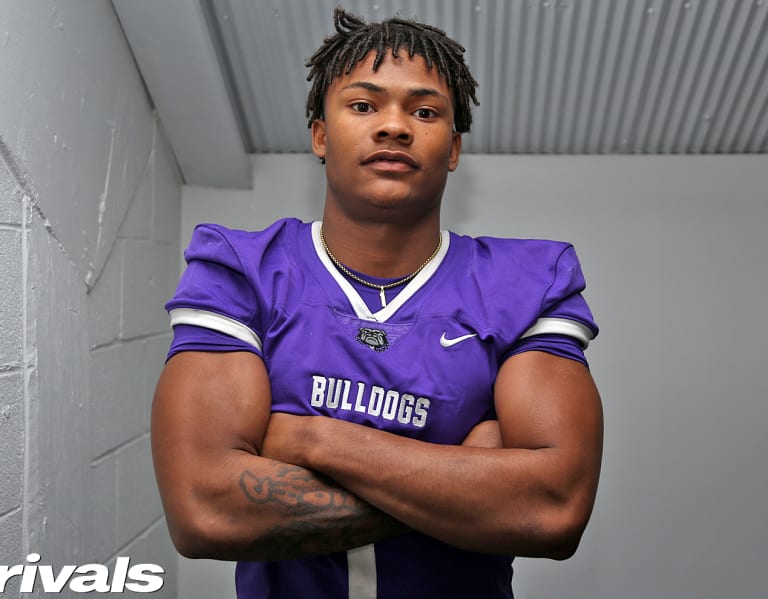 Exclusive Content: Q&A interview with Arkansas DB commit Anthony Brown
The Arkansas Razorbacks effectively closed out their 2022 recruiting class in style landing one of their top targets in the secondary on Tuesday with a verbal pledge from defensive back Anthony Brown. The three-star Tennessee prospect picked the Hogs among 37 reported offers pushing the Razorbacks to No. 14 Rivals' team ranking.
Q&A with Anthony Brown
What was the recruiting process like between you and the Arkansas coaching staff?
It was… it was love. From the first time we talked. We've been rocking for so long; that played a big role in my commitment after talking to them for so long. My recruitment did not shoot off until the end of my junior year. Them talking to me for so long, that played a tremendous role in my commitment.
At which position are they recruiting you to play?
Middle field safety; a free roaming safety. I will get a chance to go against the run and guard receivers.
During your visit back in June, what impressed you about the coaching staff and facilities at Arkansas?
The atmosphere. It is different with a whole state behind you. Not too many colleges have that. In Arkansas, there are no major league teams only teams like Arkansas State and UAPB (Arkansas-Pine Bluff). The Arkansas coaches are so involved. With other colleges, you might talk to the head coach but at Arkansas Coach (Sam) Pittman will call you – just the overall environment at Arkansas.
With all your offers, when did you start to heavily favor the Hogs?
To be honest, I was ready to commit but with COVID, my brother and coach told me to get out and see some places. It really didn't make a change of events; my heart was set on Arkansas. My official was also my birthday weekend. It was all in one. They treated me like I was already there.
Who was your lead recruiter?
Coach (Sam) Carter (cornerbacks).
Which coach got the good news?
Coach Carter; their cornerbacks' coach.
How did you commit to the coaches?
What was the reaction from the Arkansas coaches when you told them you wanted to be a Razorback?
They were extremely happy, and happy I was able to close out the Class of 2022 for them. I am not sure if they will still recruit, they have two more spots open, but now they have everything they need. They were happy.
I talked to the DB room, I talked to the recruiting office, the defensive line coach, the linebackers, the defensive ends, and I have a relationship with the receivers' coach. I have talked to everyone. I know they are partying over there especially after the big win against Texas.
Making this big decision and achieving a major goal in life, what was that moment like for you?
Coach Carter said "about time, we need you." Coach Carter wanted me there. They went out their way and made sure I was good. Coach Carter sends me a text every morning some that are motivating. It was the little stuff too me.
When did you actually commit to Arkansas? Have you been keeping this under wraps for a couple of days?
No, I committed to them today (Tuesday).
When will you visit Arkansas again?
We've been talking about it. Me and Jaylen (Lewis), we are thinking about visiting for the Auburn or Alabama game. One of those games. They have the hardest schedule in college football. We may try to catch one if not both.
Will you help recruit others? Maybe some of the 2023 guys since Arkansas is close to finishing their 2022 recruiting class?
Man, anybody and everyone. The 2023 guys, I have not looked into it. Coach Carter hasn't brought up anyone yet, but if he does, I am on it.
Circling back to the party in Arkansas after the Texas game, what are your thoughts on how well the Hogs played?
I was there. The atmosphere was crazy. They played lights out. They were flying to the ball, had energy, and everything. They had everything you want to see in the defense. The energy they had, the aggression; they will to get to the ball. I believe they had zero deep balls caught on them. The touchdowns were short yardage plays. Me and Jaylen were talking about how they disguise their coverages. They are losing a lot for next season. They are expecting guys to come in and start right away; I am looking to do that.
Being there for all the mayhem at the end of the game, what were some of the crazy things you saw?
A police officer walked up to Coach Pittman and told him there will be a $100,000 fee if the fans rush the field. He told them, "We can't do anything about it." They took the recruits and ran us into the tunnel before they rushed the field. They knew it was going to happen. There was crazy stuff going on out there. I have never witnessed fans rushing the field before.