First Test, Day Four highlights, results, latest updates; 'Really special' bowling quartet creates Test history
Pat Cummins took his 200th Test wicket by dismissing opposing captain Kraig Brathwaite for 64 on day three of the first Test in Perth on Friday.
Cummins' breakthrough meant for the first time in Australian cricket history, all four of a Test team's bowlers have 200 Test wickets to their name – Mitchell Starc (290), Josh Hazlewood (216) and Nathan Lyon (440) having all previously passed the mark.
Australia's attack of the mid-2000s of Glenn McGrath (563), Shane Warne (708), Brett Lee (310) and Jason Gillespie (259) all previously exceeded the mark, but never played in a Test together after all had reached it.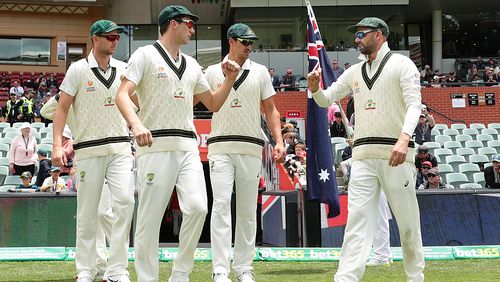 "We just heard that five minutes ago and were trying to think of other bowling attacks thinking that stat wasn't right," Cummins said after play.
"It's great. The three other guys are three of my best mates. We all get along so well. It's not just the time out in the middle, it's the number of dinners and nights in physio rooms together.
"It's a really special group we've got going. We just have so much confidence in each other.
"Even today just felt so relaxed the whole day that once you finished your spell someone else was going to step up."
Cummins took another two Test scalps, while Starc took three of his own, to have the Windies all out for 283 in their first innings.