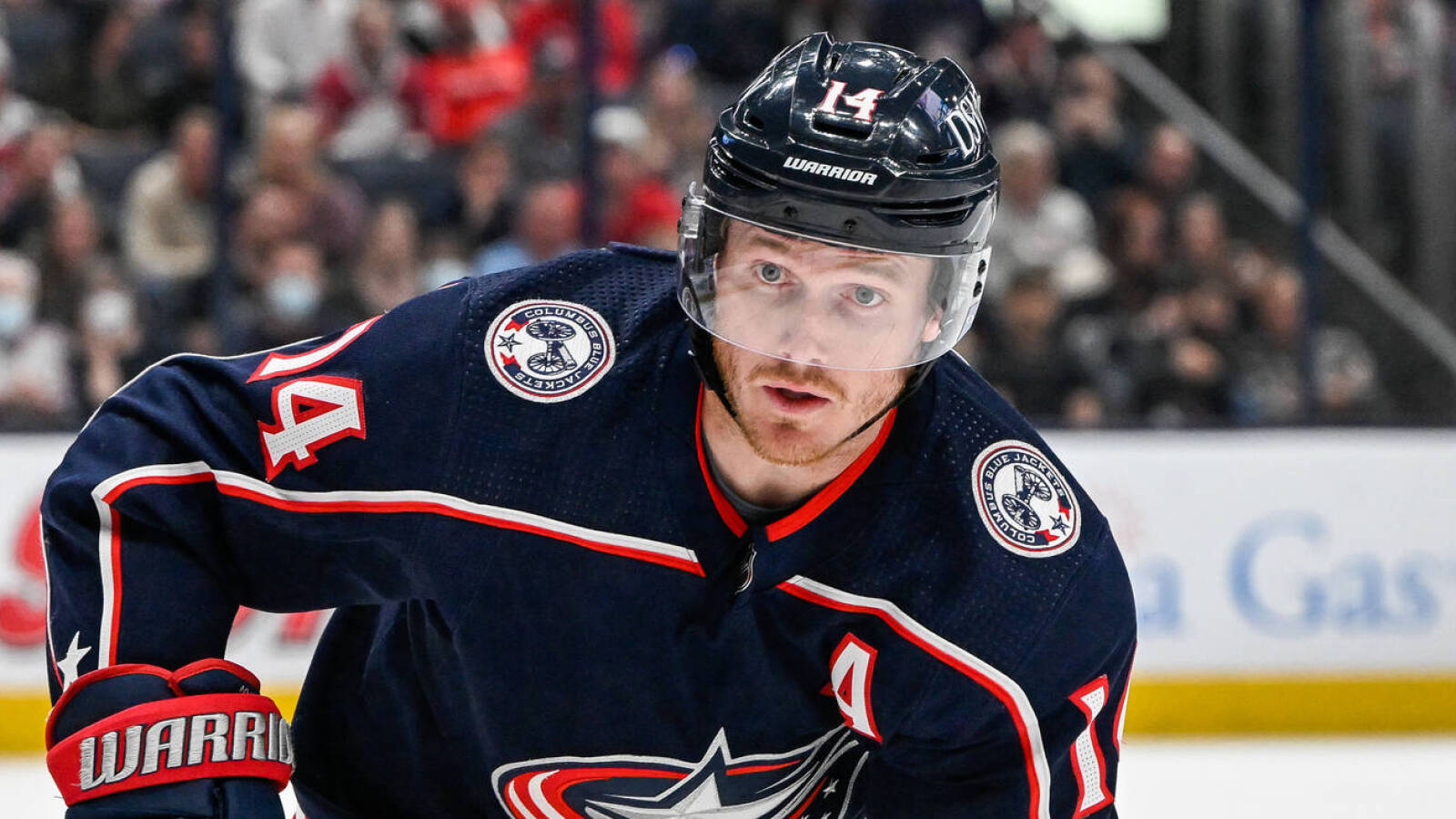 Five potential unsung heroes of the 2023 NHL trade deadline
With less than two months remaining until the NHL's March 3 trade deadline, we're bringing you one deadline-focused story each day at Daily Faceoff.
This time we're going to focus on unsung heroes: potential middle-six forward acquisitions who don't get as much attention as the star players but nonetheless contribute to their respective teams. In previous trade deadlines, players such as Brandon Hagel, Nick Paul, Jean-Gabriel Pageau and others have been able to elevate their games with their new teams.
For the 2023 NHL Trade Deadline, there are numerous unsung players who will garner nice returns and could achieve new levels of success with new teams even if playing lower in the lineup than on their current clubs. Here are five players that will be in high demand on and before the March 3 deadline.
Gustav Nyquist
Current team: Columbus Blue Jackets
Age: 33
Height: 5'11"
Weight: 180 lbs.
Contract: $5.5 million, ends 2022-23 (UFA)
Trade Clause: None
A former fourth-round selection of the Detroit Red Wings, Nyquist has carved out a nice role for himself in the NHL. In 692 games played over 11 seasons he has 172 goals and 419 points. Nyquist emerged in the 2013-14 season with the Red Wings, scoring 28 goals and 48 points in 57 games. Over the past near decade, any team he played for could count on him for a 45-55-point season.
From 2014-2022, Nyquist scored between 40-55 points in seven out of eight seasons, and the exception was his 60-point campaign in 2018-19. This year, his production has fallen off a bit with eight goals and 18 points in 40 games, but given his age and the struggling state of the Blue Jackets, that number is understandable. Still, he is on track for 37 points and is tied for fourth on the Blue Jackets in scoring.
It's a forgone conclusion that the Blue Jackets are not going to the playoffs this year and unless they have long-term plans for Nyquist, they will likely try to trade him at the deadline. A lot of teams will be interested in a reliable third-line veteran who can play on a team's second power-play unit.
Any team inquiring about the Swedish forward likely won't even start a dialogue unless Columbus agrees to retain the maximum 50 percent of his cap hit. At $5.5 million, there aren't many playoff teams that can afford him with so many already up against the salary cap. Even the reduced $2.75 million cap hit will be difficult for many teams and could reduce the return for the Blue Jackets.
Max Comtois
Current team: Anaheim Ducks
Age: 24
Height: 6'2″
Weight: 210 lbs.
Contract: $2.037 million, ends 2022-23 (RFA)
Trade Clause: None
Comtois is an interesting player because he's the only player on this list who is an RFA after this season. That may also complicate things because his qualifying offer will be $2.44 million next year, and if he doesn't rebound not too many teams will want to pay that.
Comtois is having a disappointing season in Anaheim, with five goals and seven points in 31 games. It hasn't been a sudden decline either. He has 23 points in his last 83 games over the past two seasons. For a player who was slated to become a legit top-six forward in his career, this is a worrisome trend.
He did have one strong season in the NHL, which optimistic general managers will look at. In the shortened 2020-21 season, he scored 16 goals and 33 points in 55 games, a 49-point pace. He led the Ducks in points that year.
Comtois does have some advantages over other trade bait players. He's young, still has potential to be an impactful NHLer and most importantly, will be under team control after this season. A playoff-bound team looking for a physical depth player who could move up and down in the lineup could use a player like Comtois.
Tyler Bertuzzi
Current Team: Detroit Red Wings
Age: 27
Height: 6'1″
Weight: 197 lbs.
Contract: $4.75 million, ends 2022-23 (UFA)
Trade Clause: None
Bertuzzi is an undeniably talented player who can't seem to shake free from injuries. He returned from the latest one in time to play on Jan. 10 against the Winnipeg Jets. There is about a month and a half left until the trade deadline and if Bertuzzi can stay healthy and put up some points there will be a lot of interest for him from contending teams.
The Sudbury, Ontario native has only played 87 games over the last three seasons because of injuries and his COVID-19 vaccine situation. He remains a productive player, scoring 30 goals and 62 points in 68 games last year. This year, he has one goal and four points in 10 games.
Like Nyquist's, Bertuzzi's contract will be hard to stomach for a lot of teams – albeit potentially worth it given Bertuzzi is in his prime and has shown solid upside. If the asking price is too steep, teams might just decide to wait for free agency and pursue him there. The Red Wings are still clinging on to their playoff hopes but by the deadline it should be clearer where they're headed.
Even though Bertuzzi has missed a lot of playing time with injuries, he would be a highly sought-after player on the trade market. He is a player that can instantly transform a forward group with his blend of scoring acumen and agitator ability. It is possible the Red Wings intend to re-sign Bertuzzi in the offseason, in which case it would take a lot for them to give him up at the deadline. And if they think they can make the playoffs, he isn't going anywhere.
Sean Monahan
Current Team: Montreal Canadiens
Age: 28
Height: 6'2″
Weight: 196 lbs.
Contract: $6.375 million, ends 2022-23 (UFA)
Trade Clause: M-NTC, 10-team no trade list
The long-time Calgary Flame has regained some of his scoring touch in Montreal. In 25 games this year, he has six goals and 17 points. Monahan was traded there from Calgary along with a first-round pick in a move that gave the Flames enough cap room to sign Nazem Kadri.
It remains to be seen how other GMs around the league value Monahan. He's having a solid season, but is he a top-six center or just a high-performing third-liner now?
Another concern is his cap hit, but if the Canadiens retain 50 percent, the buying team will be more inclined to taking on a $3.18 million contract. Additionally, he has a 10-team no trade list and it's impossible to speculate who might be on that list, but if he's going to a contender, it probably won't be an issue.
Monahan is one of many Canadiens players with large contracts that the team hopes to trade for whatever assets it can get. The return might be modest given the constant and significant injury risk. A foot injury has held him out since early December.
Teddy Blueger
Current Team: Pittsburgh Penguins
Age: 28
Height: 6'0″
Weight: 185 lbs.
Contract: $2.2 million, ends 2022-23 (UFA)
Trade Clause: None
Blueger is one of the success stories of the Pittsburgh Penguins' player development. He was drafted by the Penguins 10 years ago and slowly worked his way up into their lineup. Over the last five seasons, he's carved out a role for himself as a hard-working, defensively conscientious fourth-line center who can pitch in offensively.
This season, he has one goal and seven points in 25 games. Blueger is still a solid player in the Penguins' bottom six but as a team with zero cap space, they might think it would be better to spend their money elsewhere.
The Penguins could try to move him as a precursor to them going after a bigger name on March 3. The return for Blueger would likely be a mid-round draft pick. And his $2.2 million cap hit is manageable for most teams that would be interested in him.