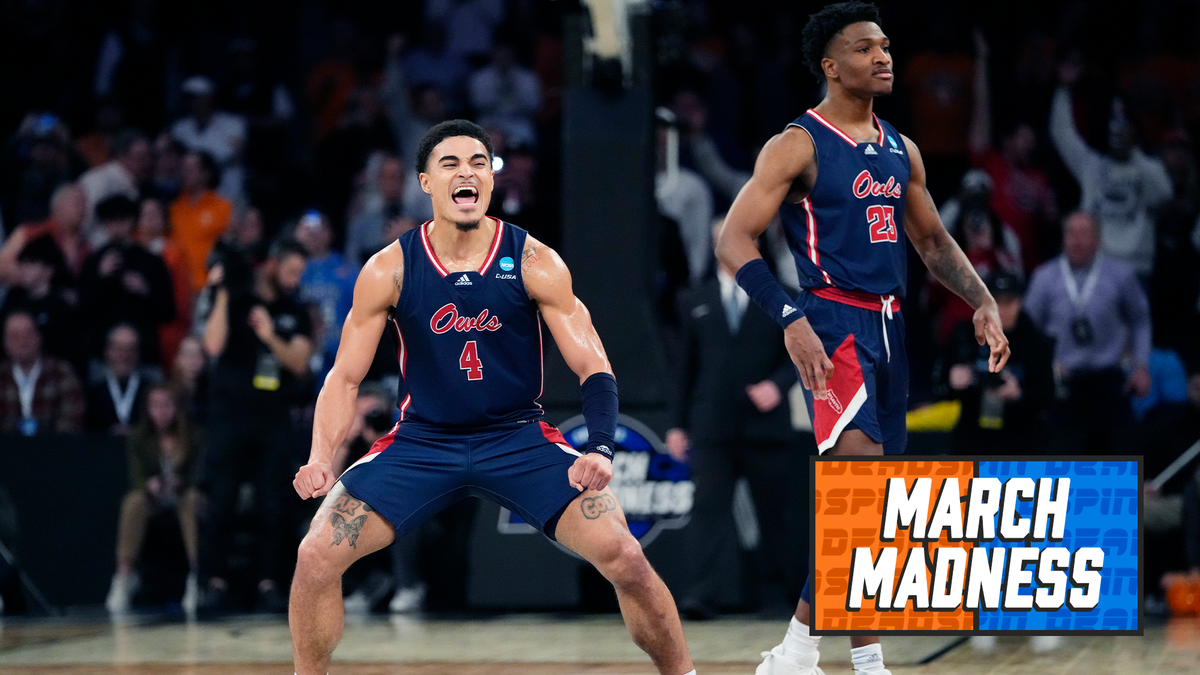 Florida Atlantic continues run with 62-55 win over Tennessee
NEW YORK — Don't let Florida Atlantic hang around. Memphis messed around and found out. Fairleigh Dickinson truly never had the legs to keep up with the Owls, but also felt the result of letting the grittiest team in the nation have time to respond. Surely a Rick Barnes-coached team from a battle-tested Southeastern Conference would know better than to twiddle its thumbs and play with itself enough to let FAU squeeze on by. Yup. The Owls are the East Region's outlier, the mid-major among three other high-level, much-better-funded programs. And it has the chance to outlast that trio and head to the Final Four.
Florida Atlantic's 13-point swing in the middle of Thursday's second half against Tennessee was the game-defining stretch and a momentum-flipping masterpiece if there ever was one in the NCAA Tournament. It started with some casual jumpers, then a few 3-pointers. By the time the takeover was complete, Vols' center Uroš Plavšić was out there throwing unhinged 'bows because you might as well get a flagrant foul at Madison Square Garden if you don't know when the next time you'll play again.
Saturday's East Region Final against Kansas State will mix a complete clash of styles. The Owls took down the Volunteers in a boxing match. They brought the physicality to a team that prided itself on being tougher on both ends of the floor. FAU won by unanimous decision. Kansas State beat Michigan State in a track meet, dictated by sprinter Markquis Nowell, who in one night became the story of the NCAA Tournament. The Owls have thrown a robust offense, Cinderella, and a Terminator out to pasture. Why should the Wildcats feel they're immune to whatever Kryptonite the Owls conjure up?
Is Florida Atlantic playing with house money? Probably. One basket goes differently against Memphis and FAU doesn't make it out of the first round. It avoided Purdue altogether. Rick Barnes was going to get in his own way eventually. In the first half of its Sweet 16 loss, Tennessee looked a step more talented in every facet. In the second half? Oy vey. The Volunteers decided to eliminate themselves from the postseason. The ultimate opportunists that are FAU were happy to oblige.
That might be the key to how FAU gets it done after all. Take whatever the other team gives you and don't give your opponent any leeway. Dusty May's squad has only lost by double digits once this season — in the Owls' second contest of the year on Nov. 11, over four months ago. Florida Atlantic only has two other losses on its season resume period. It has 34 damn wins. And getting to 35 on Saturday is absolutely within reach. There's no team in this country that can outclass the Owls now. Not UConn, not Alabama.
Don't forget Dusty May in all of this
And if Nowell isn't the story of the NCAA Tournament coming out of Thursday night, it's May. FAU's coach has outdone Penny Hardaway, Tobin Anderson, and now Rick Barnes. He'll have to outcoach Jerome Tang on Saturday, who just outlasted Tom Izzo. May staying in Boca Raton past a few weeks from now looks less likely with every win. There are enough high-level openings across the country where he could easily increase his pay by more than 500 percent. May has a base salary of under $430,000 annually. His buyout is only $400,000. That's chump change for a big school with the hottest name on the coaching carousel looking more attractive by the minute.
The Owls will have to somehow lock him in with a massive raise or let him go and rely on the legacy of this run to bring in a new coach. With most of this year's roster returning to FAU next season, bringing in one heck of a coach by mid-major standards shouldn't be hard. May leaving isn't a certainty, but why would he stay when he's in the best position to instantly cash in from this run? If this is what he can do at a mid-major like FAU, give him a Power Conference budget and watch the madness.