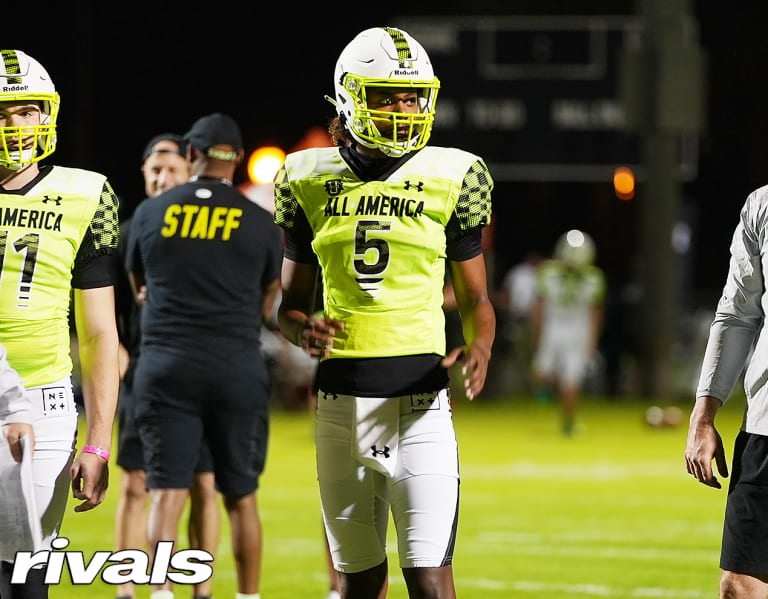 Four-star quarterback Jaden Rashada seeks release from Florida
Jaden Rashada was expected to arrive in Gainesville following the Under Armour All-America Game but unlike Florida's other early enrollees, that never happened.
A couple weeks later and the four-star quarterback from Pittsburg, Calif., has now asked out of his letter of intent from the Gators, according to two reports, and it's expected there won't be a holdup in acquiescing to that demand.
This could all revolve around significant wrangling over an altered NIL deal, which shines a light on the murky world of name, image and likeness and how it's being instituted in the recruiting process with basically no guidelines from the NCAA or the federal government.
When Rashada sat down with Rivals.com for an extensive talk at the Under Armour Game, the four-star quarterback gave no indication of problems with the Gators, from himself or his legal representation, and acted like he was preparing to be at Florida within days.
Talking about the recruiting process, which saw him flip from Miami to Florida, Rashada had pointed words about his experience and gave advice for other quarterbacks who are going through it as well.
That flip as the Hurricanes lost out on a four-star QB and the decision of five-star Cormani McClain to commit to Miami over the Gators, although he has not yet signed and is now serious about Colorado as well, could have sparked a bidding war between dueling collectives.
"It's like a rollercoaster but it's definitely a blessing because it's something you get once in your life," Rashada said of the recruiting process. "To all the recruits out there, it will be crazy at first but once you find home and you get ready to enroll things will get back to normal.
"You have to go with your heart. You have to break down the things you want out of your college career. I'll tell you right now, no school is going to have everything you're looking for."
When asked specifically about Florida, the Northern California quarterback was complimentary of the coaching staff and explained why it was a big reason he chose the Gators over the Hurricanes and others.
"I'll start with the coaches, just how real they were with me," Rashada said. "Never lied to me, never was mad at me, they just kept a level plane. On top of that was how detailed they were with things and specifically how detailed they were recruiting me. They had a game plan for me and that's pretty important if the school has something planned for you."
Instead, that plan has been scrapped as Rashada has asked out of his letter of intent because of what's understood as a dispute over NIL dollars.
The Rashada situation is in the spotlight now but it's hardly the first one to be bandied about when it comes to payments to players, other collectives getting involved to flip recruits and vying for players with contractual agreements and the nebulous world of what used to be completely illegal by NCAA standards now not only legal but publicized by people in the industry.
As for Florida's quarterback situation in the 2023 class, it has been a rocky road. Rashada's drama aside, the Gators also parted ways with three-star quarterback Marcus Stokes after a video was released of him using a racial slur while singing lyrics from a rap song.
The Gators have received a commitment in the transfer portal from former Wisconsin quarterback Graham Mertz, who's ranked as the No. 82 prospect in the Rivals portal rankings. With Rashada expected to be out, it is more than possible that Florida targets another quarterback in this class and it's not incredible to think he would come from the portal as well.