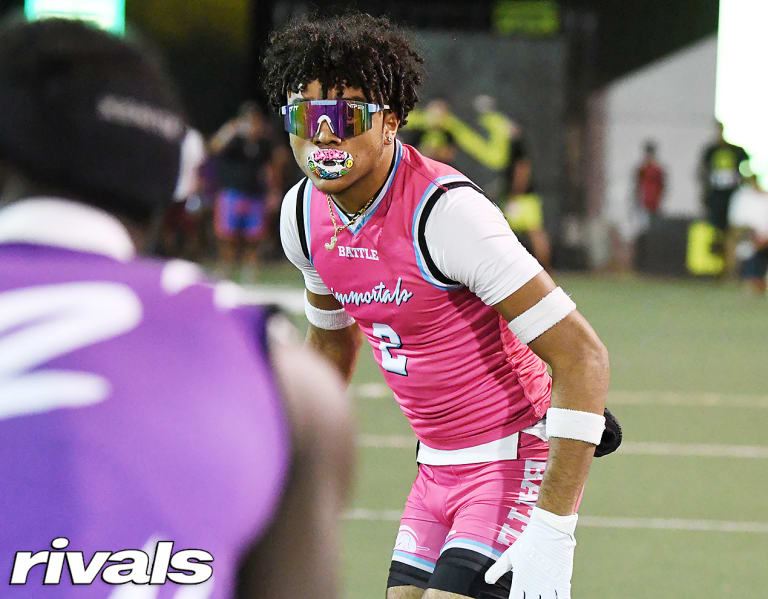 Four-star safety Jaydan Hardy discusses spring plans, high interest in OU
ROUND ROCK, Texas — Lewisville (Texas) four-star safety Jaydan Hardy has been active this offseason between taking visits and competing in 7-on-7.
This past weekend, Hardy played a key role in pushing Team RAW Miami into the championship game of the OT7 regional in Austin.
"I'm trying to grow a lot with my speed and this is helping out a lot," Hardy said about his offseason. "Going against the best talent, being able to practice my man and zone techniques at a high level."
On the recruiting side of things, Oklahoma is a program that has really stood out recently as Brent Venables' early time in Norman has shown Hardy that a bright future is in store.
"I like the culture that they got there, man," he said. "Coach Venables seems like he really has something going on. With him coming in and not having the right players to support his coaching style, and now I see that he's getting the players and the coaching built behind what he believes in."
Co-defensive coordinator Jay Valai has built a long-standing relationship with Hardy going back to his time at Alabama.
"That's my guy," Hardy said. "He offered me back when I was a freshman and he was at Bama. He always said no matter where he goes that he'll recruit me and he stuck to that. That's big for me."
Texas was able to host Hardy over the weekend as safeties coach Blake Gideon continues to build on his relationship with the DFW product.
"Talking to Coach Gideon for a little bit, see if we can get that relationship back going," he said. "When he comes down and talk to me, we keep it short and he says to keep working. He says he likes high school players instead of transfer portal players. He said his system and how he builds it up to be, that's what he believes in. He would rather develop me so that's a big connection of ours."
Hardy is also looking forward to seeing Tennessee, Oregon, LSU and Alabama this spring before taking official visits to Oklahoma and Tennessee, as of now.
At 5-foot-10, 168 pounds, Hardy is ranked as the No. 145 recruit in the country for the class of 2024, according to Rivals. He is the No. 14 ranked safety in the country and the No. 25 recruit from the state of Texas.