Francesco Molinari: Home Ryder Cup appearance in Italy would be incredible after Hero Cup triumph | Golf News
Francesco Molinari captained Continental Europe to a 14.5-10.5 victory over Great Britain and Ireland in the inaugural edition of the Hero Cup at Abu Dhabi Golf Club; the tournament served as preparation for September's Ryder Cup in Rome, which will be live on Sky Sports
Last Updated: 15/01/23 2:18pm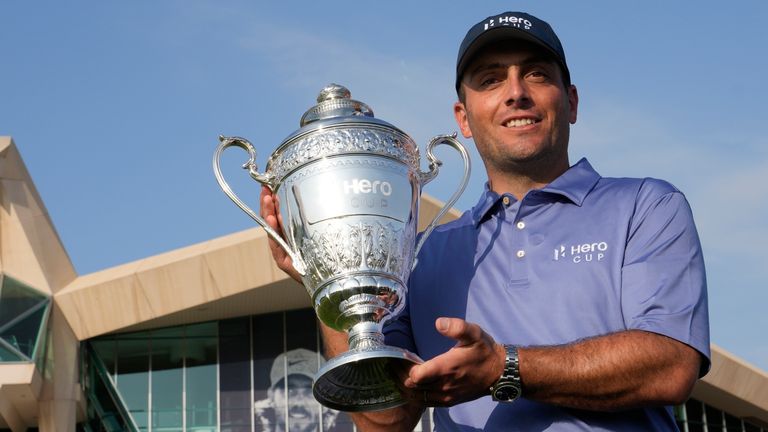 Francesco Molinari is dreaming of a Ryder Cup appearance in his home country after leading Continental Europe to victory in the Hero Cup.
The 2018 Open champion oversaw a 14.5-10.5 triumph against Great Britain and Ireland as playing captain in the inaugural edition of the team event, which has been introduced to give potential Team Europe picks experience of playing in team events ahead of the biennial clash with the USA.
Molinari, a member of Europe's 2018 and 2021 teams, has his sights set on being involved again in September and this year's tournament being at Marco Simone Golf and Country Club in Rome serves as extra motivation for the Italian.
"Obviously it's there," Molinari, who finished with a total of 3.5 out of a possible 4 points from his fourball, foursomes and singles matches, said. "It's a great motivation for me.
"I need to be careful; it's a long way away and there's a lot of golf to be played in between and a lot of goals, intermediate goals to get there.
"So, I just need to focus on my game – it's definitely much better than it's been. So hopefully I can play some good golf and be in Rome.
"Being in Rome would be absolutely incredible."
Molinari's 3&2 victory over Shane Lowry got the first point of Sunday on the board for Europe as they began the singles needing just 4.5 points to claim victory at Abu Dhabi Golf Club.
Great Britain and Ireland had some early success on the final day, with captain Tommy Fleetwood defeating Thomas Pieters 3&2 and Tyrrell Hatton taking a big 5&4 win over Antoine Rozner.
But any hopes of overhauling Continental Europe's lead were dashed as the results from elsewhere started to come in.
Fleetwood was understandably disappointed by the outcome, but the Englishman was full of praise for the way his close friend Molinari and his team acquitted themselves and took plenty of positives from the tournament.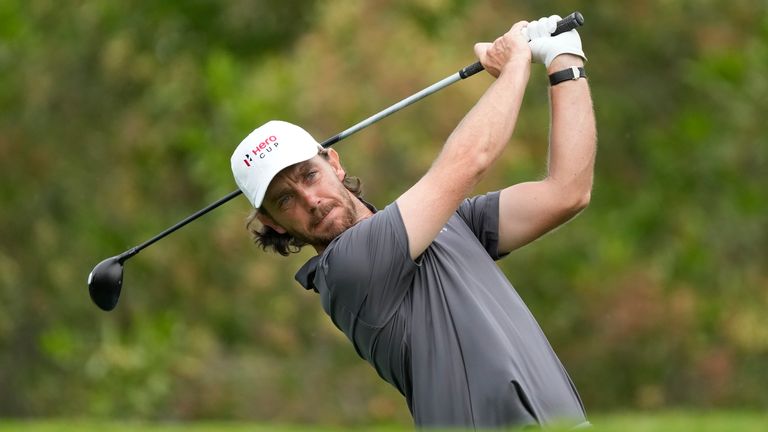 "It's been an amazing experience for me," Fleetwood said. "I wish we could have got it done but at the same time, you do, you remember these moments forever and you cherish them.
"Continental Europe played great all week, and even right until the end you saw them holing the putts that mattered.
"Fran, I haven't been around him at all this week, I've only played against him, but I know and I'm sure Fran will have done a fantastic job."
The win for Europe was eventually secured by Adrian Meronk, with the Pole holing out on the 18th to finish 1up against Callum Shinkwin.
It was Meronk's first point of the tournament and he was delighted to be able to make such a significant contribution – something which will have no doubt delighted his group of supporters who followed him around the course.
"I didn't hole a lot of putts today, and whole tournament so it was great to have this final putt on the last on 18," Meronk said. "It was a perfect place with the team around me and special.
"Winning as a team is much more fun, you have these guys supporting you and playing with them and playing as a team, I think it's just more fun and more enjoyable for me for sure.
"I just focused on my game as our captain, Francesco, said today, just focus on your game and your point, and that's exactly what I did."
Hero Cup displays give Donald plenty to ponder
Team Europe Ryder Cup captain Luke Donald was keeping a watchful eye on proceedings over all three days, as well as being on hand to offer advice to both teams.
Being in attendance in Abu Dhabi has given the 45-year-old some invaluable insights he otherwise may not have had when it comes to selecting his six captains picks for this year's Ryder Cup.
"We're tracking a lot of stats and seeing which parts of the game are invaluable for winning, but you're looking at those key moments in games and how they react to that," Donald said.
"It's how they react to the pressure and how they perform when it really matters – whether they win the match or not.
"There are always key moments in matches, and being able to see them outside the ropes and how they react is really important to me."
Donald is in no doubt he and his vice-captains have benefitted from the experiences gained at the Hero Cup.
"If I'd gone straight into Rome without having any of this experience, I think it would have been a much tougher job," Donald said.
"To be in this environment and know where you've maybe made some errors and correct them going forward, has been invaluable."

Get the best prices and book a round at one of 1,700 courses across the UK & Ireland