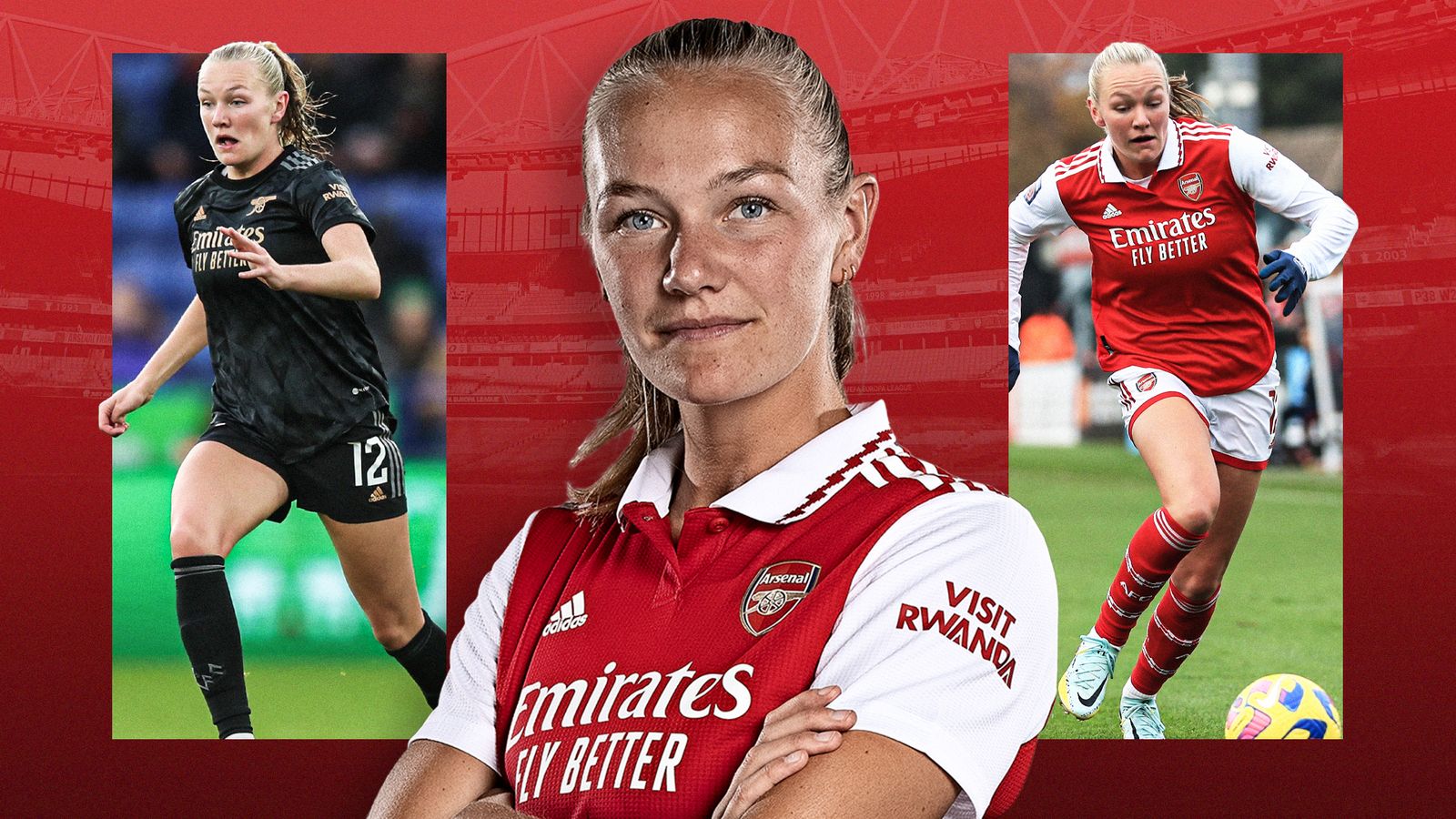 Frida Maanum: How a change of position has unlocked 'unexpected' attacking potential in Arsenal and Norway midfielder | Football News
"I knew she was good, but she was better than I expected," Jonas Eidevall remarked after catching a first glimpse of young midfielder Frida Maanum in Arsenal colours back in 2021.
Over 18 months later, a similar narrative still applies. The Norway international continues to defy expectation even now, having transitioned into a fully-fledged attacking force this season. "It's completely unexpected," Maanum herself freely admitted.
Goals aren't something Maanum is famed for. They weren't the commodity on which she built her career in Norway.

Saturday 11th February 12:00pm


Kick off 12:30pm

Yet as the midfielder-cum-attacker sits down to discuss the trials and tribulations of the current campaign in an exclusive chat at Arsenal's training base, she does so as Arsenal's leading scorer.
A haul of 10 goals (in all competitions) makes Maanum the Gunners' most potent attacking threat – a fact that continues to rack her modest nature.
Maanum is tied with both Vivianne Miedema and Stina Blackstenius in league tallies, but has also exercised an eye for goal in the Champions League – scoring a hat-trick against Zurich as well as one against eight-time European champions Lyon.
"It's where it all began," she explains, thinking back to that historic night at Stade des Lumieres in mid-October. The 5-1 thumping lay down a stunning marker for Arsenal's Champions League credentials this term, but moreover, initiated the emergence of masterful Maanum – the Gunners secret attacking weapon.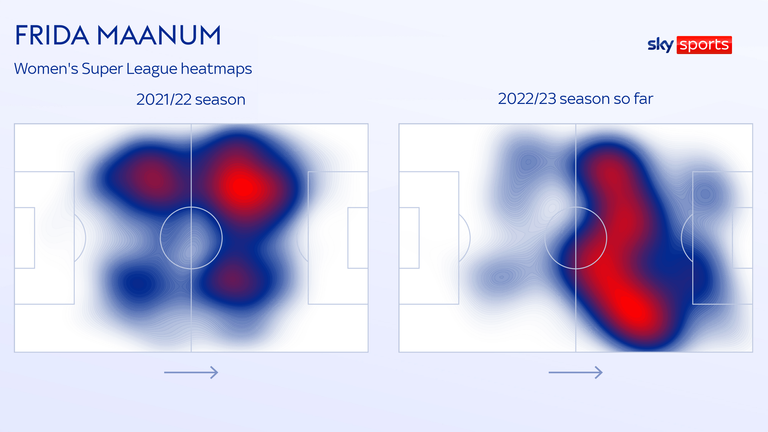 "The first game was Lyon away," she recalls. "It's probably the best way to start [something new]. It worked out well and I feel like I've developed in that position ever since."
There are few bigger statements to make – beating the 'gold standard' of European football so comprehensively in their own back yard. That night, Maanum was selected ahead of Miedema in the No 10 position – a stroke of tactical genius by manager Eidevall, albeit one that drew initial scepticism.
Indeed the shock decision to exclude Miedema was latterly justified by Maanum's excellence on the ball, using a new-found confidence to drive at defenders in areas of the pitch that were previously alien to a deep-lying midfielder. The performance rubber-stamped the Norwegian's new title role.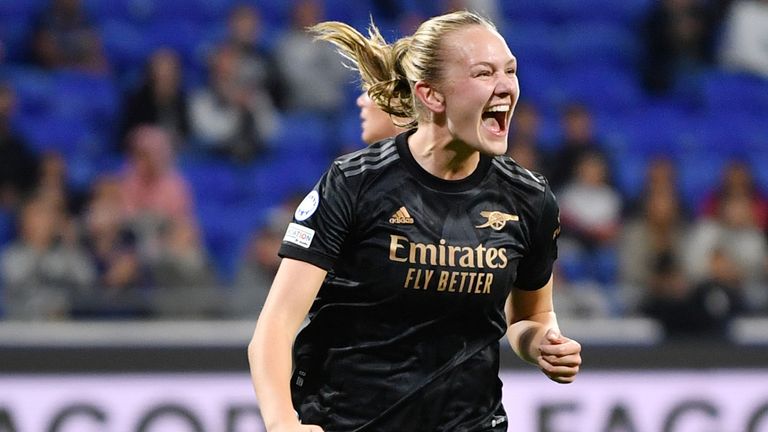 "Jonas knew the whole time that I liked playing as a 10, higher up the pitch," the 23-year-old continues. "I did that a bit with my previous team. I can play as a six too, but Jonas wanted to try something new.
"From my side, I wanted to play that position. It's a mix of reasons but I'm happy playing there. You could say I'm a 10 now and I really like that role."
What began as an experimental switch has developed into a necessary triumph as Arsenal continue to contend with injuries to Miedema and Beth Mead – who were jointly responsible for 38.5 per cent of the Gunners' WSL goals last season.
Maanum, however, is embracing being front a centre. Not only does she enjoy the additional responsibility, she's thriving off it, despite appearing bashful when reminded of her personal goal tally for the season. "Is it 10? I think it's nine or 10," say said, unassumingly.
"I've been working on my finishing for a long time. You come to a point where you loosen up a bit and that helps with scoring more goals. I haven't before been a goalscorer, really, but I just try to score goals for the team. I always want to contribute to winning.
"When you say [I'm Arsenal's leading scorer] I can't really believe it. I didn't see that coming. I knew I had the ability to score goals but I didn't think I could score 10 goals by this point in the season. It's very unexpected.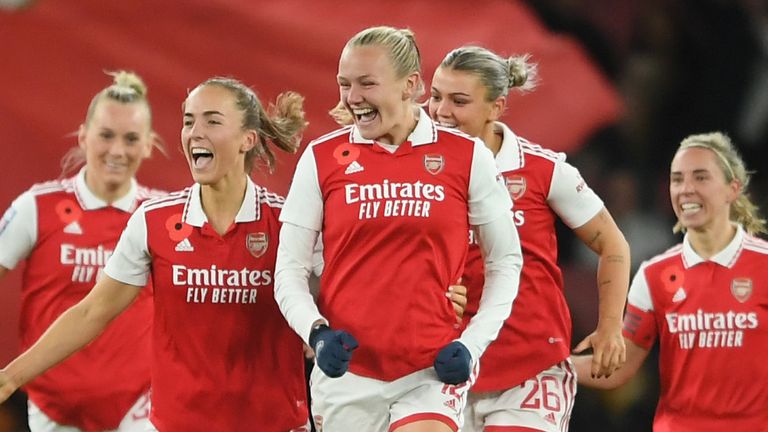 "We all have to step up [in the absence of Mead and Miedema]. Not only me. You get that pressure to score in the role I'm in. They [Mead and Miedema] scored loads of goals last season but the responsibility is now divided between everyone. We all need to step up and score their goals.
"You have to find connections with those around you and I like the responsibility actually."
Arsenal attacking stats
| | | |
| --- | --- | --- |
| Shots | 20 | 1st |
| On target | 7.6 | 1st |
| Touches in opp box | 34.6 | 1st |
| Goals | 2.6 | 3rd |
| xG | 5.98 | 4th |
Replicating the likes of Mead and Miedema is not easy. But that is not Maanum's intention. She is not interested in replacing, simply enhancing. Arsenal lead the WSL in shots and touches in the opposition box per game – but fall down slightly on shot conversion.
"It takes time," Maanum says.
"You need time to create relationships – in the 10 role you have to build connections. Particularly with the wingers and the nine, even the sixes. It's a crucial role – I like that too.
Mollie and Rosie Kmita assess the degree to which Chelsea's strength in depth could give them the advantage in the WSL title race.

"When we have control of the game it doesn't really matter unless we score the goal. We have to know it's going to be hard until the end. But when the team is doing good it's easier for me to perform. I want to succeed in games by scoring goals."
During Sunday's stalemate at West Ham, Arsenal registered nine shots on target but couldn't make one stick. That job now falls to Maanum, among others, to convert such dominance into precious points, particularly after a trophy-barren four years – the desire for silverware has overtaken the need for much else.
Highlights of the Women's Super League match between West Ham and Arsenal.

"Personally, I'd like to be six points ahead [of Chelsea and Manchester United] but for the fans and all the followers it's probably fun that it's tight," the converted forward said of the WSL title race. "The positive side of the English league is that it's so tight – you have to be on it every game. You have to be on your 100 per cent, that's what makes it entertaining. We all want it to be a tight race until the last game."
Maanum has the backing of her manager to provide the goods. "We have enough goals," Eidevall reaffirmed this week, despite causing a stir before the January transfer window closed by pursuing Manchester United striker Alessia Russo. "We always need to believe. The moment you stop believing you cannot win," he added.
Arsenal will test their firepower against Manchester City for the second time in three days on Saturday, live on Sky Sports, having also triumphed in the Conti Cup midweek – a revealing rehearsal.
Blackstenius came off the bench to score an extra-time winner as Arsenal dumped holders City out of the competition after a goalless 90 minutes on Wednesday. "To succeed in games and score goals is a big confidence boost," Maanum explained before that encounter.
Arsenal women's head coach Jonas Eidevall says their WSL Cup semi-final against Manchester City is unlikely to have any bearing when the two teams meet in the league just three days later.

Advantage Arsenal? Maybe psychologically. They certainly edged Wednesday's tactical tussle but did lose their WSL points leverage over the Mancunians last weekend – with both sides now locked on 26, four shy of leaders Chelsea.
Saturday's lunchtime meeting has the potential to be season-defining – for both. The pressure is on. "It will be a fun game to watch, that's for sure." Maanum concluded.
Less relaxing to play in, you would suspect.
Watch Man City vs Arsenal live on Sky Sports Football on Saturday from midday, kick-off 12.30pm.