Hamlin's 'almost daily' return to the Bills facility offers a boost ahead of the Bengals' rematch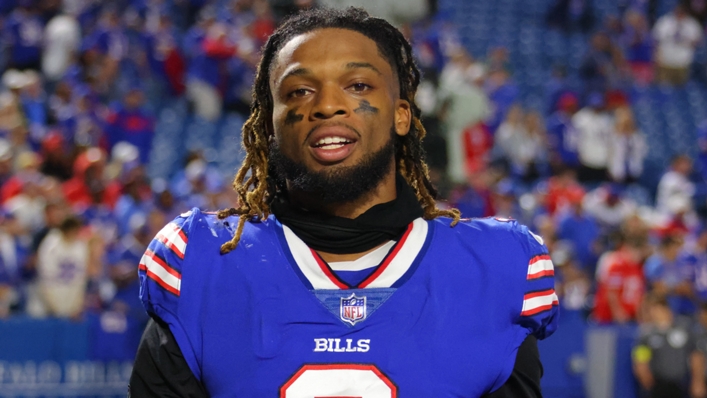 Damar Hamlin of the Buffalo Bills
Buffalo Bills head coach Sean McDermott revealed Damar Hamlin has been back visiting team facilities "most days", offering a big boost ahead of their AFC Divisional round game against the Cincinnati Bengals on Sunday.
Hamlin was released from hospital last week after being in critical condition after suffering a heart attack during a January 2 game against the Bengals in Cincinnati.
The Bills' safety has continued to improve on his road to recovery, which McDermott outlined ahead of their rematch against the Bengals for the first time since the incident.
"Rosin is in the building now almost every day," McDermott told reporters. So that's good news. As he continues to develop, it will help.
"That experience, we're going to take that with us. There are challenges to it, but there's also a lot of goooooooooooood that comes with it. Right now, we need to focus on the positives that are coming up rather than anything else he is."
McDermott said Hamlin's participation was "limited", not taking part in team meetings or other physical pursuits.
"He came in and really just started today or yesterday and just trying to get back into a routine and settle in again and take one step, one baby step at a time here," he said.
"Kind of got himself to dip his toe back in here and you know, be on the road to getting back to himself."
It remains unclear whether Hamlin will attend Sunday's game at Bills Stadium, after watching Sunday's 34-31 win over the Miami Dolphins from distance.
Bills quarterback Josh Allen added that the players are encouraged by Hamlin's return and the emotional trauma from the incident has subsided.
"I think there's not much left to be honest," he said. "Obviously with people being able to see Damar, people being able to see him and talk to him, that takes away a big part of it.
"I'm not saying there won't be, I can't speak for everyone in the team, but we're very focused now, have good preparation. We'll try to go out there on Sunday and run."
The Bengals entered Divisional round play with nine straight wins, seeking back-to-back AFC Championship Game appearances. Since Week 9, Cincinnati has the third-best points per game and second-best points gap per game in the NFL.
Nonetheless, the Bills were considered the favorites for the game, given their emotional drive, home advantage and AFC second-seeded finish, but Bengals head coach Zac Taylor does not view his team as underdogs.
"We know that we are the reigning AFC champions," Taylor told reporters. "There's an edge to this team, we're not the underdogs. That's how it's felt all season. We know we fit on the pitch with every team."