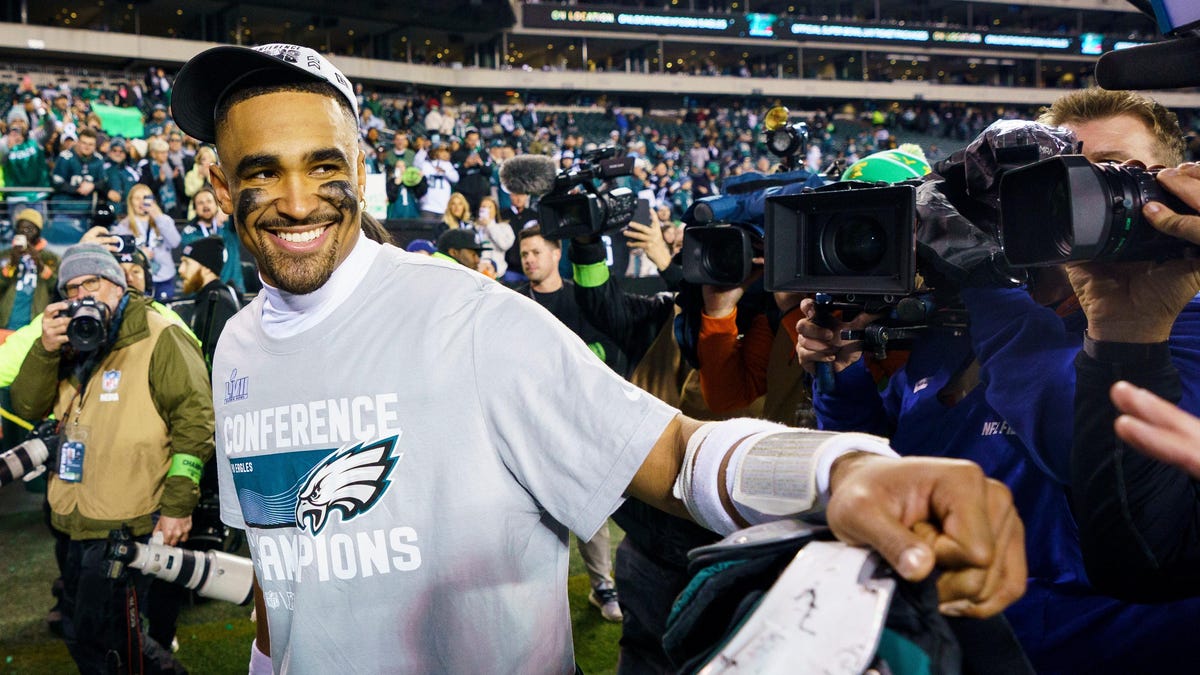 Hate for Philadelphia Eagles only seems to make them stronger
What I'm not here to do is give the Philly fans any more reason to squawk. The Philadelphia Eagles haven't been challenged this postseason, and are now one win away from a second Super Bowl in six years after the last title team fell apart and bounced back quicker than a SuperBall. It's really annoying how good not only the Eagles have been, but also the Phillies — NL champions this past season — and the 76ers. If I see one more picture of Rob McElhenney smiling, I'm going to launch my phone into the nearest snowbank.
While I'm not alone in my sports hatred for Philly, the public's collective disgust in the city's success only makes its fan base stronger. The City of Brotherly Love feeds off hate like the death meteor in the Fifth Element, Jason Whitlock, or Boston supporters. And I think we can all agree that we're good on duck boat parades for the rest of existence.
Remember how much more endearing the Red Sox were before they broke the curse? "Aww, they're assholes, but they're sad. How tragic." That sentiment is gone, and all that's left is a bitter aftertaste.
I will say this though — and it kills me to do it, but I'm at my wit's end trying to put a hex on the Birds — they're really good.
The Eagles, lord forgive me, should be bigger favorites
What am I missing here that Philly is only a 1.5-point favorite? The Giants were supposedly this dark horse candidate and didn't even make it to halftime. Brock Purdy or not, San Francisco's infrastructure was crumbling quickly Sunday. It was going to take a mistake-free outing to keep it close, even if that had happened, the Niners still would've needed some turnover luck or a few explosive plays.
I've heard detractors saying, "Oh, well, Jalen Hurts didn't look great, and he's not 100 percent healthy." My response would be, yeah, and they're still smoking playoff teams by three touchdowns. San Francisco hadn't lost since October, and that vaunted offensive line was scrambling from the start.
The Eagles' 416 yards of total offense against the Giants in the divisional round was more than they allowed in both playoff wins combined (391). Philadelphia has outscored opponents 69-14 in two weeks. Are bettors terrified of Patrick Mahomes?
The respect for No. 15 no doubt plays a factor, but I'd argue Philly fading is even more prevalent. You know how the Lakers and Cowboys are very public teams? Basically, that but the reverse.
The only flaw of this Eagles' squad is the schedule, and if that's how you want to talk your way into loading up on Kansas City, feel free. There's benefitting from an easy slate — like the Titans last year — and then there's what Philly did in 2022, which was piledrive everyone they faced until the No. 1 seed was clinched, rested up, got healthy, and then resumed beating the crap out of whoever is on the other side of the line of scrimmage.
We need to find a way to jinx the Eagles
In no universe am I ever going to publicly root for the City of Brotherly Love, and if you're thinking about a "reverse jinx," go hang out with Paulie from South Philly and see how long you can inhale his noxious pro-Eagles fumes.
So that's out of the question. What I'm trying to do is think of a way to make the Birds overconfident without flagrantly blowing smoke up their ass. And I have a win-win solution as long as the Eagles cover a point-and-a-half.
The quickest, most surefire way I can think of to ensure that the Eagles lose is to put money on them. I don't gamble enough to be a mush. However, if the few wagers I've made are any indication, I'm well on my way to pissing off anybody with an identical ticket.
So I might have to break the seal on my FanDuel account. If sports fans as a whole are going to have to deal with already insufferable Philly supporters for an entire offseason — Sixers and Phillies' success notwithstanding — the least we can do is profit from it.