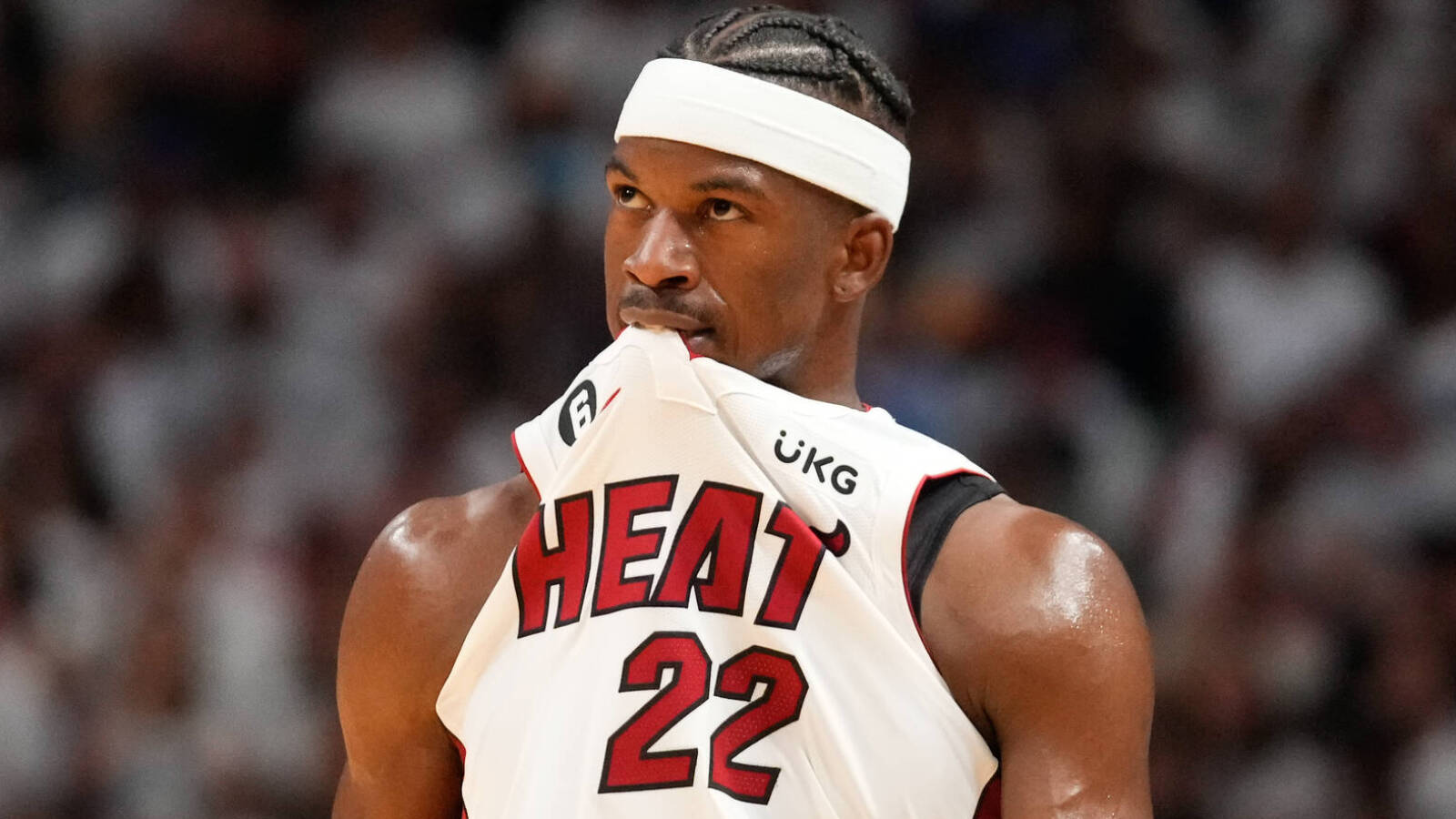 Heat's Jimmy Butler speaks out about ankle following Game 3 win 
Jimmy Butler's sprained right ankle still isn't 100%, but he felt good enough on Saturday to help the Heat seize control of their playoff series with a resounding victory over the Knicks, writes Anthony Chiang of The Miami Herald. 
Playing for the first time in six days, Butler had 28 points, four rebounds and three assists, and although he shot just 9-of-21 from the field, he attributed that to being out of rhythm.
"A lot of recovery and making sure that I can move went into it for sure," Butler said of his rehab process, which resulted in just one missed game. "But I got a great team behind me that people don't see that's always there for me and making sure I have everything I need when I'm off the floor to recover."
Butler had another close call with an injury on Saturday, Chiang notes. He hurt his thigh on a drive to the basket in the third quarter, but he was able to return with 5:19 left in the game to help hold off a New York rally. Coach Erik Spoelstra called it similar to a "stinger" and said Butler could have gone back into the game earlier if necessary.
Spoelstra and Butler's teammates marveled at another great performance, with Kevin Love comparing it to what LeBron James used to do in Cleveland. The eighth-seeded Heat is now 6-1 in the playoffs when Butler plays, and they're just two wins away from reaching the conference finals.
"You can't put an analytic to it," Spoelstra said. "It's just the overall confidence level your team has that you can always get the ball to him and know that we'll get something efficient and coherent."
Here's more from Miami:
After accepting the blame for the Game 2 loss, Bam Adebayo outplayed the Knicks' Julius Randle on Saturday, Chiang states in another Miami Herald story. Adebayo had 17 points and 12 rebounds while limiting Randle to a 4-of-15 shooting day. "Bam was all over the place, both ends of the court," Spoelstra said. "The stat line doesn't do any justice of the impact to be able to take a challenge on a great player like Randle, with limited help."
Backup center Cody Zeller downplayed a skirmish with Randle late in the fourth quarter, Chiang adds. Although it was nothing like the fights the teams had during their playoff meetings in the 1990s, it did result in three technical fouls. "It's two physical teams and the playoffs," Zeller said. "It's all good. It was nothing."
Miami's reserves outplayed New York's in Game 3, with Zeller, Kyle Lowry, Caleb Martin, Duncan Robinson and Haywood Highsmith all contributing to the victory, notes Ira Winderman of The Sun-Sentinel. The bench performance allowed Spoelstra to give his starters some rest with Game 4 looming on Monday.