'It's worth investing, suffering, sacrificing' – Ten Hag praised the players
'It's worth investing, suffering, sacrificing' – Ten Hag praised the players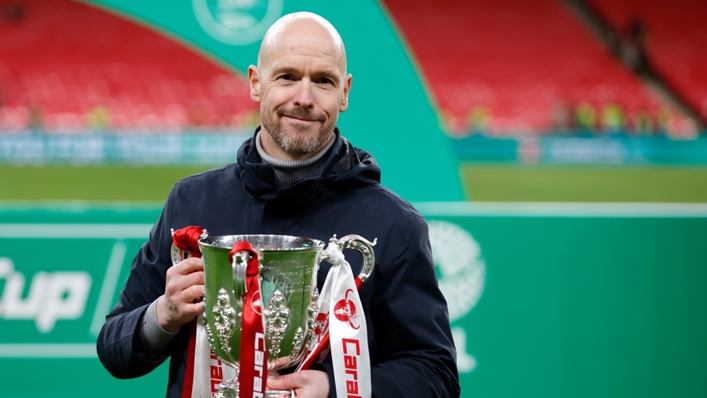 Erik ten Hag holds the EFL Cup
Erik ten Hag wants his Manchester United players to celebrate winning the Carabao Cup, before targeting further success.
A header from Casemiro and a first-half own goal by Sven Botman gave United a 2-0 win over Newcastle United in Sunday's final at Wembley.
It ended six trophyless years for the club, and gave manager Ten Hag another sign of improvement since his arrival.
"You have to celebrate," he told his post-match press conference, with the trophy displayed in front of him. "It's not an ordinary day, [we] won a trophy.
"This trophy means something, that's the feeling I have in England. We have to celebrate but after that you have to move on."
He added: "[We] know that it's worth [it] to invest, suffer, sacrifice, and know that you have to give your best every day to [allow you in the end] to celebrate.
"It's about glory and honor and if you want to win something you have to do it."
The win came just three days after United's win over Barcelona in the Europa League playoffs and Ten Hag was pleased with the energy his team showed shortly after such a big display.
"It was a massive performance which tells you we are fit, physically and mentally, we have energy. I thought it was a great performance," he said.
Ten Hag left Ajax for United at the end of last season, and explained his "love" for the club led to his agreeing to join, before suggesting his players should leave a legacy of their own for the next few years.
"Maybe risky [leaving Ajax] but I'm a little stubborn," he said. "I love United so much, when I saw the shirt, when I saw the legacy of Alex Ferguson… this team needs to make its own legacy. When this opportunity came I thought this was the right team for me, I wanted to be a part of it."
Club owner Avram Glazer was in attendance at Wembley and celebrated with Ten Hag and the players after the win.
"He is very happy for the club, as an owner, he really wants to be a part of it," said Ten Hag. "You can see that when he's in the dressing room. It's great he can be a part of that."
Ten Hag then left the press conference, having to be reminded not to forget the trophy before he walked out, joking that he would have to win more to replace it.