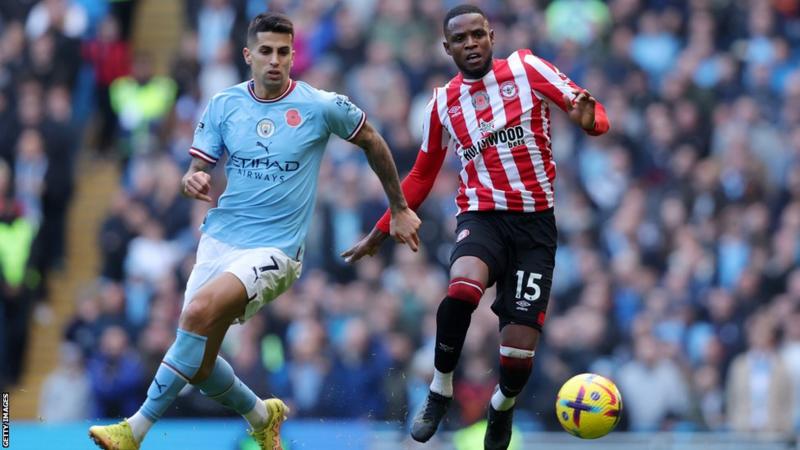 Joao Cancelo Bayern Munich in talks to sign Manchester City defender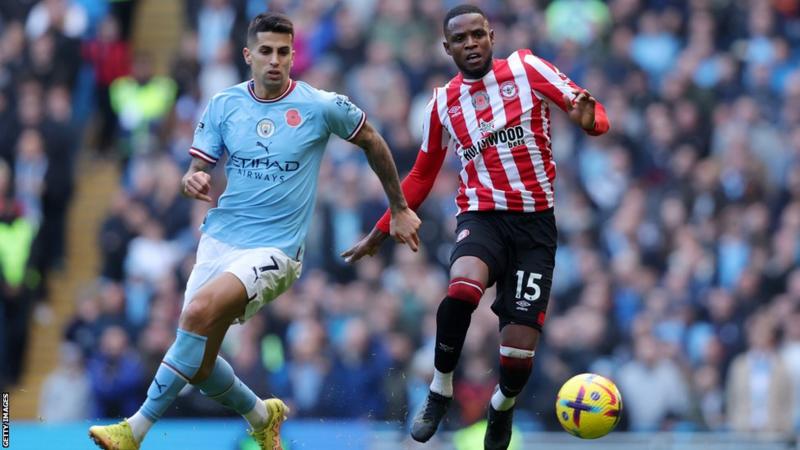 Manchester City defender Joao Cancelo is in line to join German champions Bayern Munich before Tuesday's transfer deadline.
A deal for the Portugal full-back is still to be completed but the proposal is for an initial loan with a 70m euro (£61.5m) option to buy in the summer.
The 28-year-old signed for City from Juventus in 2019 and has made 98 Premier League appearances.
Read More : New Liverpool debate rages after FA Cup exit leaves dismal season at point of no return
He has won two league titles and the EFL Cup under Pep Guardiola.
Cancelo had previously been viewed as one of the key players in Guardiola's squad due to his ability to drift inside and act as a playmaker when City had the ball.
His performances saw him named in the PFA Premier League team of the year for the last two seasons.
However, he has only started three games since the World Cup and his last two appearances were in the defeats by Southampton and Manchester United.
The emergence of teenager Rico Lewis and Nathan Ake's improved form has left the City manager feeling confident he has enough defensive options to cover the exit of a player who is keen to move to Bayern in order to keep playing at the highest level possible.
In December 2021, Cancelo suffered cuts to the face after attempting to fight off a gang of four intruders at his home in a "horrific robbery."
He signed a new five-year deal with the reigning Premier League champions in February 2022, extending his contract at Etihad Stadium until 2027.
Last summer City sold defender Oleksandr Zinchenko and forward Gabriel Jesus to Arsenal, as well as Raheem Sterling to Chelsea in a £50m deal.
Analysis – Tactical tweaks reduced Cancelo's influence
Pep Guardiola has never made any secret of the fact he won't keep an unhappy player.
Joao Cancelo is not happy at his limited game time, Bayern have made an offer and Guardiola has gone for it. It is as simple as that.
The brutal truth is that, in a season where City have struggled to find the consistency and effectiveness of recent seasons, Cancelo is one of those who has not reached the required levels.
Erling Haaland's arrival has triggered some tactical tweaks and Cancelo is no longer the force he was.
In addition, the emergence of teenager Rico Lewis at right-back and the improved form of Nathan Ake, who made a match-winning contribution from left-back against Arsenal on Friday, has left Guardiola confident about his options.
There are question marks over the fitness of John Stones, Aymeric Laporte and Ruben Dias, so this move is not without risk.
But Guardiola has led City to four titles in five seasons, and in sanctioning this move has shown he is brave enough to make decisions he believes will give the club the best chance of continued success.
In a stunning move, Bayern Munich has reportedly acquired Manchester City fullback Joao Cancelo. As of now, it is believed that it will be a loan arrangement with an option to buy for the Bavarians. According to the Jack Gaughan of the Daily Mail, the option to buy could be as much as €70 million:
Cancelo can play both right-back and left-back, but it appears that this move could be the first step in closing out the career of Benjamin Pavard at Bayern Munich. Disgruntled and talking openly about leaving, Bayern Munich has now greased the pathway for the Frenchman to make that happen during the summer transfer window as his playing time could get slashed.
But what about Noussair Mazraoui? Could the Moroccan defender's post-COVID ailment be more serious that initially anticipated? What of Josip Stanišić? Well, this certainly does not bode well for him. Is Matthijs de Ligt facing a suspension from his time with Juventus? At this point, it is unclear what outcome that situation yield.
For the short-term, there appears to be enough of a reason for Bayern Munich to take a chance on Cancelo. For the long-term — should the club keep him permanently — there will be some roster fall out in many forms if Bayern Munich decides to shell out what seems to be an absolute ton of money for Cancelo.
This move, however, probably shouldn't be a total surprise to those who have followed Bayern Munich's transfer rumors over the years. Back in 2019, Bayern Munich first became interested in Cancelo when he was with Juventus. The Bavarians maintained interest in him even after his move to Manchester City as well. Moreover, just last year, Cancelo was identified as one of Julian Nagelsmann's "dream players" by Sport Bild.
It could even be theorized that the initial interest was spurred during the summer of 2018 when Cancelo faced off with a stripped down, traveling Bayern Munich squad at the International Champions Cup match in Philadelphia. From that point, it was just a year later where we started to see the Bavarians and Cancelo linked together in the rumor mill.
Now, though, the only question that remains is if this will be the start of a long-term partnership or just a short-term fix to a few potential problems.