Katerina Siniakova vs Coco Gauff score, Nick Kyrgios embroiled in fresh controversy as Thanasi Kokkinakis whacks 'unfair' criticism
Nick Kyrgios has found himself in hot water on the eve of his Australian Open first-round match after being pictured on an e-scooter without a helmet on.
Photos of Kyrgios on the scooter with his partner emerged on Monday morning, with both not wearing helmets, a violation of Victorian road rules.
Australian tennis great Todd Woodbridge admitted the latest controversy was "not a good look" for the country's top men's seed.
"You never know what to expect from Nick Kyrgios with when he heads into a tournament," Tony Jones added on Nine's Australian Open coverage.
"You never know what to expect from Nick Kyrgios when he wakes up in the morning."
Kyrgios will kick his Australian Open campaign off on Tuesday when he takes on Russia's Roman Safiullin in the first round, and Aussie great Jelena Dokic admitted he has a tough draw.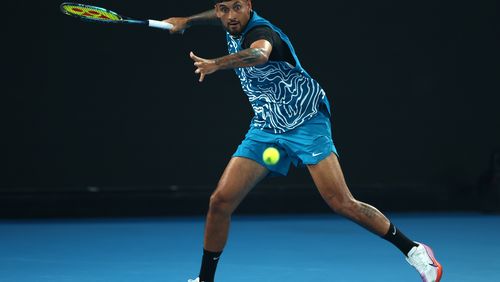 "With Nick for me, he's only really given himself are a chance for the first time to do well at grand slams last year. Sometimes it doesn't happen," she said.
"It took Andy Murray a couple of times. As we look at his draw it is a tough one. (Holger) Rune in the third round and potential one with Djokovic in the quarter final but sometimes it is going to happen. He got to the quarters of the US Open, had a tough match.
"Might happen here as well but he has to consistently put himself in a position to have a chance at grand slams and he's only done that for a year."
Dylan Alcott says the most important thing for Kyrgios is to play happy.
"He is in a good place mentally. As long as he has fun, enjoys what he's doing, he will go well," he said.
"It sounds a bit counterintuitive and if is all about the results and tennis but he is in a good spot.
"He's playing a big role in Australia. I hope he enjoys it. He deserves to enjoy it. That's right and the results will come as long as you have a good time."