Kerala Blasters vs Jamshedpur FC Match Preview
KBFC vs JFC – ISL Semi- Final: Indian Super League Shield winners Jamshedpur FC aim to come back from their first leg defeat against Kerala Blasters to qualify for their first ever finals. Whereas the Blasters are all set to set their feet on their third ISL finals as Ivan Vukomanovic's men are keen to win the title this season. Follow ISL 2021-22 LIVE Updates only on InsideSport.IN
KBFC vs JFC – ISL Semi- Final: Jamshedpur FC head coach Owen Coyle has assured the fans that his team will look to shake off the defeat from the last match and look for a turnaround.
KBFC vs JFC ISL Semifinal Live Updates
32′ YELLOW CARD for Ayush Adhikari as he illegally brings down Pronay Halder in the middle.
27′ SUBSTITUTION Early change for Jamshedpur FC as Coyle brings in Laldinpuia replacing Laldinliana.
23′ Stewart gets into the act quickly as he sends in a great ball but it is too long for Eli Sabia in the box. Another chance for Jamshedpur goes beginning.
17′ GOOOAAALLL!! Adrian Luna has struck first blood for the Yellow Army. A brilliant move from the Uruguayan as he wriggles his way in the middle and as he finds little space he pulls the trigger and finds a way beyond Rehenesh. A huge advantage for Kerala Blasters now.
10′ OFFSIDE!! Diaz picked the ball up from a melee in the penalty box. He makes no mistake beating Rehenesh in Jamshedpur FC. Just when Kerala Blasters fans thought that they had the lead the lines official raises the offside flag.
2′ HUGE CHANCE!! A beautiful buildup from Kerala Blasters as Jorge Diaz sets up Alvaro Vazquez through on goal. But the Spaniard's chip shot over TP Rehenesh sways way off target.
1′ KICKOFF!! Kerala Blasters start the proceedings in the second leg of the ISL Semifinals between the Yellow Army and Jamshedpur FC
The players are out on the ground and are ready to start action after going through the matchday norms.
Team News In!!
TEAM NEWS

Here's how @KeralaBlasters and @JamshedpurFC will lineup for tonight's crucial semi-final clash 💥#KBFCJFC #HeroISL #LetsFootball #KeralaBlastersFC #JamshedpurFC pic.twitter.com/rftN6qbybF

— Indian Super League (@IndSuperLeague) March 15, 2022
KBFC vs JFC: Kerala Blasters aim to reach their third ISL finals, Jamshedpur FC ready to turn around from their last defeat
"We won't change our approach. Anybody who watches Jamshedpur knows that we go to win every game. We have to win this match if we want to progress to the final. So we have to score goals," Coyle said ahead of the game.
Just 9️⃣0️⃣ more minutes stand between us and the final! ⏳#KBFCJFC #YennumYellow #KBFC #കേരളബ്ലാസ്റ്റേഴ്സ് pic.twitter.com/f8M2WDGVBY

— K e r a l a B l a s t e r s F C (@KeralaBlasters) March 13, 2022
"The approach will be similar to the one we had against ATK Mohun Bagan. We respect the opponents and we know how good they are. We will try and be at our best," he added.
KBFC vs JFC – ISL Semi-Final:On the other hand, the Kerala Blasters are in great form after the 1-0 win against the Men of Steel in the first leg. Sahal Abdul Samad who scored the solitary goal is having a season of his life and will like to continue that fine goalscoring form to the second leg.
KBFC vs JFC: Kerala Blasters aim to reach their third ISL finals, Jamshedpur FC ready to turn around from their last defeat
Also Read: ISL Season 8: Bartholomew Ogbeche says the inclusion of fans will be an additional motivation in the finals
Ivan Vukomanovic feels that they cannot take things lightly in the second leg. He assures that his team will take this as a different game and will come out all guns blazing.
"We don't even look at our last game, that lead won't give any guarantee. Tomorrow is a new game we've to be concentrated and 1-0 from the last game doesn't give us anything, we'll start like 0 – 0. It'll be more difficult than the last game," Vukomanovic said.
KBFC vs JFC – ISL Semi- Final: Overall it promises to be a cracker of a game with two different managers following different philosophies. Jamshedpur FC will come out all guns blazing as they need to win the match by two goals to qualify for the finals. Whereas Kerala Blasters know only one way and that is to attack.
Form
Kerala Blasters: LWWDW
Jamshedpur FC: WWWWL
KBFC vs JFC: Kerala Blasters aim to reach their third ISL finals, Jamshedpur FC ready to turn around from their last defeat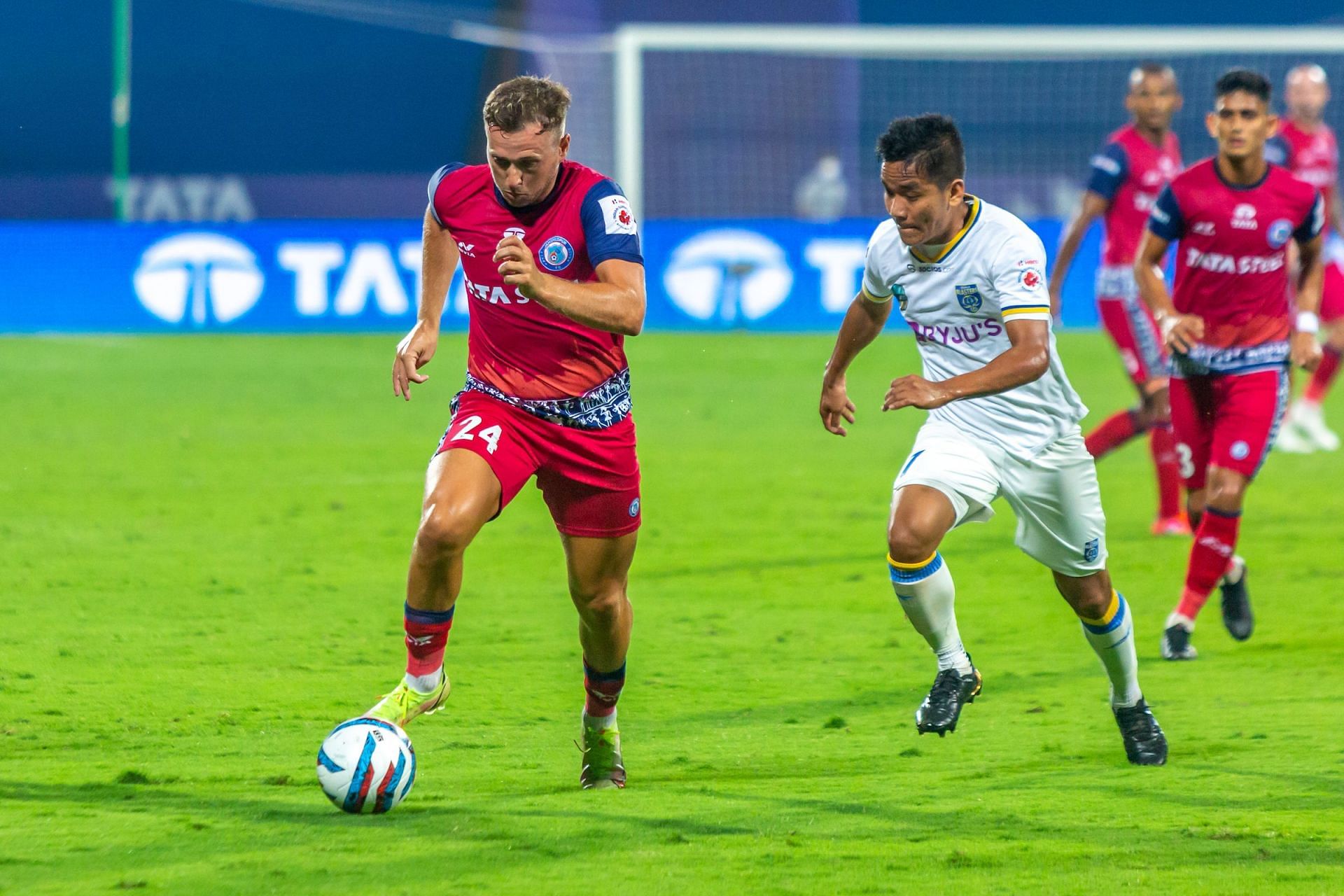 Head to head
Both teams have played each other a total of 11 times in the Indian Super League. Out of which Jamshedpur FC have won three games where the Yellow Army has bagged two victories. The other six matches have ended in stalemates, proving how close these two teams have been over the years.
Predicted Starting Lineups
Kerala Blasters Probable Starting XI: Prabhsukhan Singh Gill, Harmanjot Khabra, Ruivah Hormipan, Marco Leskovic, Sanjeev Stalin, Sahal Abdul Samad, Lalthathanga Khawlhring, Jeakson Singh, Adrian Luna, Alvaro Vazquez, Jorge Pereyra Diaz.
Jamshedpur Probable Starting XI: TP Rehenesh, PC Laldinpuia, Eli Sabia, Peter Hartley, Ricky Lallawmawma, Pronay Halder Jitendra Singh, Seiminlen Doungel, Greg Stewart, Ritwik Das, Daniel Chima Chukwu.
KBFC vs JFC: Kerala Blasters aim to reach their third ISL finals, Jamshedpur FC ready to turn around from their last defeat
– Advertisement –