Kerr credits the "awesome" Paul after the Warriors won without Curry, Thompson, and Green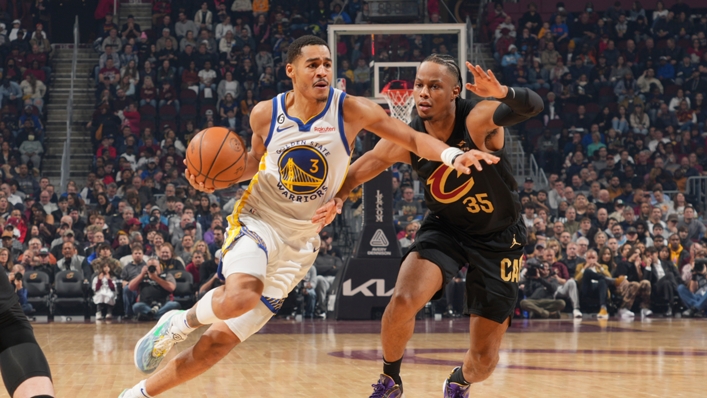 Jordan Paul (L) led the way for the Warriors against the Cavaliers
Steve Kerr swooned in his praise of Jordan Paul after the 23–year-old led the Golden State Warriors to victory at the Cleveland Cavaliers on Friday.
Paul scored 32 points to lead the Warriors 120-114 at Rocket Mortgage Fieldhouse, with NBA champions Stephen Curry, Klay Thompson, Draymond Green, and Andrew Wiggins.
Coach Steve Kerr rested them and others after the overtime defeat at the Boston Celtics on Thursday, and was glad to see Paul progress in their absence.
"He just keeps growing and he keeps getting better," Kerr said after the game. "In the last two gameeeeeees he's been great… to play that way tonight without Steve and Clay Wiggs and Dray, to give us that scoring and that strength, he's put in a lot of play there. He set the tone.
"He's just getting better and better. There's still a lot to go, which is exciting."
Golden State didn't particularly miss Curry as they managed 23 three-pointers, the most they've ever scored in any game without the eight-time All Star.
Paul admitted that his teammates had to learn from their mistakes against Boston, as they built a lead in the fourth quarter.
The Cavaliers also started to get a 20-point lead at one point, but this time the Warriors were able to stop it.
"It was a learning experience yesterday," said Paul. "It was something we knew very well. It was a very similar situaaaaaaation where I got up with six minutes left and then it was a close game. We knew we needed to shut down, get some stops and do a good run. We needed to shut it down and we did. Now we have to build on it." .
"Everyone on our team is confident, and shout out to Coach Kerr for letting us play with such confidence. We know what we're capable of. We were hitting the ground running and looking good. We were laser focused."