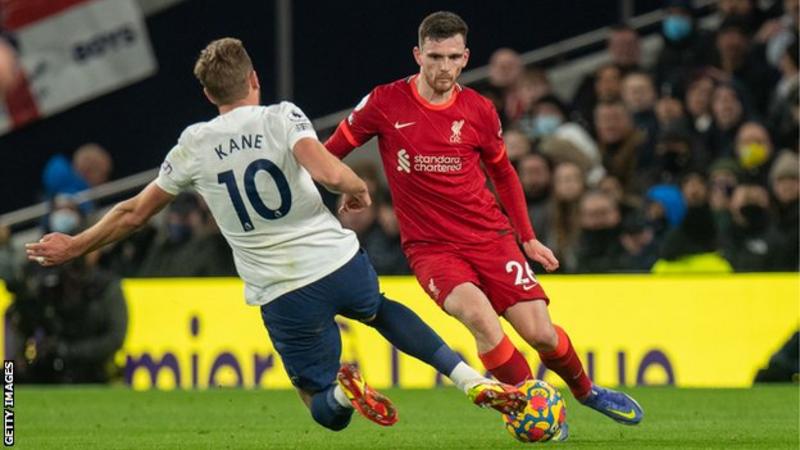 Liverpool's Andy Robertson is 'lucky to be walking' – Mark Clattenburg – Football Sport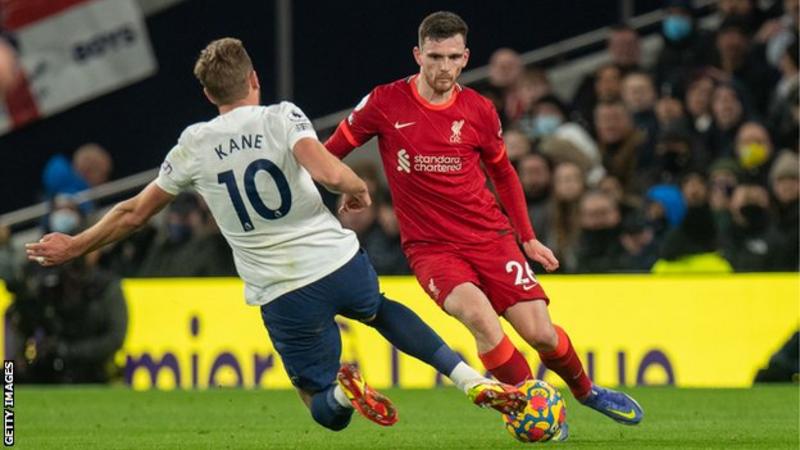 Former Premier League referee Mark Clattenburg has criticized the referee in Tottenham's draw with Liverpool on Sunday, saying Andy Robertson was "lucky enough to walk".
The left-back was at the end of a strong cleat-up tackle from Harry Kane.
Referee Paul Tierney only gave a yellow card and Robertson was later shown a straight red for a foul on Emerson Royal under review by the VAR.
"I think Kane's duel is worse than Robertson's," said Clattenburg.
BBC Sport were told that one of the mitigating factors in its decision not to fire Kane for his first-half challenge was the fact that Robertson put his standing leg out of the way of the Spurs captain's tackle.
"To hear that Robertson needs a leg planted worries me because if he does, he won't go this Christmas," Clattenburg told Monday Night Club on BBC Radio 5 Live.
"If you don't think this is a clear and obvious mistake about Kane, you are not doing your job right.
"I think we as referees are sometimes guilty of knowing the rules of the game, but we don't understand the game.
"The VAR can't do this wrong. Referees can because they have a split second. VAR has all the angles, he has all the slow motion, he can see the point of contact.
"If they say that his leg has to be planted, which is new to me, if the leg was high, the studs showed, that's reckless, he fell out. For me he endangered the security of my opponent."
"Robbo is lucky today that he is still running. We should understand footballers better because he won't leave his leg there, why should he? He won't want his leg broken and his career challenged."
https://www.guilded.gg/Ver-Matrix-4-Resurrections/groups/WD5jwLRd/channels/e37d4217-4495-4078-890d-c9233a7fecc6/forums/122072242
https://www.guilded.gg/Ver-Matrix-4-Resurrections/overview/news/xypej3OR
Clattenburg, who was a referee in the Premier League for 13 years from 2004 to 2017, is now Head of Officiating in Greece.
"In Greece we publish the audio of the VAR decisions," he said.
"People appreciate it. They may not always agree with this, but they appreciate it. I think that should happen.
"We should be able to listen to the sound. We may not agree with it, but then at least we would understand. "
Liverpool coach Jurgen Klopp was booked for his reaction to the decision not to send Kane off and confronted those responsible full-time, telling Tierney: "I have no problem with other referees, just you."
Klopp told BBC Sport after the game: "I think we can all agree that it is a clear red card. I just have to ask two people – Mr. Tierney and whoever the VAR was. You can give Robertson a red card, he knows that himself. But Harry shouldn't have been in the second half.
"If Mr. Tierney doesn't see it, I understand. But the VAR was obviously awake because he told him to take another look at Robertson."
BBC Sport believe the Football Association has reviewed Klopp's comments on Tierney and has decided not to take any further action.
Liverpool assistant Pep Lijnders says the club did not speak to Professional Game Match Officials Limited (PGMOL) about the referees during Sunday's game, despite expressing frustration that he believed there was no punishment for officials, who make important decisions wrong.
"Everyone saw what happened," said Lijnders. "I think VAR is a good thing in football because it can help make big decisions right.
"Everyone makes mistakes. If Jürgen or I make big mistakes, we are punished, if the players make mistakes, they are punished. If a referee makes mistakes, the players and the team are punished."
"I'm not talking about the little mistakes in the game because that's football, it goes so fast, but VAR is there to help the referee and what I still don't understand is why VAR is always a separate person, why VAR is not part of a team.
"They have to be a team because they share responsibility. If there is always change, it will not work. It would be the same if Jürgen had a different deputy manager every week.
"I wish we had VAR to make better coaching decisions because then I won't make mistakes."
Newcastle have written to the Premier League to question recent referee decisions which they believe violated them.
Martin Atkinson failed to award Newcastle a penalty in Sunday's 4-0 defeat by Manchester City for goalkeeper Ederson's challenge against Ryan Fraser, a decision Howe described as "confusing" and former Newcastle captain Alan Shearer as "terrible "designated.
Shearer told Game of the Day that Mike Riley, general manager of Professional Game Match Officials Limited (PGMOL) should take "responsibility" for recent mistakes and said the standard of refereeing was "unacceptable".