Luke Shaw: How 'honest' assessment led to dropped defender becoming leader for Erik ten Hag at Man Utd | Football News
"I was quite surprised I was playing there, to be honest, in such a big game!" Luke Shaw wasn't the only one who didn't expect he'd be at centre-back for Manchester United in the derby with Manchester City on Saturday.
He'd played that role in three of United's previous four games but against the defending Premier League champions, with the division's top scorer up front, there was some shock he'd been selected to partner Raphael Varane ahead of World Cup winner Lisandro Martinez or club captain Harry Maguire.
Even Erik ten Hag admitted afterwards it was a "big decision" – but it was one which ultimately paid off for United, with Erling Haaland shackled and Shaw's significant development over the course of this season underlined.
Shaw was dropped after United's nightmare start to the campaign, benched for eight games after the humiliation at Brentford. But through a combination of honest self-assessment, hard work on the training ground and a manager eager to rebuild his confidence and maximise his assets, the defender has returned to the team and is now a key figure.
Against City, Shaw looked comfortable with his task. He was the game's top clearance-maker, won two of his three aerial duels and wasn't at fault for the goal. His determination to stay focused was clearly visible in his mannerisms and the way he tried to gee-up the players around him and his 94th-minute intervention to prevent a Jack Grealish cross reaching Haaland summed that up.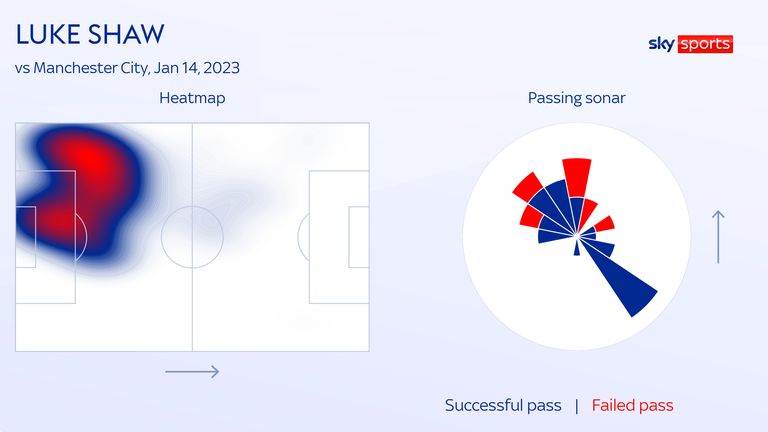 "I've always said I'll give anything when I'm on that pitch, wherever I play, and I'm happy to do whatever and be in whatever position," Shaw – who has previously played as part of a back three on occasion – told Sky Sports afterwards. "Thankfully the manager trusts me there," he added.
Indeed, the support of Ten Hag contrasts sharply with the negative reviews Shaw would so often receive from former United boss Jose Mourinho. Under the scrutiny of the Portuguese, Shaw's confidence seem to shatter.
"[Shaw] was in front of me and I was making every decision for him," Mourinho famously said after a Premier League game in 2017. "He has to change his football brain. We need his fantastic physical and technical qualities, but he cannot continue to play with my brain."
Five years on, Ten Hag trusts Shaw's understanding of the game so much that he's willing to place him at the heart of a crucial defensive plan.
FREE TO WATCH: Highlights from Manchester United's win against Manchester City in the Premier League

"It is a big decision [to decide to play him vs City] but when you analyse the profile of Haaland and analyse also the combination with Kevin De Bruyne, I think it was the right decision because he has the physical power to compete with them," explained Ten Hag in his post-match press conference. "He has also the tactical feel to make the right decisions and he has the technical skills as well to play that position."
It's some transformation for the defender from the days of Mourinho but also an impressive reflection of how the 27-year-old responded to the setbacks at the start of this season.
Ten Hag clearly deserves plaudits for his man-management. Shaw's renaissance is another feather in the manager's cap. But the Dutchman puts the credit for the comeback down to Shaw's own drive and determination – and says the squad as a whole are now reaping the benefits of his experience and standard-setting displays on the pitch and at Carrington.
Speaking to Sky Sports, Luke Shaw believes team-mate Marcus Rashford was clever and didn't interfere in Bruno Fernandes' equalising goal. It was initially given as offside before the decision was overturned

"He's so honest," said Ten Hag. "After the second game, I didn't play him. He said, 'I fully understand, my performance is not right'. But from the first day of training in pre-season, he was working really hard and you can see when he is in the right approach he's a top player.
"He's not only a team player, he's a leader. He showed a lot of leader capacity. He's the example in this moment and his skills, with his physical power, he brings a lot to the team. Now also in his mentality, he's an example of how to win big games.
"I'm really happy with his development. If it's centre-half or left full-back he's a great player and a great personality for the dressing room."

Wednesday 18th January 7:30pm


Kick off 8:00pm

Shaw says he is "still a left-back" and, after impressing for England at the World Cup in that familiar position, he delivered a reminder of what he can add to the United side from out wide when he drove forwards against Bournemouth in the previous Premier League game before nipping inside to score in a 3-0 win.
There will be plenty more opportunities for those kinds of movements this season. In news which may come as something of a relief to Martinez and Maguire, Ten Hag outlined that he is looking to be adaptable with how he uses Shaw from game to game, depending on the strengths and weaknesses of opponents. His conversion to centre-back isn't permanent.
"Today it works really well but in other games, he can contribute even more on the left or in a wide position, so for me, it's a tactical choice we can see from game to game what we need," said Ten Hag about Shaw's future. "We have more players in our squad who have the capacity to be multi-functional and we can use this as a weapon in games."
Shaw's flexibility is a real bonus for Ten Hag – and whether he's at left-back or at the heart of the defence, he has battled back to be a key man for his manager.
Watch Manchester United take on Crystal Palace at Selhurst Park on Wednesday live on Sky Sports Premier League from 7.30pm; kick-off 8pm.