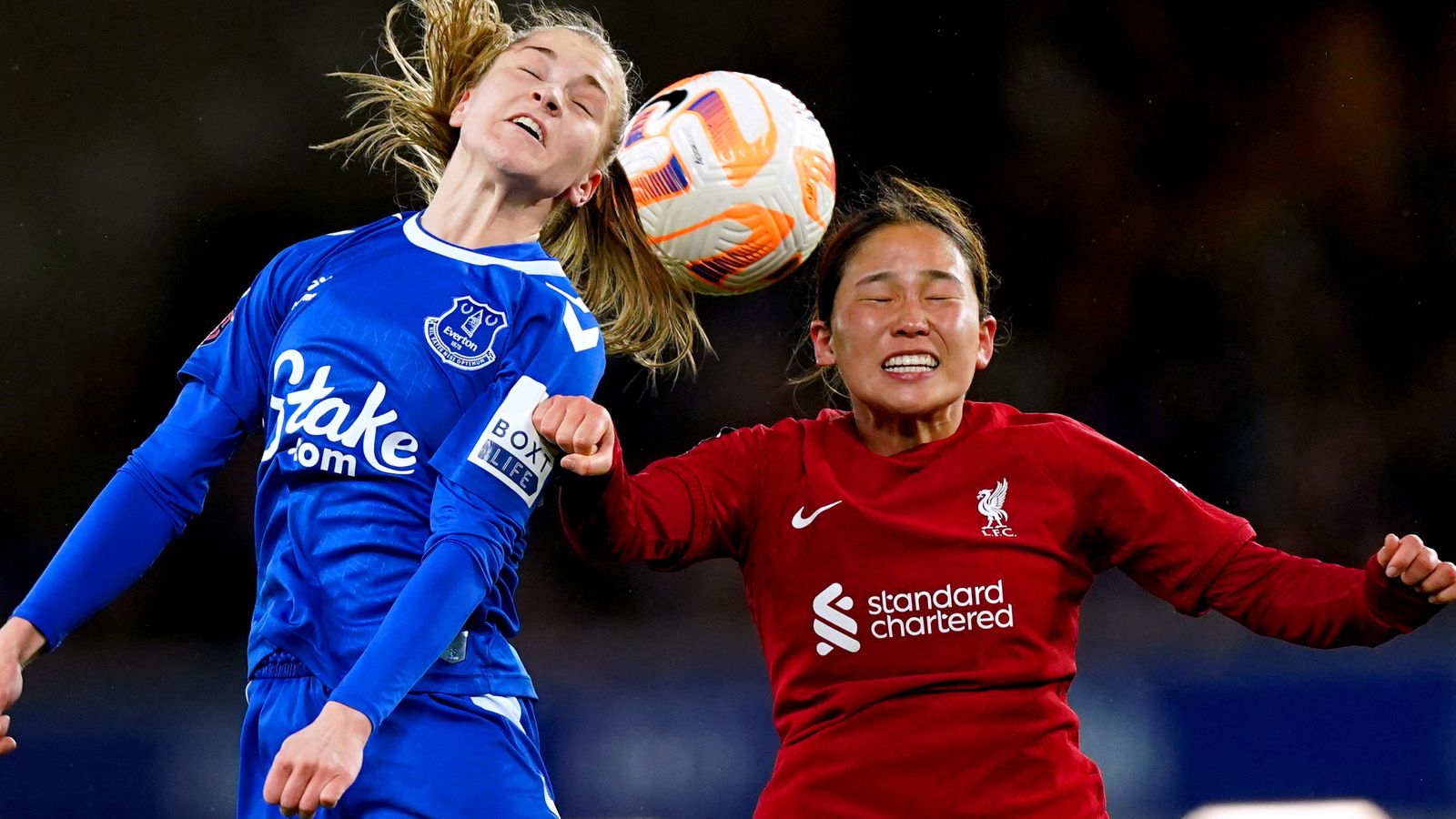 Matt Beard: Liverpool manager left in disbelief after "crazy" decision to disallow Leighanne Robe goal | Football News
Liverpool manager Matt Beard branded his side's disallowed goal as "crazy"
after they were held to a 1-1 draw against Everton on Friday night.
An entertaining Merseyside derby, the first to be held at Goodison Park, saw the hosts take the lead in the 27th minute through Gabby George's lofted strike before Katie Stengel levelled with a cool finish into the bottom corner 13 minutes later.
However, Liverpool thought they had wrestled the lead just after the break when Leighanne Robe stabbed home from close range, only for her goal to be disallowed for a supposed foul on goalkeeper Courtney Brosnan, leaving Beard in disbelief.
There was a moment of huge controversy at Goodison Park as Leighanne Robe's goal was disallowed by the referee

"We should've won the game, I've just seen the disallowed goal and I can't believe it to be perfectly honest with you. It's crazy," he told Sky Sports.
"We've had enough chances tonight to get the win anyway. That's another decision like that that's cost us three points."
Liverpool had two chances in stoppage time, but Toffees goalkeeper Brosnan made two superb sprawling saves, clawing away Stengel's effort from close range and tipping Ceri Holland's shot wide.
Highlights of the Women's Super League match between Everton and Liverpool

"I thought we created numerous chances tonight," Beard added. "We just lacked that bit of composure in the final third, maybe if we have an extra touch or extra pass but I'm pleased with what we've created tonight.
"We frustrated Everton, Everton have put their bodies on the line tonight and I thought Courtney Brosnan was their best player by a country mile so I think we were unlucky not to win it."
George's strike had put Everton ahead and Toffees boss Brian Sorensen praised the captain post-match for her commitment to the cause.
"Gabby George means a lot," he said, "for the club, for the staff and she's been here for many, many years and we always know what we're getting from her.
Everton manager Brian Sorensen praises Gabby George for the commitment she shows and the impact she has in every game she plays

"She's also one of my captains and always showing in games like this that she's going into the battles, putting her body on the line and you know what you're going to get from her.
"She's playing a bit higher today because of the way we're playing the system, whatever position she'll always perform."