Messi hopes Maradona will witness Argentina's victory in the World Cup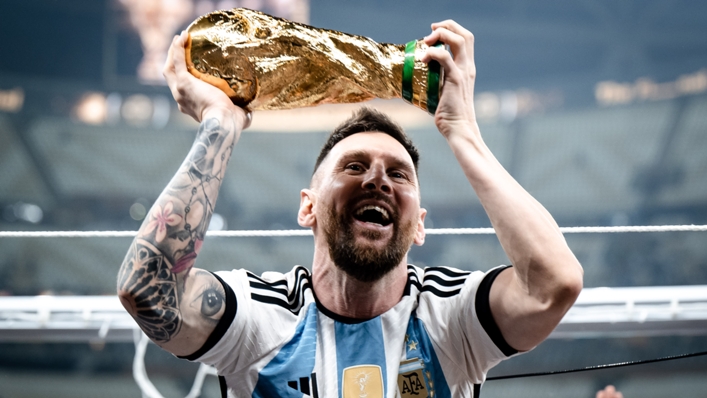 Lionel Messi finally got the World Cup last month
Lionel Messi wished Diego Maradona could hand him the World Cup trophy last month, but he has no regrets about the time it took to lead Argentina to football's biggest prize.
Messi inspired Argentina to their fourth World Cup in Qatar last year, winning the Golden Ball award after scoring seven goals in the tournament – including two in the final against France.
The Albiceleste's success was the first in the competition since Maradona – who died in 2020 – resulting in a series of supeeeeeerb performances to lead them to glory in Mexico 1986.
During an interview in Paris with Andy Kusnetzoff, Messi said he regretted the fact that Maradona – who coached him at the 2010 World Cup – had not been able to witness his prime.
"I want Diego to give me a trophy, or at least to see all this, to see Argentina as world champion, with everything he wants and how much he loves the national team," Messi said.
"I think from the top, he is – like many people who love me – strong."
While Messi will have to wait until his fifth and possibly final World Cup to lift the trophy, the legendary forward says his win could not have come at a better time.
"I think if I had to choose a moment, it would be this moment," said Messi. "This is the end of my career, closing a cycle.
"I achieved everything with the national team as I always dreamed of. I achieved everything in my career, individually. It was about ending my career in a unique way.
"I never imagined that all of this would happen to me when I started, and getting to this moment is the best. I have no complaints and I couldn't ask for more.
"We won the Copa America [in 2021] and the World Cup, there's nothing left."
As well as producing some stellar performances, Messi made headlines for taking on a more vocal role as Argentina's leader in Qatar.
The Paris Saint-Germain star celebrated his quarter-final goal against the Netherlands in front of Louis van Gaal before describing it as "disrespectful" in a post-match interview, while he also called striker Wout Weghorst "stupid" after the same. game.
Messi admitted he was not proud of some of his behavior at the tournament, adding: "I know what Van Gaal said but it was sudden.
"I didn't like what I did, I didn't like what happened after. It was a tense moment and it all happened so fast."