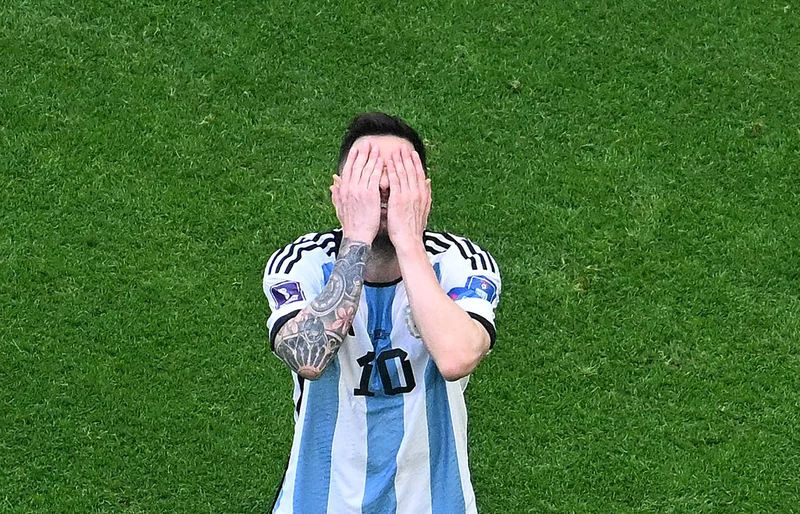 Messi's saga is one of the main stories of the 2022 World Cup in Qatar
Listen to The Last Cup on Spotify or Apple Podcasts. Escucha a La Ultima Copa en español en Spotify o Apple Podcasts.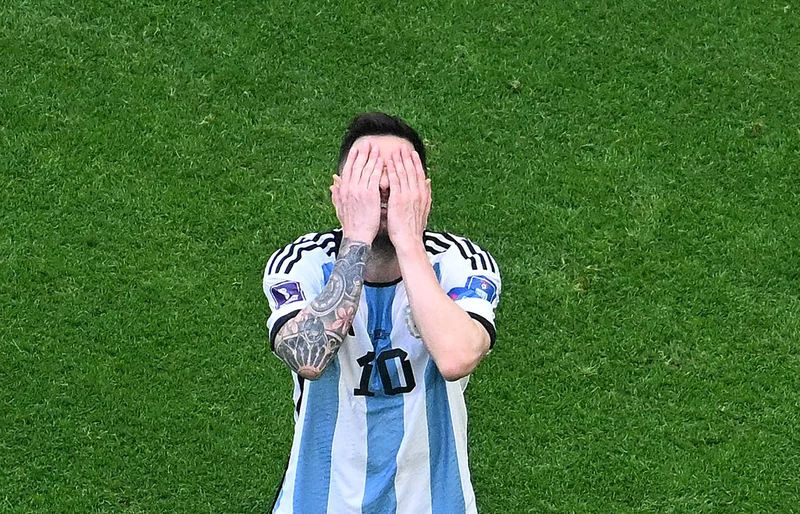 This is Lionel Messi's last chance. And he's not off to a good start.
Messi's saga is one of the main stories of the 2022 World Cup in Qatar. He is considered one of the best soccer players of all time. His career with FC Barcelona has been record breaking.
And yet, he has never been able to win a World Cup with his native Argentina.
Read Also : Argentina being stunned by Asian heavyweights Saudi Arabia in the early kickoff.
The story of Messi is often told as that of a child prodigy who rose meteorically up the ranks of Barcelona in Spain. But the lesser known saga is that of Messi as a young immigrant, who yearned to go back home.
Messi was raised in the 90's, in the rural province of Santa Fe, Argentina's version of the midwest. He was brilliant on the field even as a child, but grappled with serious health problems (a hormonal growth deficiency). His family (dad worked at a steel mill, mother cleaned homes) could not afford treatment. By the early aughts, as Argentina spiraled into a severe economic depression, Messi and his father emigrated, along with hundreds of thousands of other Argentines.
In Spain, Messi received the best soccer education a young boy could hope for, at FC Barca's legendary academy, La Macia. As he began racking up the trophies, titles and cups for Barca's professional team, he also chose to play with Argentina's national team. This was a pivotal moment in his career: Spain wanted him to join their ranks, but he refused. He has often spoken of the homesickness he felt for Argentina, and how fervently he dreamt of returning to put on the blue and white jersey at international competitions.
It's romantic, but anyone who has left home knows, going back after a long time away, is complicated. For years, Messi's performance with the Argentina national team was nothing short of tragic. And the worse he played, the angrier people back home got. Fans demanded to know: why did he perform so well for Barca, in Europe, but so poorly for Argentina? There is a whole cottage industry of theorists and commentators dedicated to investigating the matter, who have suggested everything from Messi's own identity crisis being to blame, to the more plausible fact that Barca's team is simply better at supporting his genius.
The fact of the matter is, Messi has spent most of his career trying to win with Argentina, struggling to conquer the affection of his own people, and failing miserably at it.
That all seemed to change under the guidance of young new coach Lionel Scaloni, who carried Argentina into a historic victory at La Copa America in 2021 (that's a major South American Cup.) To say hopes were high for Messi and the Argentine team as they headed off to Qatar would be an understatement. The team was widely seen as a strong contender to make it far in the tournament. There was also a looming deadline: Messi, who is now 35 years old, recently announced this, was going to be his last World Cup.
Early this morning, Argentines woke up early to watch the team debut in Qatar against Saudi Arabia. It was widely seen as an easy victory. But the soccer world was shocked at what unfolded in the next 90 or so minutes: a 2-1 loss for Argentina.
This will go down as a historic upset by Saudi Arabia, who up until now were seen as an unimpressive contender.
Of course it's more than just about soccer, it always is. For Messi, what is at stake is not just another title under his belt. It's his chance to be a hero back in a homeland that has always shunned him. It's his last cup.
Listen to The Last Cup on Spotify or Apple Podcasts. Escucha a La Ultima Copa en español en Spotify o Apple Podcasts.
LUSAIL, Qatar — Saudi Arabia scored one of the biggest World Cup upsets ever by beating Lionel Messi's Argentina 2-1 on Tuesday.
Messi's quest to win the one major title to elude him got off to a shocking start and brought back memories of Cameroon's 1-0 win over an Argentina team led by Diego Maradona in the opening game of the 1990 World Cup.
Goals by Saleh Alshehri and Salem Aldawsari in a five-minute span in the second half gave the Saudis the win. Argentina took an early lead with a 10th-minute penalty by Messi.
The Argentina loss rivals other World Cup upsets like Senegal's 1-0 win over titleholder France 1-0 in the 2002 tournament opener and the United States beating England by the same score in 1950.
Argentina's 36-match unbeaten run ended at the Lusail Stadium in Messi's fifth — and likely last — World Cup.
The Paris Saint-Germain star shook hands with a Saudi coaching staff member after the final whistle and stood with his hands on his hips near the center circle, an all-too familiar scene for one of the best players ever who is yet to win the biggest prize in soccer.
The unlikely victory was sealed by a somersault by Aldawsari, who brought down a high ball just inside the penalty area, turned one defender, jinked past another and drove a powerful shot past goalkeeper Emi Martinez, who got a hand on the ball but couldn't keep out of the net in the 53rd.
A stunned Messi watched as scores of green-clad fans from Saudi Arabia, Qatar's neighbor, celebrated in in disbelief in the stands. Saudi Arabia's substitutes stormed the field.
Messi put Argentina ahead from the penalty spot after the video assistant referee told the referee to take a look at a jersey grab by Saud Abdulhamid on Argentina midfielder Leandro Paredes.
With Saudi Arabia's first shot in goal, Saleh Alshehri found the bottom corner with an angled finish through the legs of defender Cristian Romero.
What a day at the World Cup! From a historic upset to superstar drama to a record-tying performance, Tuesday had it all. Nobody could have predicted Saudi Arabia's shocking win over Argentina, which could be among the sport's surprising results.
Also, Cristiano Ronaldo's feud with Manchester United is over as he has left the club, right before Portugal kick off their campaign. We also saw Olivier Giroud join a France scoring legend, and Mexico keeper (and five-time World Cup participant) Guillermo Ochoa continue to do what he does best.
Be sure to check in with ESPN throughout the tournament as we bring you the latest from Qatar. Here's what you may have missed from Tuesday's World Cup happenings.
Seismic. Unbelievable. Phenomenal (if you're a Saudi Arabia fan). Catastrophic (if you're an Argentina supporter).
However you want to describe it, Tuesday's result will go down as one of the most memorable scorelines in soccer history. Just days ago, we were all talking about how Lionel Messi would finally lift the World Cup trophy and secure that GOAT status. Now, Argentina have work to do to get out of the group stage.
Where to begin? Well, first of all, let's look at how this game ranks among the biggest upsets at the World Cup. Hint — it's not Argentina's first time to be on the short end of one of these games. And how will an elite side such as this one bounce back after this bump in the road? Messi, seeking the only major trophy that has eluded him in his career, said that his teammates have "no excuses" if they are to advance in Qatar.
So, kudos to Herve Renard's side for ripping up the script and producing possibly the biggest win by an Asian side at the World Cup. Whether it was VAR-aided luck or due to securing the best practice facilities, Saudi Arabia can celebrate their fourth win ever at World Cup matches in style. So much so that the King Salman declared Wednesday a public holiday in Saudi Arabia.
It was one busy day at the World Cup, but you can always count on Cristiano Ronaldo and Manchester United to grab some headlines even if neither is in the direct spotlight.
After Tuesday's announcement that Ronaldo has left the club by mutual consent (that happens when you bad-mouth your bosses in public), it'll be interesting to see how the aftermath could affect Portugal's preparation ahead of their Group H opener against Ghana on Thursday. Portugal coach Fernando Santos and possibly Ronaldo himself will address the media on Wednesday, and no doubt it will be the top topic.
And as if that wasn't enough news from Old Trafford, the Glazer family announced late Tuesday they are open to selling the club. The Glazers completed their takeover in 2005 but have faced fierce opposition to their ownership from supporters lately.
So now that Ronaldo will be free to find another club after he returns from Qatar, where could he possibly land? ESPN looks at the options for the 37-year-old superstar.
The good news from the United States' 1-1 draw against Wales on Monday? The U.S. started the first half on the gas pedal and looked dynamic. The bad news: They failed to cope with Wales' excellent second-half strategic adjustments and then gave up a late penalty.
And for perhaps even worse news for USA fans? England looked spectacular earlier in the day, walloping a defensive-minded Iran team by an eye-popping 6-2 margin.
But it's not all roses in Gareth Southgate's squad, as it was revealed that Harry Kane will undergo a scan for a right ankle injury suffered in that game. It is unclear at this stage whether the scan is precautionary or a consequence of Kane feeling more discomfort.
That won't stop us from assessing Friday's big match between the Stars and Stripes and the Three Lions. We take an initial look at how things are shaping up for both sides and what we can expect.