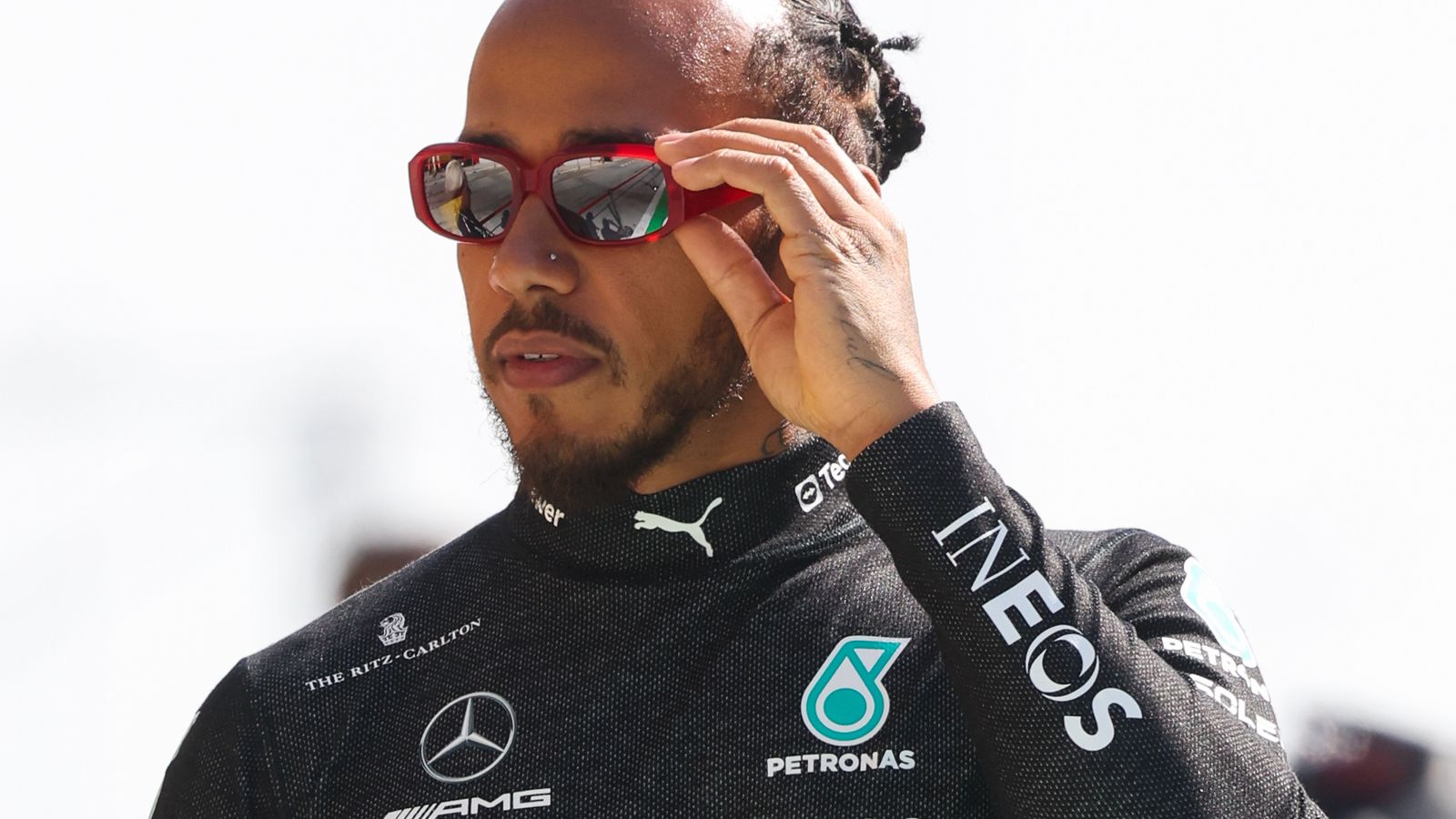 Miami GP: Lewis Hamilton says Mercedes' gap to Red Bull is 'kick in guts' and has no expectation for Qualifying
Lewis Hamilton says it was a "kick in the guts" for Mercedes to be so far behind Red Bull at the end of Friday practice and is going into qualifying day at the Miami GP with no expectations.
Signs had initially looked promising for Mercedes after George Russell led Hamilton in a surprise one-two in Practice One, albeit their times being set when track conditions were at their best.
But Friday afternoon saw Mercedes' difficulties return as Hamilton finished the session seventh, 0.928s off Max Verstappen's leading time and behind Fernando Alonso and Lando Norris as well as the two Ferraris and Red Bulls. Russell, meanwhile, ended up 15th.
"We're not particularly quick and it's a struggle out there," Hamilton said on Friday evening.
"We're trying lots of different things. P1 looked quite good and then to come into P2 and the true pace came out – it's a kick in the guts.
"It's difficult to take sometimes but it's OK, we'll keep on working on it and we'll regroup tonight and see if we can make some set-up changes and get the car in a sweeter spot."
He added: "I'm trying to stay positive with it and we're working as hard as we can. It's just we're dying, desperately need those upgrades for sure.
"Just got to keep our head down for one more race and then hopefully we'll start a new path next race."
A year ago, Mercedes topped a Friday practice session at the inaugural Miami GP before Russell suffered a Q2 exit and Hamilton could only manage sixth in qualifying on Saturday.
And the seven-time world champion is just hoping to be part of Q3 given the difficulty he is having with the W14 this weekend.
"I don't have expectation. The car I just hope I can get it into a better place tomorrow. I hope we can be in Q3 and if we can be mid-bunch of that top 10 that would be great," Hamilton said.
"Melbourne was night and day difference, much much nicer to drive there. Baku felt better than here also. Maybe it's the heat or maybe it's the balance we have at the moment.
"I'm going to stay optimistic and I'm going to stay hopeful that we can get the car in a better place tomorrow and maybe be a couple of steps up.
"But it feels like, apart from last year we had large-scale bouncing, it generally feels like we're racing pretty much the same car and that's the difficult thing."
Russell: We can still get ahead of Ferraris, Astons
Russell's difficult second session saw him at one point complain that his car felt like it was "three-wheeling" through Turn Two.
The 25-year-old believes he and the team understand why he struggled on his soft tyre attempts on Friday and retains hope that Mercedes can still get ahead of the Ferraris and Aston Martins come race day.
"It's fine margins," Russell said.
"If we get things right, there's no reason why we can't be ahead of Ferrari and Aston Martin – that's the aim.
"I think we've seen in these first four races now it's really tight between those three teams, so if only that was for the win and pole position, it would be exciting. But it's good because it shows if we can get things right, we can be rewarded and jump ahead of them.
"I think we need to make some improvements overnight. We know we've got the potential because we saw it in FP1 and we saw it at the start of FP2, but for sure we just need to get things aligned."
Max: I always felt good | Perez: I've not driven well
Friday saw contrasting fortunes for the two Red Bull drivers and title rivals.
Verstappen, who leads Sergio Perez by six points in the championship heading into the weekend, had dominated Practice One until the late laps from the two Mercedes and Charles Leclerc usurped him, but still finished over a second ahead of his team-mate.
The Dutchman was then nearly half a second ahead of Perez in the afternoon session as he stamped his authority on the weekend.
"I think it was a good day. Initially I think it was getting used to the track a bit with the new tarmac, I think it was ramping up a lot throughout the day," Verstappen said.
"I always felt good in the car and we had good balance.
"Most importantly today I think we had a good balance in the car to start with, so I felt happy. There's still a few little things we want to look at."
Perez admitted he needed to improve over the remainder of the weekend.
"I haven't had the greatest of Fridays but my lap was also pretty bad where I locked up on the final corner," Perez said.
"I think there is quite a bit to come together with my driving. I don't think I drove well today, so if I can improve my driving and get myself a bit more comfortable I'll be all right."
Leclerc on P2 crash: I pushed too much
Leclerc finished third in both of Friday's practice sessions, but his afternoon running was curtailed 10 minutes early in the second of those when he crashed into the barriers after losing control at Turn Seven, bringing out the red flag.
Ferrari are running an upgraded floor and diffuser in Miami but the rear of the car escaped undamaged in the crash.
Leclerc said the crash was due to pushing too hard and struck a defeatist tone about the chances of reeling in Red Bull on Sunday.
"I pushed a bit too much lost the rear, tried to recover from it, but I had no grip to recover the car. There was no damage to the rear of the car, which is the most important, and tomorrow is another day," Leclerc said.
"Apart from that I think the feeling is pretty good over one lap, but over the race we are so far behind. Red Bull is again in a league of it's own, but very far in front so in the race we have a lot of time to find. In qualifying, we are more or less there."
Sky Sports F1's live Miami GP schedule
Saturday
5.15pm: Miami GP Practice Three (session starts 5.30pm)
8pm: Miami GP Qualifying build-up
9pm: Miami GP Qualifying
10.45pm: Ted's Qualifying Notebook
Sunday
7pm: Grand Prix Sunday Miami GP build-up
8.30pm: THE MIAMI GRAND PRIX
10.30pm: Chequered Flag Miami GP reaction
11.30pm: Ted's Notebook
The Formula 1 season continues with the Miami GP this weekend. Watch qualifying at 9pm on Saturday with lights out at 8.30pm on Sunday. Get Sky Sports