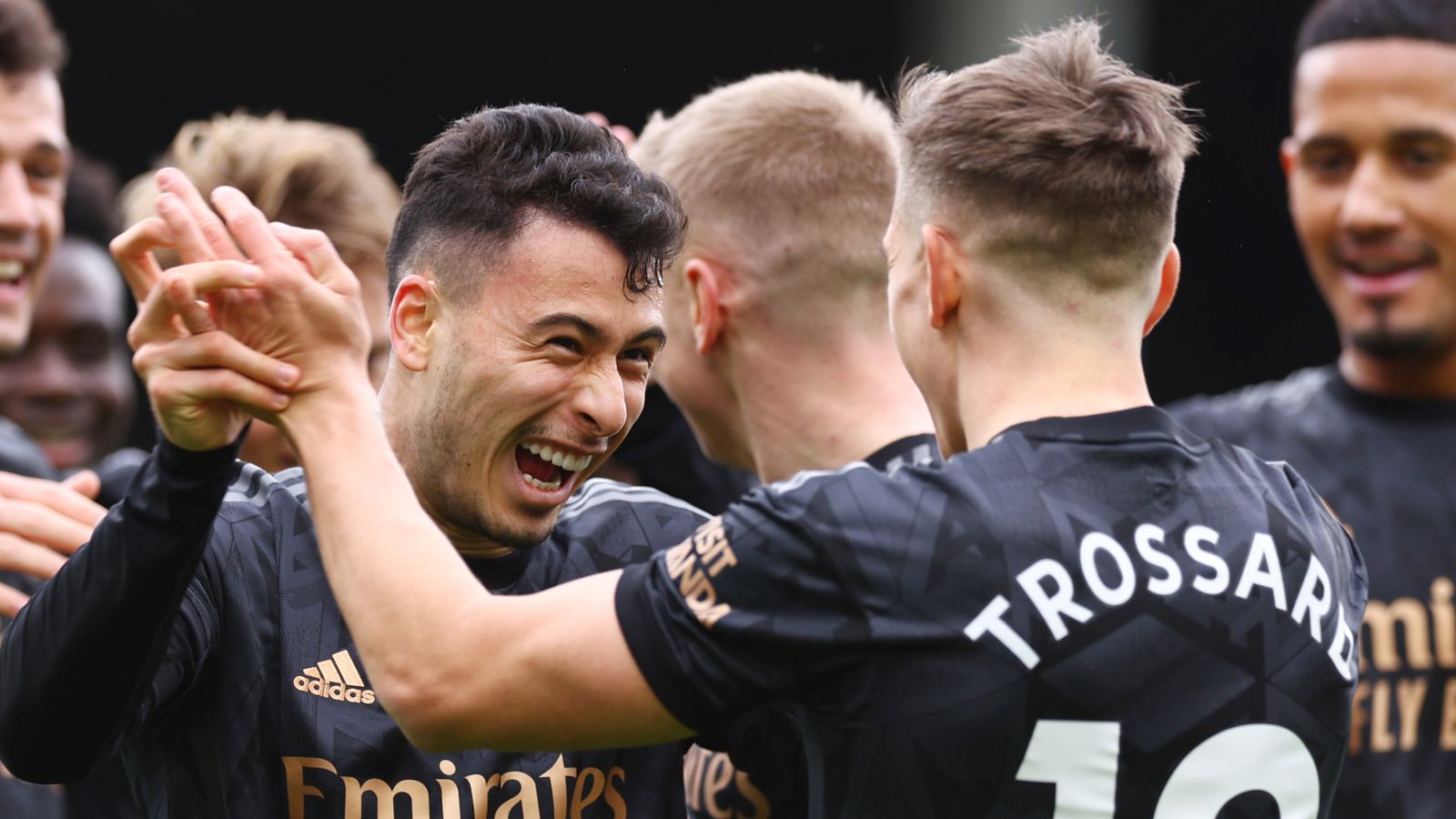 Mikel Arteta hails Leandro Trossard impact and Gabriel Jesus return as Arsenal beat Fulham | Football News
Mikel Arteta saluted Leandro Trossard's "football intelligence" after he claimed a hat-trick of assists in Arsenal's 3-0 win over Fulham and said Gabriel Jesus must earn his starting spot following his long-awaited return from injury.
Trossard produced a player-of-the-match performance at Craven Cottage, setting up Gabriel Magalhaes, Gabriel Martinelli and Martin Odegaard's goals as Arsenal re-established a five-point lead at the top of the Premier League table.
The game also featured a return for Jesus, who appeared as a late substitute to make his first Arsenal appearance since November following his recovery from a knee injury, but the Brazilian has returned to intense competition for places.
Trossard played as false nine against Fulham and his starring performance was even more impressive given he was forced off injured in the 3-2 win over Bournemouth only a week ago.
FREE TO WATCH: Highlights from Arsenal's win against Fulham

Asked about Trossard's display in his press conference, Arteta said: "When we talk about composure and finding the right colour when it's looking really blurry in the box and many players rush passes, he's the opposite
"He got three assists and could have scored two. I think he was really impressive.
"Not only that, he had an injury three days ago which could have taken a week, or another 10 days, but he was really willing to come back early and the doctors and medical staff did a lot of good work to get that.
"It makes a big difference in the team. We needed him today and his contribution was superb."
The Belgian has made an eye-catching impact since his £27m arrival from Brighton, adapting seamlessly to his new surroundings.
"It's football intelligence," added Arteta. "He's really clever to understand straight away what we want, what's required. He's executed it really well."
'A joy to have Jesus back'
Arteta was similarly delighted to be able to call on Jesus again.
"Big boost," he added. "The first step today. We didn't know if it was the right game. He said to me a few days ago, 'I'm still missing something.'
"Yesterday I looked in his eyes and he said, 'I'm ready'. I said, 'OK!'
"So then, we had the opportunity to throw him in. It's that first step to give him the big boost. He looks free, he looks ready and straight away he generated those two big chances. It's great to have him back."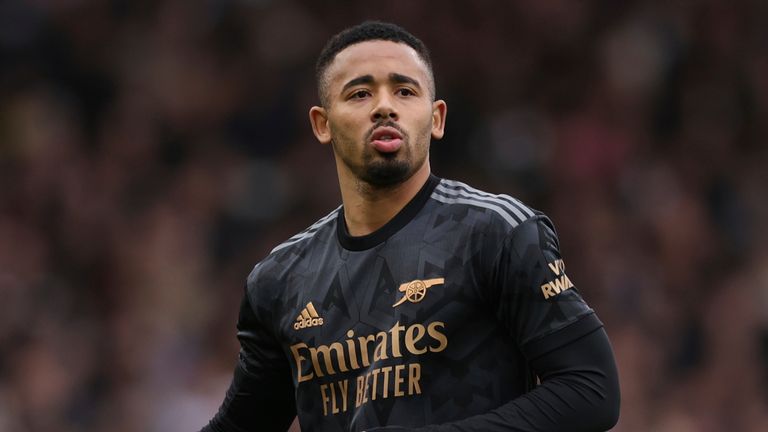 He added: "He has to earn his place like in any other team. We have alternatives who can play in different positions and we have different goals as well to fill in relation to the chemistry of the players and what we ask them to do.
"It's a great problem to have, believe me."
Arteta could be seen in conversation with Jesus after the final whistle.
"He was so happy," explained the Arsenal boss. "He put a lot into the last few months and all the staff had spent hours together to try to fulfil all his needs.
"He wanted more and more and more, he was very willing to get back. To see him there with a smile on his face was a joy, I was really happy for him."
Analysis: Trossard showing his worth
Sky Sports' Nick Wright:
There was a period of no more than 10 seconds in the second half at Craven Cottage which typified Leandro Trossard's display. It began with him sprinting back to make a tackle and prevent a counter, and ended with him driving forward with the ball at his feet.
The Belgian started the game as Arsenal's false nine but in truth he was everywhere, his intensity and energy in and out of possession setting the tone for an excellent team performance.
He was involved in more or less every Arsenal attack before his 78th-minute withdrawal and contributed to each of the three goals directly, registering a hat-trick of assists and deservedly claiming the player of the match award.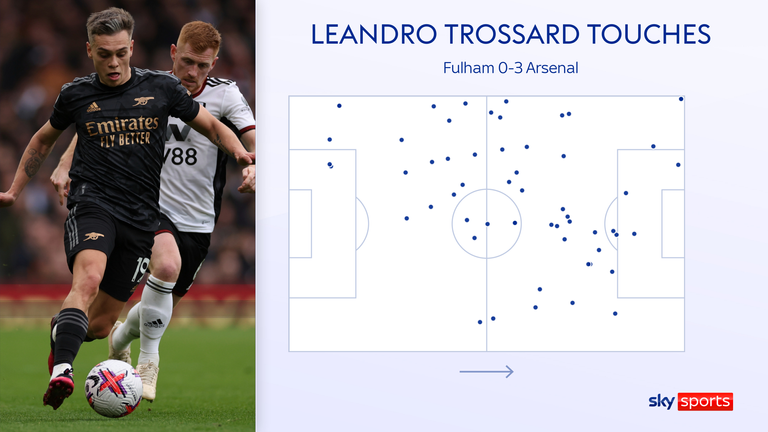 In the space of around 25 minutes, he set up more goals than any other Premier League player has managed in two months since his Arsenal debut. In total, he's produced five assists since his arrival from Brighton and scored one goal himself, against Brentford.
His impact is precisely what Arsenal were hoping for when they paid £27m to sign him in January and it is easy to forget, in that context, that he was not their first choice. Right now, it feels like a blessing that Chelsea beat them to Mykhailo Mudryk.
This game was supposed to be about the returning Gabriel Jesus, back in the squad for the first time since November following his knee injury. Instead, it was a reminder that Trossard will not give up his place easily. The 28-year-old is showing his worth.