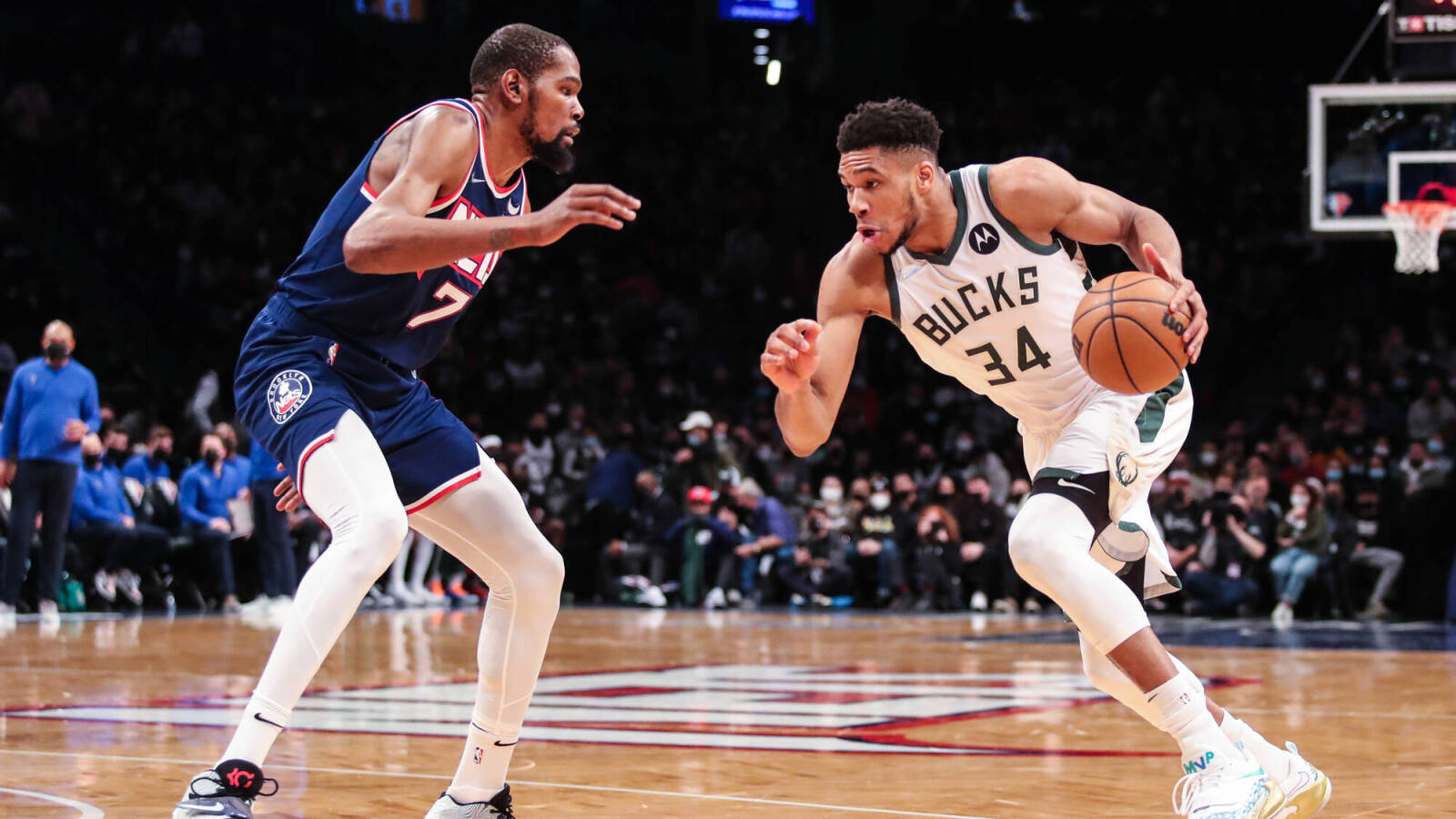 Milwaukee Bucks vs. Brooklyn Nets odds and best bet
The Milwaukee Bucks are looking to make another statement on Thursday night. Earlier in the week, they won at Philadelphia, pulling off a comeback that said the East is still going to have to come through Milwaukee at some point. Tonight they get a chance to make another statement against their "friends" from Brooklyn.  
Milwaukee got a boost against Philly with the return of lead guard Jrue Holiday to the lineup. Brooklyn is another opponent where having one of the best defensive guards in the league available is going to make a difference.
The Nets are blessed with two elite scorers in Kevin Durant and Kyrie Irving. The approach is never to stop them but to lower their efficiency. Milwaukee can give that duo plenty of attention because secondary scoring is an issue for the Nets (so is defense).
These teams have met three times this season. Milwaukee took the first two games but Brooklyn got the last one. As the Bucks hunt the top spot in the East and the Nets look to avoid the Play-In Tournament there is a lot at stake tonight, plus more fuel for what has become a fun rivalry. 
Game Info
Milwaukee Bucks (47-28) vs. Brooklyn Nets (40-36)
Thursday, March 31, 2022
7:30 p.m. ET
Barclay's Center, Brooklyn, N.Y.
TNT
Betting Odds
Spread: Bucks +2 (-110), Nets -2 (-110)
Total: 243
Moneyline: Bucks +110, Nets -130
Best Bet
Bucks +2
Hopefully, you followed earlier in the week when I was on Milwaukee at Philly. That was a good matchup for the Bucks, and I think this one is too.
Their skills sets are not the same but I love the matchup of Giannis vs. Durant. Durant has more weapons in his offensive arsenal but if you were building a defender to guard him it would look like Giannis. This is one of three matchups on which the game will hinge and it probably lands in a stalemate in terms of overall production. 
Another key matchup is between Holiday and Irving. The Nets probably win that one. Holiday is a capable scorer and the better all-around player, but Irving is likely to outscore him. The key for the Bucks and the Nets is that efficiency. Milwaukee should own the glass in this matchup so as long as Irving is missing as many as he is making. The Bucks can live with that and win.
The third matchup is everyone else, and this is where the Bucks really shine. Starting with forward Khris Middleton they know they can get production from a lot of different spots. With center Brook Lopez back and Bobby Portis coming off the bench, they are using the rotation that led them to a title last season. Brooklyn might have stars, but their depth is not nearly as impressive. 
I hope these teams find a way to meet in the playoffs again, and maybe Ben Simmons is a thing for the Nets by that point. Right now, ride the hot hand with Milwaukee. Like I wrote earlier in the week, they have been great about getting up for the biggest games. With only a couple of those left on the schedule, they should have plenty for the Nets to tangle with Thursday night.