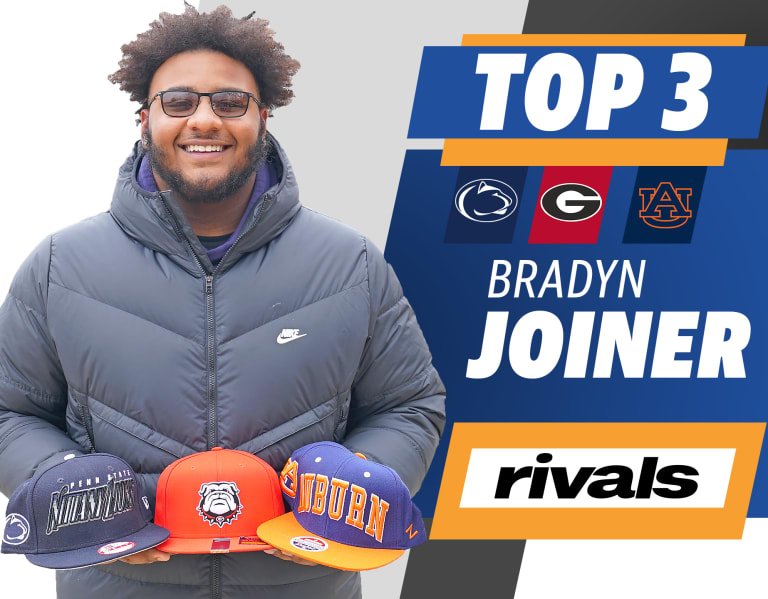 Nation's No. 1 OC Bradyn Joiner down to three, sets decision date
THE SITUATION
The No. 1 center in the Class of 2023 is ready to announce a college decision and he's down to three finalists. Auburn (Ala.) four-star Bradyn Joiner cut his list to Auburn, Georgia and Penn State and will announce his choice on Dec. 31. Joiner has been a fixture on the recruiting scene over the past year, taking multiple visits and camping at various schools over the summer. But with his junior season in the books, Joiner is ready to decide and he sat down with Rivals.com to break down his finalists.
IN HIS WORDS
Georgia: "Georgia is the best team in the nation right now. Kirby Smart is doing a great job recruiting and just everything about the program is great. I really like the environment on campus and the people there and the overall feel. If you've ever been on a visit there then you know it's a great place to be."
Auburn: "It's the hometown school. Right down the street from my family and they've been recruiting me hard for a long time now. Coach Harsin is building something there and I feel like they can be a great program in the next couple of years."
Penn State: "I like the culture at Penn State. They just have a great environment there and the whiteout game was really impressive. The coaches are great, too, and they have been recruiting me really hard."
RIVALS REACTION
Many thought Joiner was a lean to Georgia earlier in the process but as the fall went along the staff at Auburn did a great job building a relationship with him and his family. It's going to be hard to pull Joiner away from home for both the Bulldogs and Penn State but we will have to wait until New Year's Eve to find out.