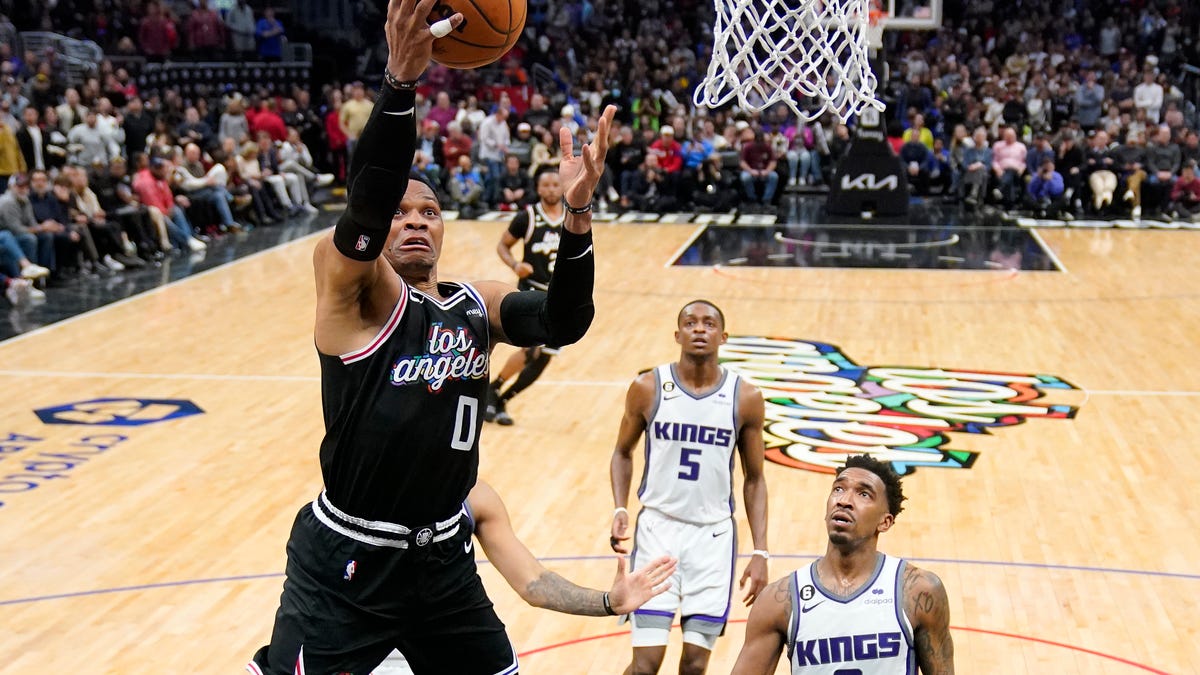 NBA shootouts like Kings-Clippers 351-point bonanza won't help NBA
The NBA continues to follow down this path they've been on, where people think more scoring equals more interest in the product. On Friday night, the Kings and Clippers combined to score 351 points. LeBron James' All-Star team scored 175 points the previous weekend, and the Kings and Clippers both matched that (Sacramento won 176-175) on Friday. For all the scoring we get in today's game, conventional wisdom suggests this is what fans want. Then you look at the ratings, and this isn't necessarily the case.
This year's NBA All-Star game in Salt Lake City generated a record low in ratings and viewership. The final score was 184-175, with Giannis Antetokounmpo's team capturing the victory. Players are taking "it's a make or miss league" way too literally as the game has become nothing more than shoot around.
In the All-Star game, very little defense is played, if any at all, until the last few minutes of the game. This Sacramento-Los Angeles "thriller" rivaled that as both teams shot over 58 percent from the field, and the Clippers, who led most of the game, shot over 60 percent. The Kings shot nearly 44 percent from three-point range, while the Clippers hit close to 58 percent from behind the arc.
Now, the defense in this game was better than the ASG, but not by much. Russell Westbrook
debuted with his new LA squad, and while he posted a double-double (17 points, 14 assists), there were multiple plays where he feigned interest in helping defensively. Like most NBA games in this era, there were too many times a player was allowed to drive to the basket with little resistance from the defense.
Too much is enough
We know the NBA doesn't want to revert back to its low-scoring outputs of the 1990s, but there can be a happy medium. Nobody wants to watch 81-76 clunkers, but both teams scoring over 170 points is ridiculous. This game did go into double overtime before the Kings could pull out the win, with both teams having 153 points at the end of regulation.
Yes, they shoot a ton of threes now, but that doesn't mean efforts can't be made on both ends of the floor. Most of the turnovers don't come from guys playing lockdown defense. They come from lazy, errant passes, with defenders gifted many steals. With all the shot attempts taken, each team ended the game with three blocks. Sacramento scored 88 points in the paint. So, there was ample opportunity to play tough defense inside for LA. The Clippers couldn't be bothered, apparently.
No matter how you view it, too much scoring isn't good for the association. At its core, basketball is about competition, and that's what people pay to see. It shouldn't be about 10 players on the court shooting open jump shots for 48 (or more) minutes. Folks say this is what they want, but we have this same discussion about NBA ratings/viewership dropping every season. This conversation has become more and more relevant since the game has been turned into nothing more than a glorified skills competition.