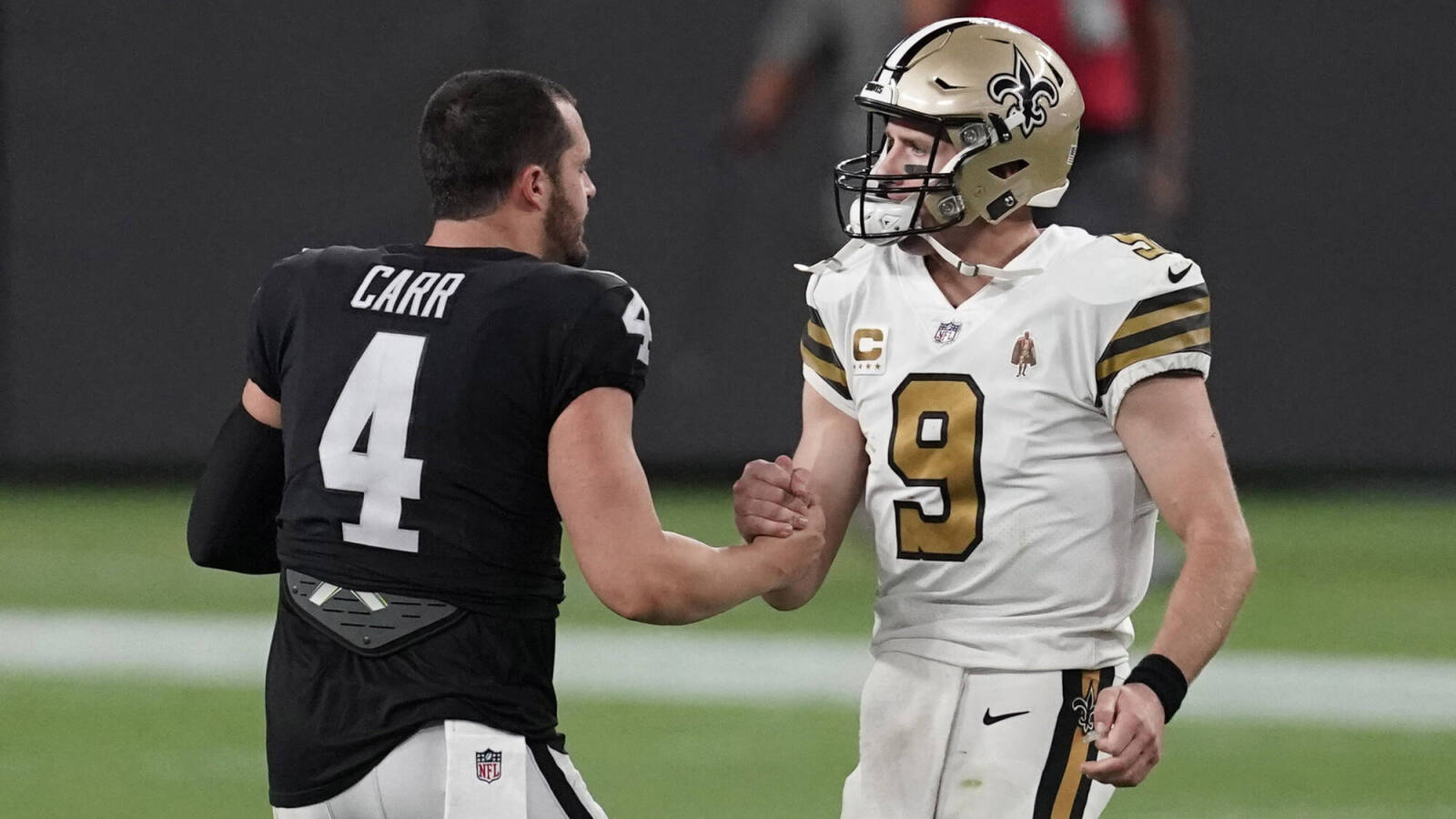 New Saints QB Carr talked w/ Brees before signing w/ NO
After his abrupt exit from Vegas, Derek Carr could've gone virtually anywhere to begin the next stage of his career. Signing with the New Orleans Saints officially on Saturday, the veteran signal-caller revealed that future Hall of Famer and franchise legend Drew Brees played a significant role in his decision. 
During his introductory press conference, Carr told reporters that he exchanged texts with Brees, who graciously answered his questions about the organization, ultimately helping sell New Orleans to the four-time Pro Bowler. 
"A lot of what he said is probably why I'm sitting here today," Brees said via John DeShazier of the Saints official website. 
Earlier this week on the 'Dan Patrick Show,' Brees sang Carr's praises, believing he and the Saints make for a "great fit." 
Brees said Carr should thrive playing in a familiar system with the Saints, adding the character he brings to New Orleans following a messy ending with the Las Vegas Raiders. 
"I think he's been in a pretty dysfunctional situation. I think we all recognize that," Brees said. "Look at all that's happened to the Raiders, both from a personal perspective and all the controversy and everything that's swirled around him for the last couple years… I think he's caught the brunt of that unfairly in a lot of ways."
After agreeing with Carr on a four-year, $150 million contract, team and player are still in the honeymoon phase. But make no mistake, the expectations for Carr will be high once the 2023 campaign begins.
When Carr takes the field next fall, he'll be the sixth quarterback to lead the Saints since Brees' retirement in 2020, joining Jameis Winston, Taysom Hill, Trevor Siemian, Ian Book, and Andy Dalton. While the Saints continue to search for a quarterback to follow Brees in earnest, Carr reminded everyone he wasn't looking to fill anyone's cleats. 
"I'm not coming here trying to be Drew Brees," Carr said via ESPN's Katherine Terrell. "That man is a Hall of Fame quarterback. I'm coming here to be Derek Carr."