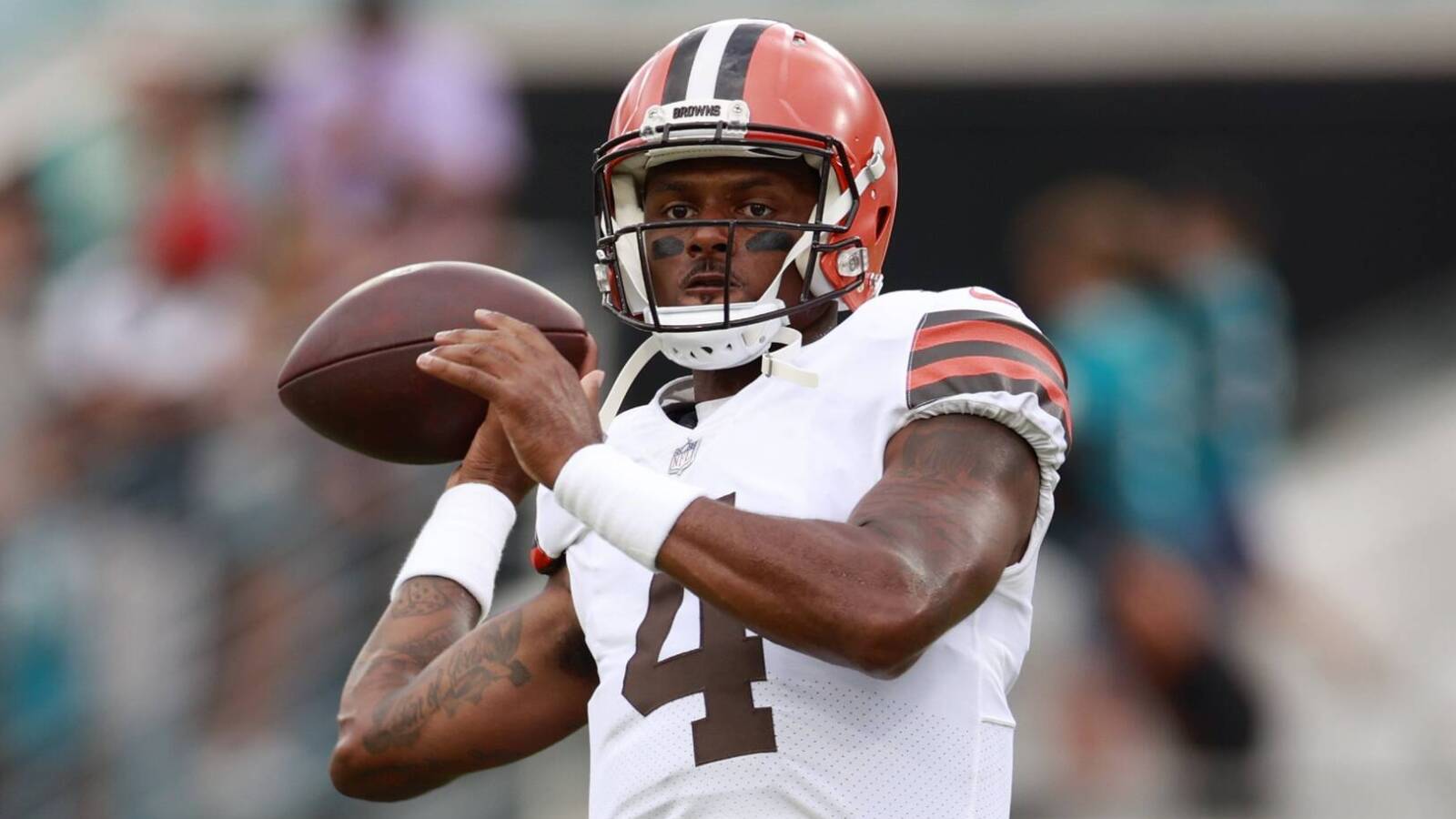 NFL accused of 'hiding' Deshaun Watson, Browns-Texans game
A massive number of NFL fans will not have local television access to quarterback Deshaun Watson making his Cleveland Browns regular-season debut. 
As Jesse Pantuosco of Audacy shared, Sunday's game between the 4-7 Browns and 1-9-1 Houston Texans will air locally only in a handful of media markets. For the most part, individuals who live decent drives away from Cleveland or Houston will need to have NFL Sunday Ticket or journey to an establishment to catch the game: 
The NFL could argue that Sunday's matchup isn't all that exciting for casual fans. Houston is in the basement of the overall league standings, while Cleveland is 13th in the AFC and may need to win its final six contests to have even a shot at making the playoffs. 
As it pertains strictly to football, though, the Browns-Texans showdown is noteworthy because it will feature Watson's return to action after he served an 11-game suspension related to allegations of sexual misconduct during massage sessions. It will also be Watson's return to Houston's NRG Stadium for the first time since he played for the Texans and since he sat out all of last season following a trade request. 
Cleveland acquired the three-time Pro Bowl selection from Houston this past March. 
"It doesn't take a rocket scientist to see what the NFL is up to, doing everything in its power to hide Watson and all the negative PR that is sure to follow him as he returns to football's biggest stage, relatively free of consequences," Pantuosco wrote. 
As Sean Keeley of Awful Announcing mentioned, "Thursday Night Football" personalities Al Michaels and Kaylee Hartung delicately discussed the Watson matter during a game between the Browns and Pittsburgh Steelers back on Sept. 22. Keeley even went so far as to say Hartung was "reading a "presumably prepared statement from NFL lawyers" during the segment: 
Watson was officially reinstated on Monday and predictably dodged non-football-related questions while speaking with reporters Thursday. 
"Like I said, I'm focusing on just being the starting quarterback and executing the game plan," he said about encountering what will likely be an unfriendly Houston homecoming. "That's my main focus."
Two grand juries declined to indict Watson, and his legal team and attorney Tony Buzbee settled 23 lawsuits filed against the signal-caller. Two lawsuits remain active, and Buzbee said earlier this week that "around 10" of his clients who accused Watson of sexual misconduct plan to attend Sunday's game. It's unknown if broadcast cameras will show Buzbee and/or any of his clients.