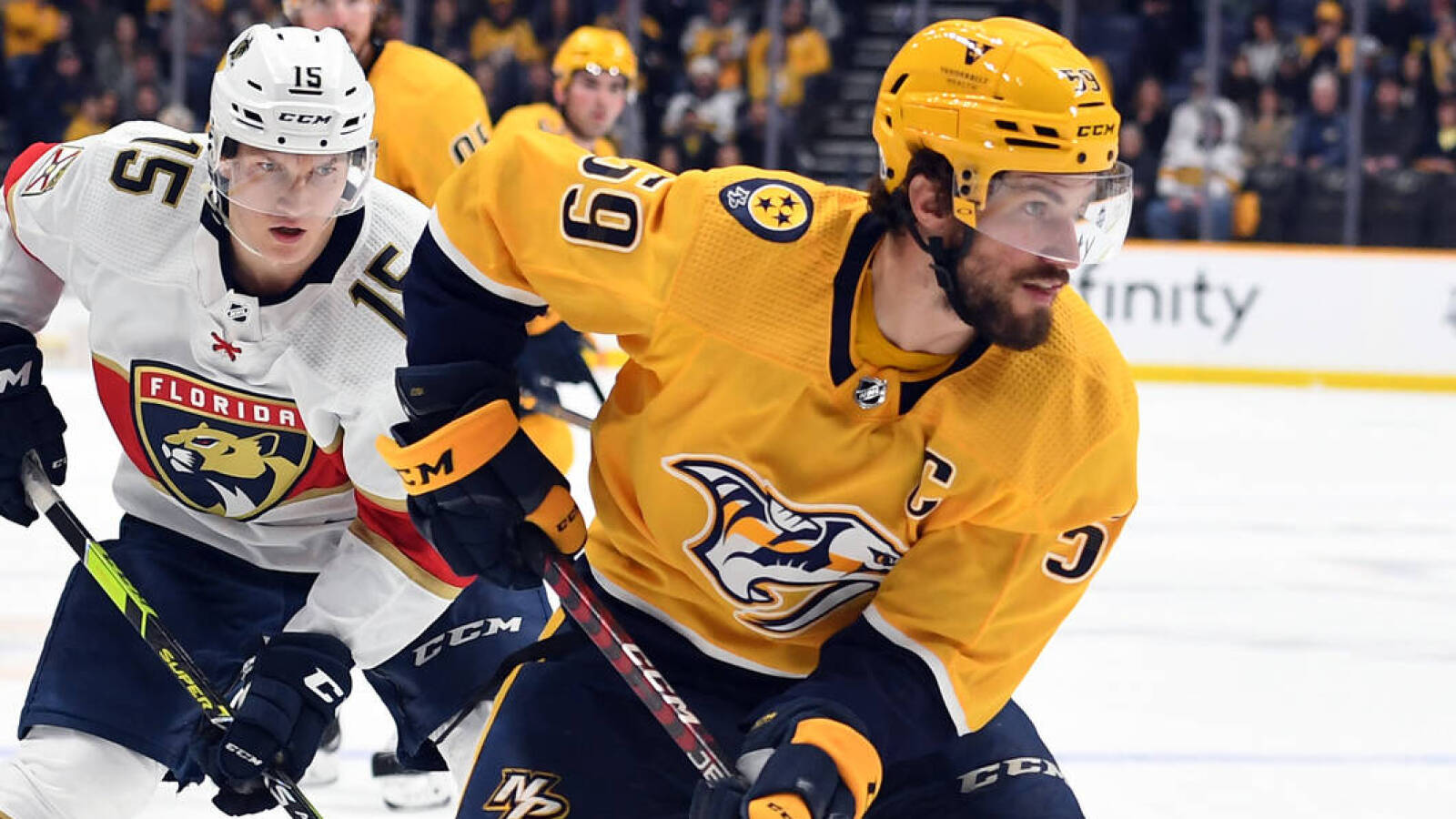 NHL Friday bets: Six props for the regular season finale
We've made it to the last day of the NHL regular season! Sure, there is one game on Sunday from a postponement, but this is really it.
Time has flown this season, and luckily for us, we're only just getting started as the postseason awaits.
We've had a great week  of prop picks, and the best thing to do is finish strong. We have a handful of bets Friday, both in the points and shots on goal (SOG) variety.
Let's get to the spots.
Casey Mittelstadt over 0.5 points (+105 DK)
We start with a betting angle I've been pounding the table on for weeks now: centers against Chicago.
Not only are the Blackhawks seeing a ton of shots from the position (and shots in general), they consistently allow centers to score against them.
Last game, we targeted Chandler Stephenson to score, who racked up three assists instead. I'm taking that lesson and pivoting to a straight point prop for the second-line center on Buffalo.
Mittelstadt had an assist when these two teams last met and has five points in his last five at home. He has 10 shots on goal on 13 attempts in his past two games, so it could certainly be a goal, but either way – I like seeing his recent involvement.
Buffalo is averaging 3.6 goals/game at home in their last five while Chicago is seeing 4.0 goals scored against them in their past five on the road. I like Mittelstadt to get in on the action tonight.
James van Riemsdyk over 2.5 SOG (+120 CZR)
We're going back to JVR, who has now hit his SOG in five straight games. Ottawa is allowing 31.5 shots per game on the road in their past 10 (33.4 in L5), so the opponent certainly checks the box.
Beyond the five straight hits, I like van Riemsdyk's attempts, averaging 6.6 per game in his past five, and that he hit in the last game against Ottawa.
The Senators are tied for second in power play opportunities allowed (PPOA) from the past 10 games, and JVR is leading Philly in power play shots lately, with 11 in his last 10.
At +120, this is worth following tonight.
Steven Stamkos over 1.5 points (+145 DK)
At this point, betting Steven Stamkos to register two-plus points is an auto-bet until he lets us down. Stamkos has now gone over this total in eight straight games, piling up 23 points in that span.
23 points in eight games! It's truly astounding.
The Lightning have motivation to win tonight to lock in their playoff seeding, and the Islanders have been trickling in some goals at home lately, allowing 3.8 per game in their past five.
They also rank near the top of PPOA, and Stamkos lives on the PP. Those potential opportunities give us extra confidence that Stamkos can get to two points once again.
Roope Hintz over 2.5 SOG (-110 CZR)
Hintz is another repeat target, but the situation calls for his inclusion in our betting slip tonight.
Hintz has now hit his SOG in three straight games, all at home. Anaheim allows 34.8 shots per game in their last 10 on the road, a number that has gotten up to 40.4 in just their last five.
The Ducks have also been generous to centers, allowing the fourth-most shots per game to the position since the beginning of March.
Dallas could jump Nashville in the standings and avoid Colorado in the first round, an incentive that would suggest maximum effort tonight.
Roman Josi over 3.5 SOG (+115 DK)
Roman Josi gets an Arizona team he's dominated this year to wrap his regular season. In two games against the Coyotes, Josi has four and seven SOG, and six total points.
You likely know by now that Arizona lets up a ton of shots, and the most to defensemen. Well, that's Josi, and with prior success against the team and averaging 8.0 attempts per game in his past 10, it's a good spot to load him up.
He's been solid on the road too, going over his SOG in eight of his past 11. As mentioned in the Hintz reasoning, the Predators are another team who have something worth playing for tonight.
.5u: Roman Josi over 1.5 points (+160 Barstool)
We stay with Josi, doubling down on the star defensemen to go over 1.5 points. Highlighted above was his point success against Arizona, finishing with six total in two games.
Beyond that, I do like following the narrative that Josi is making a last push to win the Norris trophy, awarded to the league's top defensemen.
With expected shots and solid scoring trends, this is worth a stab. I'm putting just a half-unit.
For now, that will do it, many props are still not yet released. I'll likely have more plays on Twitter as the day progresses, so be sure to check back later.
Best of luck tonight, let's finish this week strong by cashing some NHL bets!