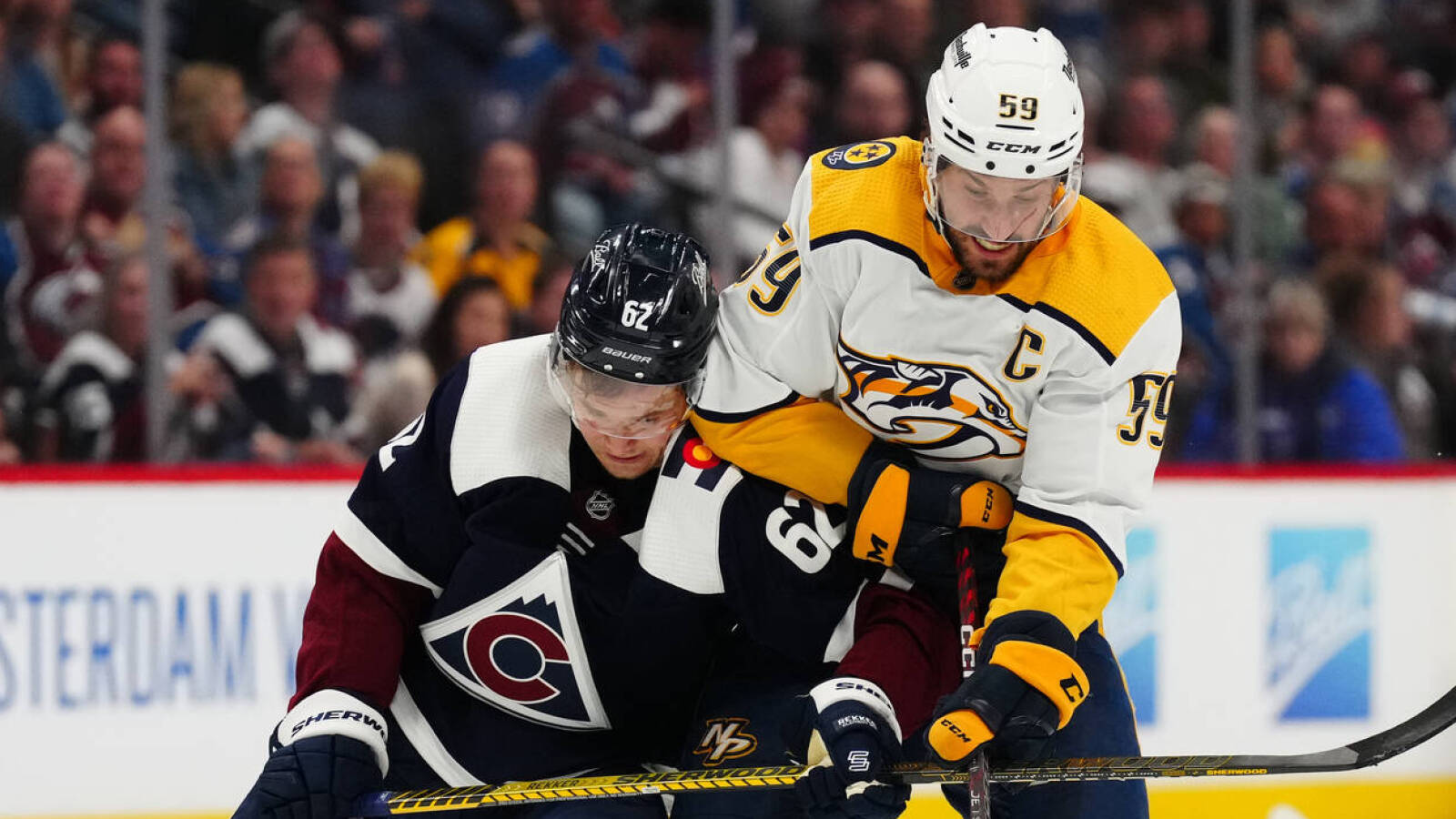 NHL sets Round 1 schedule for 2022 Stanley Cup playoffs
The chase for Lord Stanley's silver chalice begins on Monday.
After a 200-day regular season that saw the NHL navigate through a pandemic pause with empty buildings and celebrate historic offensive seasons from some of the game's brightest stars, the postseason is finally upon us.
Day 200 was not without drama. Even though the eight Eastern Conference playoff teams have been known since January, it took until the last day of the season to set the bracket. The Nashville Predators and Dallas Stars duked it out for wild-card positioning in the West until the bitter end of the night.
Now, with the bracket set, it's time to expect the unexpected.
This year's schedule has a bit of symmetry to it. There are no double off-days in any series, unlike years past. Every series goes every other day, with half of the eight series starting on May 2 and the other half on May 3.
The four-round slog for the toughest trophy to win in sports is scheduled to conclude by June 30, the last possible day of the Stanley Cup Final.
Here is the schedule for Round 1 of the 2022 Stanley Cup playoffs:
Eastern Conference
#A1 Florida Panthers vs. #WC2 Washington Capitals
| | | |
| --- | --- | --- |
| Date | Game | Time |
| Tuesday, May 3 | 1. Washington at Florida | 7:30 p.m. ET |
| Thursday, May 5 | 2. Washington at Florida | 7:30 p.m. ET |
| Saturday, May 7 | 3. Florida at Washington | 1 p.m. ET |
| Monday, May 9 | 4. Florida at Washington | 7 p.m. ET |
| Wednesday, May 11 | 5. Washington at Florida* | TBD |
| Friday, May 13 | 6. Florida at Washington* | TBD |
| Sunday, May 15 | 7. Washington at Florida* | TBD |
#A2 Toronto Maple Leafs vs. #A3 Tampa Bay Lightning
| | | |
| --- | --- | --- |
| Date | Game | Time |
| Monday, May 2 | 1. Tampa Bay at Toronto | 7:30 p.m. ET |
| Wednesday, May 4 | 2. Tampa Bay at Toronto | 7:30 p.m. ET |
| Friday, May 6 | 3. Toronto at Tampa Bay | 7:30 p.m. ET |
| Sunday, May 8 | 4. Toronto at Tampa Bay | 7 p.m. ET |
| Tuesday, May 10 | 5. Tampa Bay at Toronto* | TBD |
| Thursday, May 12 | 6. Toronto at Tampa Bay* | TBD |
| Saturday, May 14 | 7. Tampa Bay at Toronto* | TBD |
#M1 Carolina Hurricanes vs. #WC1 Boston Bruins
| | | |
| --- | --- | --- |
| Date | Game | Time |
| Monday, May 2 | 1. Boston at Carolina | 7 p.m. ET |
| Wednesday, May 4 | 2. Boston at Carolina | 7 p.m. ET |
| Friday, May 6 | 3. Carolina at Boston | 7 p.m. ET |
| Sunday, May 8 | 4. Carolina at Boston | 12:30 p.m. ET |
| Tuesday, May 10 | 5. Boston at Carolina* | TBD |
| Thursday, May 12 | 6. Carolina at Boston* | TBD |
| Saturday, May 14 | 7. Boston at Carolina* | TBD |
#M2 New York Rangers vs. #M3 Pittsburgh Penguins
| | | |
| --- | --- | --- |
| Date | Game | Time |
| Tuesday, May 3 | 1. Pittsburgh at New York | 7 p.m. ET |
| Thursday, May 5 | 2. Pittsburgh at New York | 7 p.m. ET |
| Saturday, May 7 | 3. New York at Pittsburgh | 7 p.m. ET |
| Monday, May 9 | 4. New York at Pittsburgh | 7 p.m. ET |
| Wednesday, May 11 | 5. Pittsburgh at New York* | TBD |
| Friday, May 13 | 6. New York at Pittsburgh* | TBD |
| Sunday, May 15 | 7. Pittsburgh at New York* | TBD |
Western Conference
#C1 Colorado Avalanche vs. #WC2 Nashville Predators
| | | |
| --- | --- | --- |
| Date | Game | Time |
| Tuesday, May 3 | 1. Nashville at Colorado | 9:30 p.m. ET |
| Thursday, May 5 | 2. Nashville at Colorado | 9:30 p.m. ET |
| Saturday, May 7 | 3. Colorado at Nashville | 4:30 p.m. ET |
| Monday, May 9 | 4. Colorado at Nashville | 9:30 p.m. ET |
| Wednesday, May 11 | 5. Nashville at Colorado* | TBD |
| Friday, May 13 | 6. Colorado at Nashville* | TBD |
| Sunday, May 15 | 7. Nashville at Colorado* | TBD |
#C2 Minnesota Wild vs. #C3 St. Louis Blues
| | | |
| --- | --- | --- |
| Date | Game | Time |
| Monday, May 2 | 1. St. Louis at Minnesota | 9:30 p.m. ET |
| Wednesday, May 4 | 2. St. Louis at Minnesota | 9:30 p.m. ET |
| Friday, May 6 | 3. Minnesota at St. Louis | 9:30 p.m. ET |
| Sunday, May 8 | 4. Minnesota at St. Louis | 4:30 p.m. ET |
| Tuesday, May 10 | 5. St. Louis at Minnesota* | TBD |
| Thursday, May 12 | 6. Minnesota at St. Louis* | TBD |
| Saturday, May 14 | 7. St. Louis at Minnesota* | TBD |
#P1 Calgary Flames vs. #WC1 Dallas Stars
| | | |
| --- | --- | --- |
| Date | Game | Time |
| Tuesday, May 3 | 1. Dallas at Calgary | 10 p.m. ET |
| Thursday, May 5 | 2. Dallas at Calgary | 10 p.m. ET |
| Saturday, May 7 | 3. Calgary at Dallas | 9:30 p.m. ET |
| Monday, May 9 | 4. Calgary at Dallas | 9:30 p.m. ET |
| Wednesday, May 11 | 5. Dallas at Calgary* | TBD |
| Friday, May 13 | 6. Calgary at Dallas* | TBD |
| Sunday, May 15 | 7. Dallas at Calgary* | TBD |
#P2 Edmonton Oilers vs. #P3 Los Angeles Kings
| | | |
| --- | --- | --- |
| Date | Game | Time |
| Monday, May 2 | 1. Los Angeles at Edmonton | 10 p.m. ET |
| Wednesday, May 4 | 2. Los Angeles at Edmonton | 10 p.m. ET |
| Friday, May 6 | 3. Edmonton at Los Angeles | 10 p.m. ET |
| Sunday, May 8 | 4. Edmonton at Los Angeles | 10 p.m. ET |
| Tuesday, May 10 | 5. Los Angeles at Edmonton* | TBD |
| Thursday, May 12 | 6. Edmonton at Los Angeles* | TBD |
| Saturday, May 14 | 7. Los Angeles at Edmonton* | TBD |