Nick Kyrgios vs Novak Djokovic results, latest updates and video highlights from the men's final
The synthetic grass courts at the Lineham National Tennis Centre in Canberra have seldom done Australian tennis players any good on the world stage.
It's hard to believe that two decades on, this little kid in the Wu Tang shirt will take on Novak Djokovic to win arguably the biggest tennis tournament in the world.
Speaking on Grand Slam Daily, Australian tennis great Wally Masur said Kyrgios spent much of his childhood there honing his craft.
"Synthetic grass courts have not always done Australia any favors in terms of preparing players for what's coming in the future, but it hasn't hurt Nick," he said.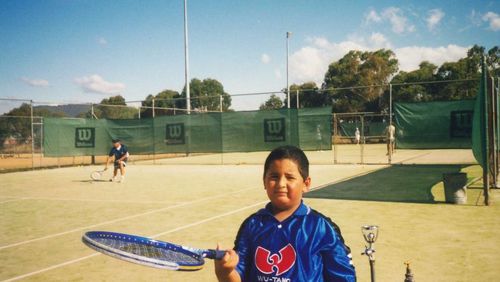 Kyrgios doesn't have a particularly fond memory of the courts either.
"I grew up in Canberra – the courts I trained on were horrible," he said. "And now I've got the chance to play Wimbledon final."
Kyrgios said he hoped his story became an inspiration to other kids on the outer.
"I think it's honestly an inspiration for any sort of kid who's kind of an outcast … or just been brought down from a lot of different angles, it's still possible to achieve something quite special," he said in his pre-final press conference.
"I never really lost belief in myself. I feel like a lot of people at some stage in my life have lost belief (or) doubted me a little bit, in my behavior or just the way I trained.
"That's fine, but I never lost belief in myself. I think it's just a strong message for any sort of any kid who doubts himself to just keep going.
"Look at that photo. I literally look like Manny from Modern Family."