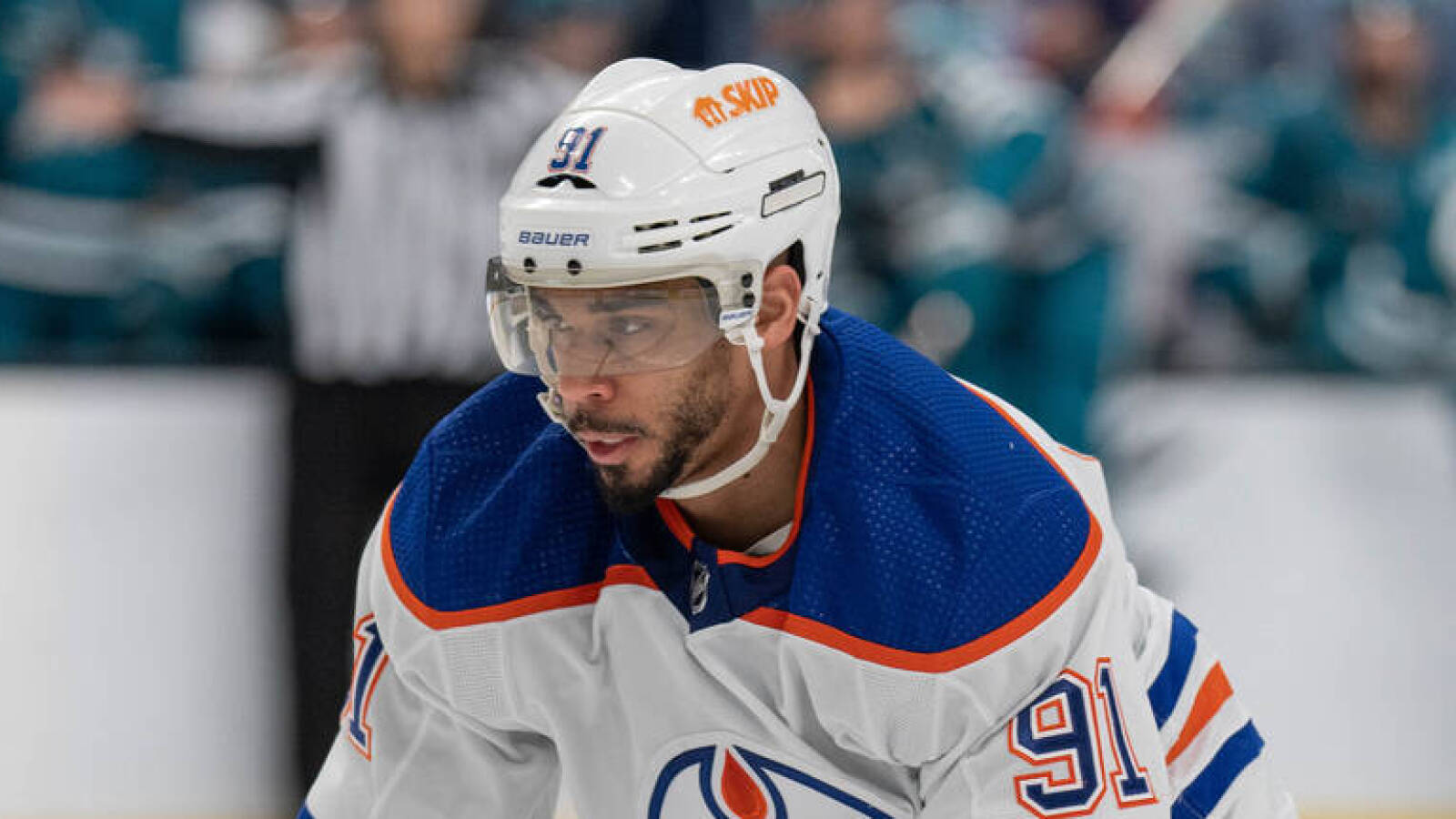 Oilers' Evander Kane could hear from NHL following unruly scrap vs. Vegas
Edmonton Oilers forward Evander Kane is no stranger to controversy, and he's a hot topic again for the wrong reasons following a nasty altercation Saturday against the Vegas Golden Knights, which might lead to a disciplinary call from the NHL. 
During a late second-period scrap between the Oilers and Golden Knights, Kane repeatedly punched a defenseless Keegan Kolesar several times as the Vegas forward lay prone on the ice. 
The fracas began first when Brett Howden and Brett Kulak dropped the mitts. While officials broke that pair up, a group including Kane and Kolesar were relatively unpoliced in the corner. Kolesar eventually got back to his skates, and he and Kane continued to grapple until officials finally made their way over to break them up. 
The scrum ultimately led to 30 penalty minutes being assessed, with Kane given a 10-minute misconduct. 
Hitting Kolesar while he was down broke an unwritten rule in the fighting code. Whether or not Kane's discretion will lead to the league taking action remains to be seen. However, the NHL could hold Kane's reputation and past on the ice against him. Last postseason, Kane received a one-game suspension for boarding Nazem Kadri of the Colorado Avalanche.
As for Game 2 itself, the Oilers ran away with it early, which probably contributed to most of the nastiness. 
Edmonton jumped on Vegas early, tallying four first-period goals en route to a 5-1 victory. 
Leon Draisaitl notched two goals in the win, bringing his league-leading playoff total to 13. Meanwhile, captain Connor McDavid matched Draisaitl with two goals of his own in the Edmonton rout. 
The best-of-seven series knotted up at 1-1, shifts to Edmonton for the next two games, beginning with Game 3 Monday at 8;30 p.m. ET.