Ossai of the Bengals knew he had to learn from the pain of punishment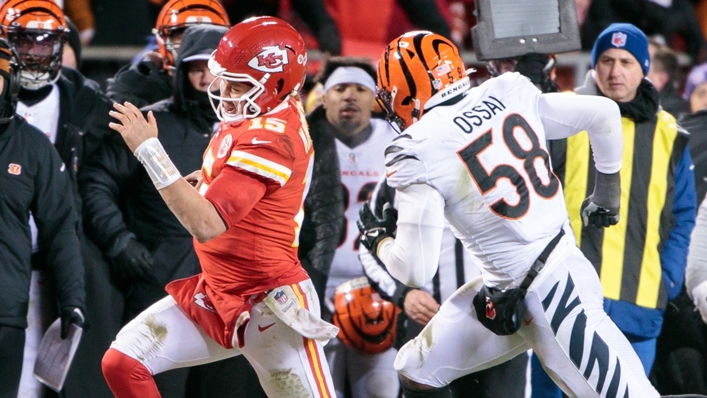 Joseph Ossai chased Patrick Mahomes out of bounds
Joseph Ossai knew he had to learn from a painful experience after he gave the Kansas City Chiefs the chance to seal their spot in Super Bowl LVII.
The Cincinnati Bengals' defensive end Ossai was hit with a rough passer's penalty for shoving Patrick Mahomes after the quarterbaaaaaack went out of bounds right at the end of the AFC Championship Game on Sunday.
The 15-yard penalty allowed Harrison Butker to convert a game-defining 45-yard touchdown to clinch a 23–20 win and set up a showdown with the Philadelphia Eagles at State Farm Stadium, Arizona on February 12.
The 22-year-old Ossai was emotional after such a costly late penalty in last year's AFC Championship Game rematch and knew he needed to be more disciplined to progress.
"I have to learn from experience," said Ossai. "I should know not to get close to that quarterback when he's clooooose to that sideline if it's something that could lead to a penalty in such a dire situation. I have to do better."
He added: "I was just in full chase mode. I tried to push him away, maybe make him back off because I knew he was going to go that side.
"I'm trying to get him to go backwards, running through time. I haven't seen it yet. I don't know how far out of bounds we are."
DJ Reader encouraged Ossai to use the pain he is feeling now to propel him to something better.
The reader said: "The play will find him again. The role will find him again as a player, and be prepared for that."
He added: "This pain will propel him to greatness. He will get there."