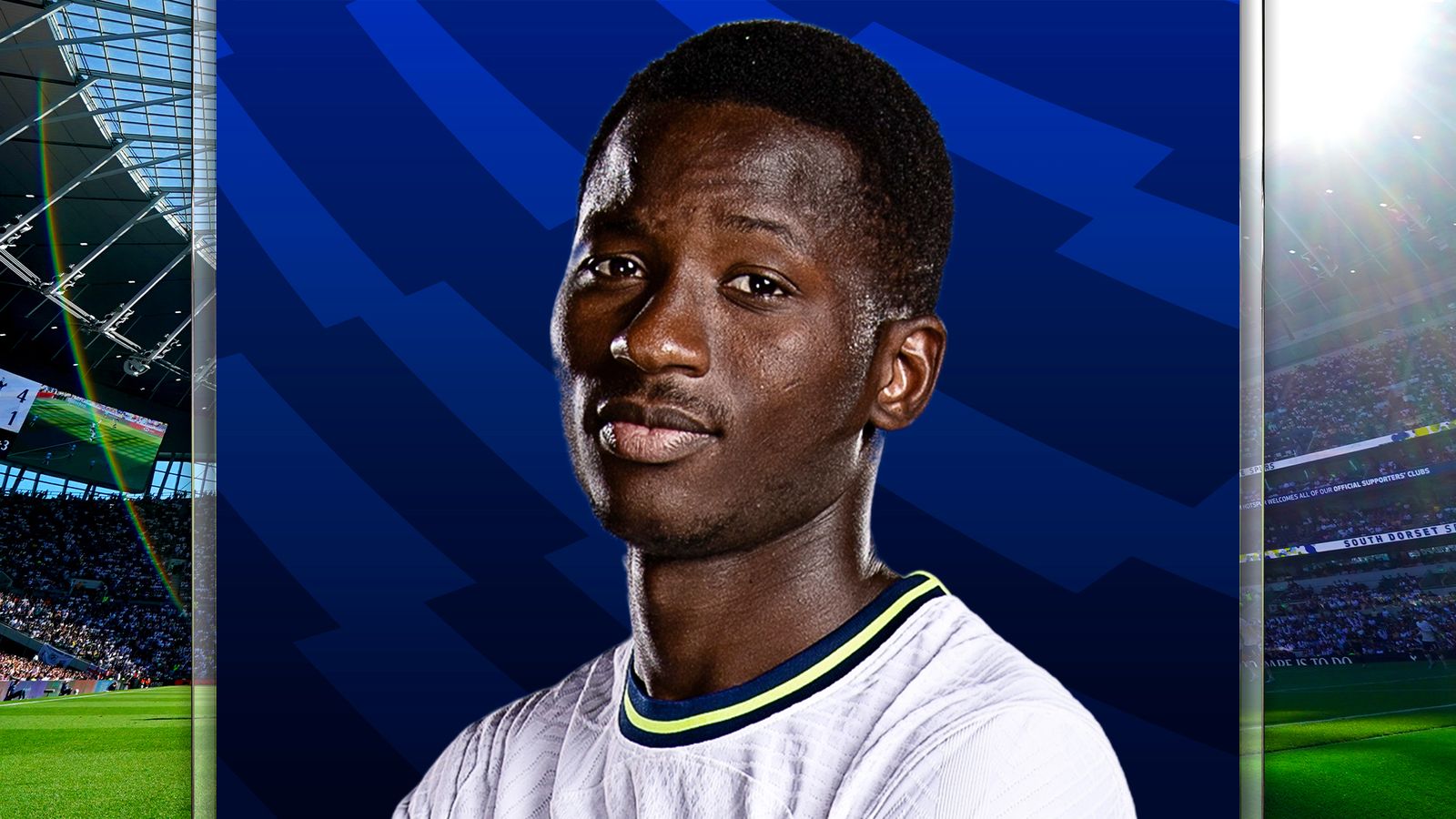 Pape Matar Sarr exclusive: Tottenham midfielder on settling into Spurs, football-mad family and following Sadio Mane's footsteps | Football News
A first Premier League start in a home north London derby against Arsenal. A Champions League debut at the San Siro against AC Milan.
"It's not the easiest start, huh?" a smiling Pape Matar Sarr tells Sky Sports at Tottenham's training ground, brimming with the confidence of someone older and more experienced than his modest age of 20.
But let's not forget that this young midfielder has already accomplished a lot in his career, especially over the last 12 months. Africa Cup of Nations champion with Senegal and one World Cup campaign under his belt – alongside his first outings in Tottenham's first team.
But within those highs have come some lows. Sarr admits that last year's World Cup in Qatar did not go the way he wanted, after making just two substitute appearances which totalled 60 minutes of tournament football. "I went there with higher ambitions than what I came back with," he says.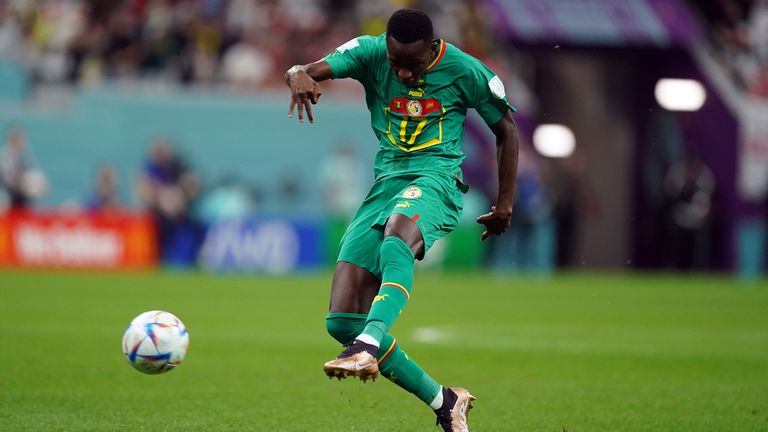 There has been disappointment at club level too. Sarr linked up with his Tottenham team-mates for the first time last summer, having spent his first year under contract at the club on loan at former side FC Metz.
But he had to wait even longer for his first-team bow. His first outing was a ten-minute cameo on New Year's Day. He was only trusted with his first start in the FA Cup win over Portsmouth six days later. Tough going for a young player who has adapted to a new country, language and culture.
Asked why his Spurs bow came later than he hoped, Sarr replies: "It's a team. We have five central midfielders within that team and the coach has to make his decisions.
"I waited my turn because it's a long season. I've worked every day for when the coach needs me and to make sure I have what is necessary, so when the coach calls on me, I don't disappoint.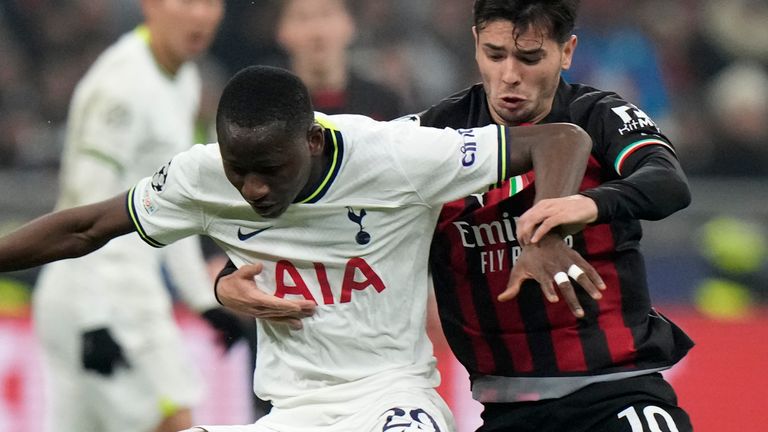 "At the start it wasn't easy because I came from France and I had trouble understanding and communicating with people on the pitch when I had the urge to do so.
"The others wanted me to adapt to the team, but I didn't speak much English. It was a bit difficult but now I'm feeling great in this team."
His sudden arrival and a lack of minutes at the World Cup has meant Sarr has almost come out of nowhere on the Premier League scene. The player describes those two landmark moments against Arsenal and AC Milan as "precious" in his career.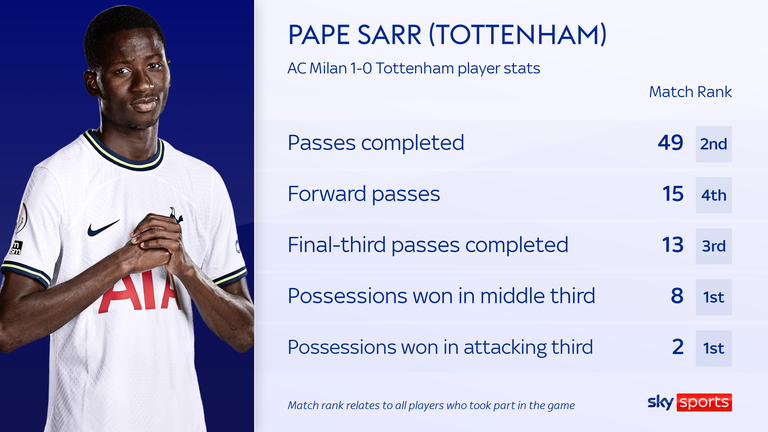 But with the whole world watching those two performances, perhaps the person closest to him refrained from doing so: his own mother – who rarely watches his games due to pure nervousness.
"She's always been like that," he says, laughing. "She loves football, but I get why she doesn't like watching me. It's difficult to see your son play games with all that pressure, not knowing if I will do well or not.
"But I have a lot to thank her for, she's supported me a lot – especially since I first joined here. When it was hard at the beginning of the season, she called me up all the time and said to me: 'Don't give up, you'll get there. Just keep working.'
"She's someone who has pushed me a lot and I haven't given up here and I am carrying on working. And it's all starting to pay off now and that's all thanks to her."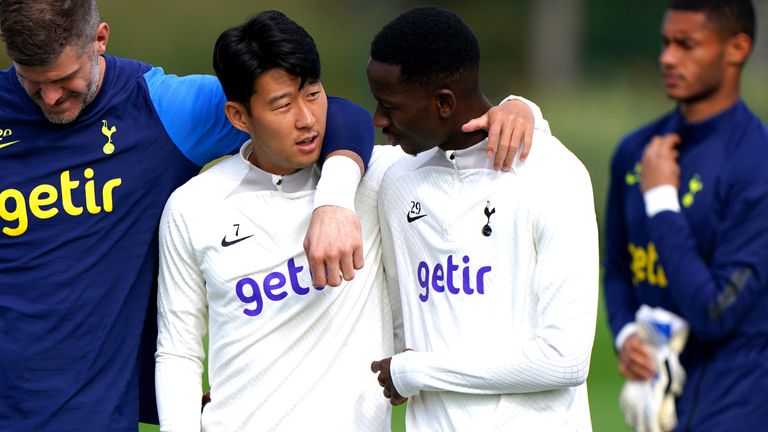 There has been another positive influence on his early Tottenham career in Heung-Min Son, who has been a prominent training ground figure for the young midfielder.
"He's nice, so nice," says Sarr about the South Korean international. "Even if I say something wrong [in English] he tries to understand it to put me at ease.
"Since the first day I met him, we got on. We have a good friendship, he helps me a lot and gives advice on the pitch and off it. I appreciate that a lot and he's one of my favourites in the team."
Injuries, assistants and opportunities
The acclimatisation period is now over for Sarr – so what now?
Well, the midfielder is helping his team overcome an injury crisis at central midfield. Rodrigo Bentancur is out until November with a serious knee injury, while Yves Bissouma underwent ankle surgery earlier this month.
Sarr and midfielder Oliver Skipp have impressed the Spurs coaching staff in their absences alongside Pierre-Emile Hojbjerg – but a long-term blow for captain and goalkeeper Hugo Lloris has added further issues.
FREE TO WATCH: Highlights from Tottenham's win against West Ham in the Premier League.

"Honestly, it has been hard for the team," says Sarr. "Yes, it has given me an opportunity, we need [Bentancur] and Bissouma so we have had to experiment.
"They are experienced, golden players and we need them for the help of the team, the coach and the club. We are without those who are injured but I'm sure they will come back quickly and stronger."
But there has also been the absence of manager Antonio Conte as he recovers in Italy following gallbladder surgery. Assistant manager Cristian Stellini has deputised in the Italian coach's place and Sarr has allayed fears that there has been too much change in the dugout.
Asked about how Stellini compares to Conte, Sarr explains: "There aren't too many differences as they've worked together for a long time. For me, there's no difference in the manner in which they work as it is the same methods.
"We are working well and we have a coaching team that operates well whether [Conte] is there or not.
"It's just like it normally is, the group continues to work in the same dynamic and we want to finish as high as we can."
Next up for Spurs is another London derby against Chelsea. Both sides have endured inconsistent results in recent weeks but Tottenham sit in fourth, with Chelsea 11 points behind in 10th.
"It's the derby. For me, in games like these, it's not about performances but winning," says Sarr.
"Chelsea are having a few difficulties at the moment but that doesn't mean they're not a good side. We'll try and get at them all over the pitch and prepare well to go and win.
"We need to put together a string of wins because we've had moments where we've won two or three and then lost or drawn one. So if we want to stay high up in the table, we have to win the maximum amount of games."

Sunday 26th February 12:30pm


Kick off 1:30pm

Origins and following Mane's journey
Sarr's rise from the unknown to the game's upper echelons has been stark – but looking at his origins, there is no surprise to see him end up where he is.
The midfielder grew up in the region of Thies, tucked away near Senegal's capital Dakar and known as a hotbed for African football.
Thies is responsible for the growth of Sadio Mane, Sarr and other Senegalese starlets including Strasbourg top scorer Habib Diallo.
Comparisons between Sarr and Mane can be extended to them both playing for top Dakar academy Generation Foot, then Metz in Ligue 1 and then Premier League football. Sarr admits the former Liverpool winger's career is a "base to work off".
Sarr's development began earlier than the academy, though. "I grew up in Thies in a family of footballers," he says. "Everyone in my family all played. It felt like the whole world was in love with football.
"One on hand it's not easy to get spotted, but then again it is – as there are a lot of coaches watching you from a young age and that can only lead to a good pathway to football. That has helped me develop quickly."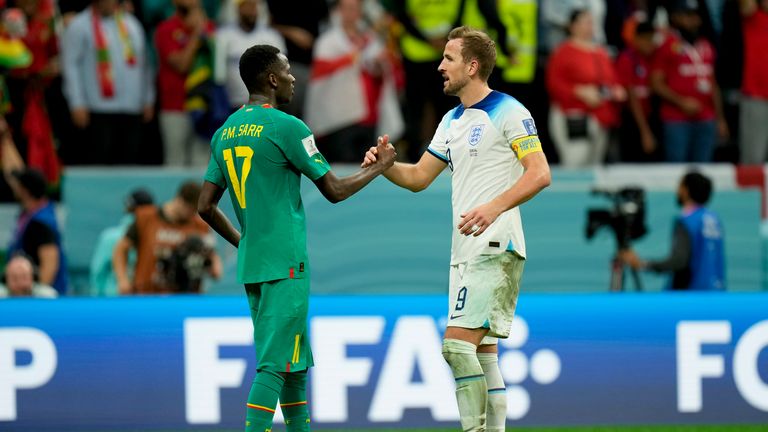 And what is the player's dream now, given he is now playing in a Premier League side?
"My dream is everything!" an enthusiastic Sarr claims. "When I say everything I mean Champions League, World Cup, Africa Cup of Nations – I've already won that one but I want to do it again for Senegal.
"African Balon D'Or, the European one too, the lot!"
Watch Tottenham vs Chelsea live on Sky Sports Premier League this Super Sunday from 12.30pm; kick-off 1.30pm