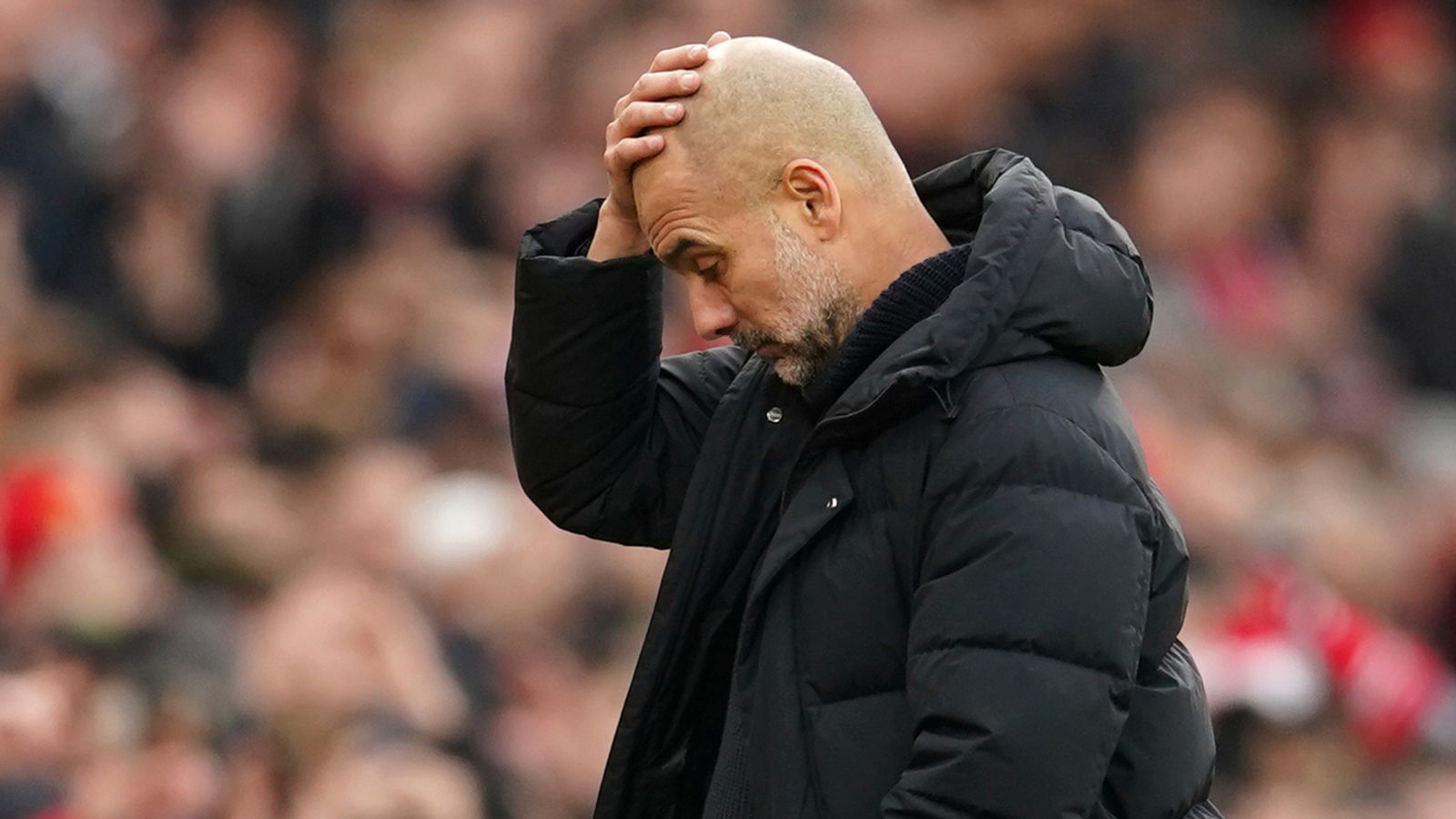 Pep Guardiola bemoans lack of passion, fire and desire following 'comfortable' Man City's comeback win over Tottenham | Football News
Pep Guardiola launched an astonishing criticism of his players following Manchester City's comeback win over Tottenham.
The Premier League champions came from two down at half-time to win 4-2 but Guardiola was left frustrated by the missing "passion, fire and desire" from his team – qualities that he believes leaders Arsenal possess.
"I cannot deny how happy we are, but we are far away from the team that we were," he told Sky Sports in his interview with Pat Davison.
"Not in terms of play, we played good enough but there are many things like competitiveness, in terms of what we have to do in many things that we are far away.
"Rico Lewis conceded four fouls, but they weren't yellow cards because it's Rico Lewis and we don't react. We play because 'my manager told me to play this and how to do this', but there's nothing from the stomach or the gut.
"Today, we were lucky but it wouldn't change, sooner or later we are again [going] to drop points. [We are missing] passion, fire and desire and to win from minute one.
"It's the same with our fans, they are silent for 45 minutes. They booed because we were losing, not because we played badly. We played good, we had more chances, expected goals from Tottenham is 0.89 so we were better.
"They booed because we were losing, but maybe it's the same as our team. Maybe we were so comfortable winning four Premier League's in five years and that's why we… you know. After the goal, they react, but that's not the point."
FREE TO WATCH: Highlights from Manchester City's win against Tottenham

Asked whether the fire has gone out in his Manchester City players, Guardiola added: "Definitely. Otherwise we wouldn't concede the goals we concede in every single game. We give them [the goals] and today we were lucky but after, we will not be lucky."
How do City get it back? "That is my duty, my job. I want my fans back, I want my fans here. Not my away fans, they are the best, but my fans here [at the Etihad]. The support for every corner and every action and support it. We have to do it, but everyone is relaxed.
"The Premier League doesn't wait. We have the opening with Arsenal and they have the fire.
"Two decades, they haven't won the Premier League and every player knows they will make history, like we felt when we won the first Premier League and broke all the records and won back to back.
"We don't have the fire inside and we don't have to ask anything, I just explained the reality that everything is so comfortable. And the opponents don't wait. Of course I'm not [happy with my team]. I don't recognise my team. My team always has passion and desire and run and everything."
Richards: It was scathing by Pep
"It was scathing, wasn't it," Micah Richards told Sky Sports. "When we normally see Pep's interviews, they're very sarcastic, but today he came out and it was almost like he was saying he's had enough of the situation of producing something so good, but no one seems to be satisfied.
"When you start going and talking about the fans, it's a difficult situation. When the fans boo, it's never acceptable, but it's like he's taken that really personally. I thought that interview was like he's at the end of his tether."
Carragher: It was a brilliant interview
"It was a brilliant interview," Jamie Carragher told Sky Sports. "Pep Guardiola has not been in this position that often where he feels he has to send a rocket to everyone.
"Not many managers can get away with criticising their own supporters. Jurgen Klopp did it in his early time at Liverpool when a lot of supporters left before the end of the game. He'll be fine, he's not going to lose the supporters, he's God here to supporters and he knows that."
'We are a happy flowers team' | 'Arsenal will destroy us'
Guardiola reiterated many of the points made in his Sky Sports interview when speaking in the press conference immediately afterwards, describing City as a 'happy flowers' team and insisting that Arsenal will "destroy" them unless they change.
"I'm incredibly happy but if we don't change we are not going to win anything. I have to see my team. The love in our life is to have passion for something – our fans are comfortable, we are comfortable.
"Are you going to tell me we played bad in that first half? Absolutely not.
Dejan Kulusevski jumps on an Ederson error to give Tottenham the lead.

"We have the problem that we have four Premier Leagues in five years and Arsenal have two decades without the Premier League except Gabriel Jesus and Oleksandr Zinchenko and every ball and every action and every corner and every duel it's there. We miss it. We don't have it.
"Do you think I said something special at half-time? Play bad? No. We always play good. But there is something that's not about that. We give the goals [away]. Today it was Edi or Rodri. The next day it will be a fight back and then a central defender and so on.
"Of course you have to do it. I want the passion from Julian, from Rico, from Nathan.
"Right now we don't have it.
"The fans – they come here and we have to give them [something to be excited about]. They expect 'oh, we're Manchester City, we have to do it'. No, we don't have it right now.
Emerson Royal gives Tottenham a shock 2-0 lead at the Etihad against Manchester City.

"The tendency of the human being when you've won a lot is 'ah, I should do this, I should do that'. No you have to work. You have to put fire there – in every ball, in every action, in every situation.
"If we want to do something we have to come back.
"This is a challenge. I want it.
"Our fans have to push us, demand more, have to shout: 'Come on guys, I know how good you are, you have to show us.'
"We come, score a goal. No. It cannot be 0-2 down to react. Nine times out of 10 you don't come back. Today we were lucky. We are not able to come back every time.
"I want a reaction for all the club, the whole organisation – not just the players, the staff and everyone. We're a happy flowers team. Happy flowers, ah it's good. No I don't want to be a happy flower. I want to beat Arsenal.
"But if we play in that way Arsenal will destroy us. Arsenal will beat us.
"I want to see my team."