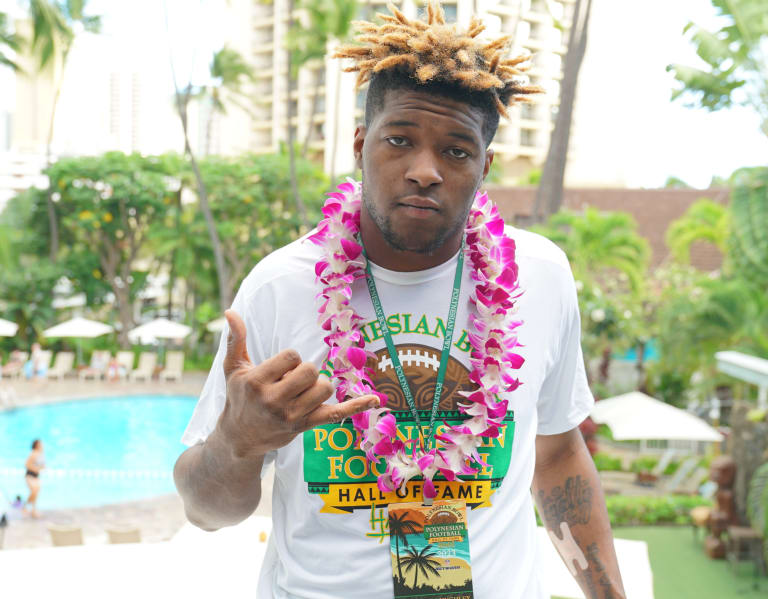 Poly Bowl Stock Report: 10 players who helped their rankings in Hawaii
HONOLULU — This year's Polynesian Bowl was loaded with elite talent, including seven five-star prospects. And while most of them are already known commodities from a scouting standpoint, several prospects helped their rankings stock with their performances throughout the week of practice and in Friday night's game on NFL Network. Rivals.com's Woody Wommack and Corey Gibson share the prospects that impressed this week and will see a move up in the final rankings as a result.
Despite being one of the nation's top offensive linemen and a signee of the two-time defending national champions, Hughley was snubbed from the other two major all-star games. Because of that, he came into Hawaii looking to prove a point and he wasted no time doing it. One of the biggest knocks on Hughley is that he's too thin, but most college offensive line coaches will tell you that they would rather add weight to a frame like Hughley's than take it off of an overweight player. With what Georgia has done with players like Broderick Jones and Amarius Mims bodes well for Hughley at the next level.
*****
Another offensive lineman who has helped his stock this week is Fano. The future Utah Ute has taken a workman like approach and has surprised with his ability to play all three offensive line positions. That's exactly the type of thing that will not only help him see the field early in college, but make him more attractive to NFL teams down the road. Fano has great technique as a pass blocker and should be a great fit with the Utes.
*****
Reescano is already firmly established as one of the nation's best backs but he probably needs to be a little higher in the Rivals250 after a great week of practice and a 104-yard performance on the ground and added four receptions in the game on Friday night. Reescano has a great build and despite being tall for a running back he keeps a low pad level when the ball is in his hands. He also is a threat in the passing game and showed it during the week of practice. Lane Kiffin loves to feature backs in his offense and Reescano looks like a perfect fit in Oxford.
*****
Despite being ranked as a four-star and heading to Utah, the defending Pac-12 champions, Blocker has kept a low profile on the national scene. He changed that this week, impressing during drills with his change of direction and size. In Friday night's game he made a great play on defensive to read opposing quarterback Nico Iamaleava's eyes and nab an interception in the first quarter and then he also showed his willingness to come up and make physical plays, finishing with three tackles, including one for loss. Utah has done a nice job of developing players on defense in recent years and Blocker looks like a great fit with the Utes.
*****
There aren't very many true centers at the high school level but that's exactly what Hatchett is and he's shown that he's one of the best in the country at his position over the last month. After impressing at the Under Armour Game, Hatchett did the same once again in Hawaii, impressing with his footwork and technique during drills and team work. Hatchett is from an area of the country that doesn't get much love on the national scene, so the fact that he came in on a mission to impress and achieved it shows that he's headed in the right direction heading into his college career at Washington.
*****
Kema is another under-the-radar prospect that will move up the rankings at his position after showing off his ability as a pass blocker during the practices. Kema keeps a low profile on the field but showed good fire during the competition portions of practice and finished his blocks with aggressiveness when the situation called for it. Oklahoma State did a nice job nabbing Kema late in the process and it looks like they got a good one.
*****
Afalava is listed as a strongside defensive end but might be on the verge of growing into a full-time defensive tackle at the next level. While he's added weight since the last time we saw him, he hasn't lost any bit of the quickness off the ball that makes him a problem for opposing offensive line. Playing inside at times during the week, Afalava flew off the ball and showed a nice array of pass-rushing moves. His versatility and ability to get after the passer should help him see the field in Berkeley.
*****
At the Under Armour Game at the beginning of the month, it was Michael that played an excellent game and drew praise and on Friday night in Hawaii, it was Andrew that put on show, earning defensive MVP honors. Linebackers aren't given a lot to do during the week at all-star events, so the spotlight is really on them when the game kicks off. Neither disappointed as Michael delivered some crushing hits and Andrew recorded two sacks and forced a fumble. The pair of former UCF commits are now considered Maryland leans, but with the way they played during the all-star season it wouldn't be surprising to see some late schools try to make a late push.
*****
Last year it was Julian's brother Jonah that took the Polynesian Bowl by storm, helping his rankings stock by dominating the event and then going to Arizona and making the All-Freshman team in the Pac-12. Julian has great length and is quick off the edge and has also shown the ability to play in space. Ranked as just a two-star coming in, Savaiinaea's trajectory could be similar to his brother's and he's headed to Tuscon with the arrow pointed up.