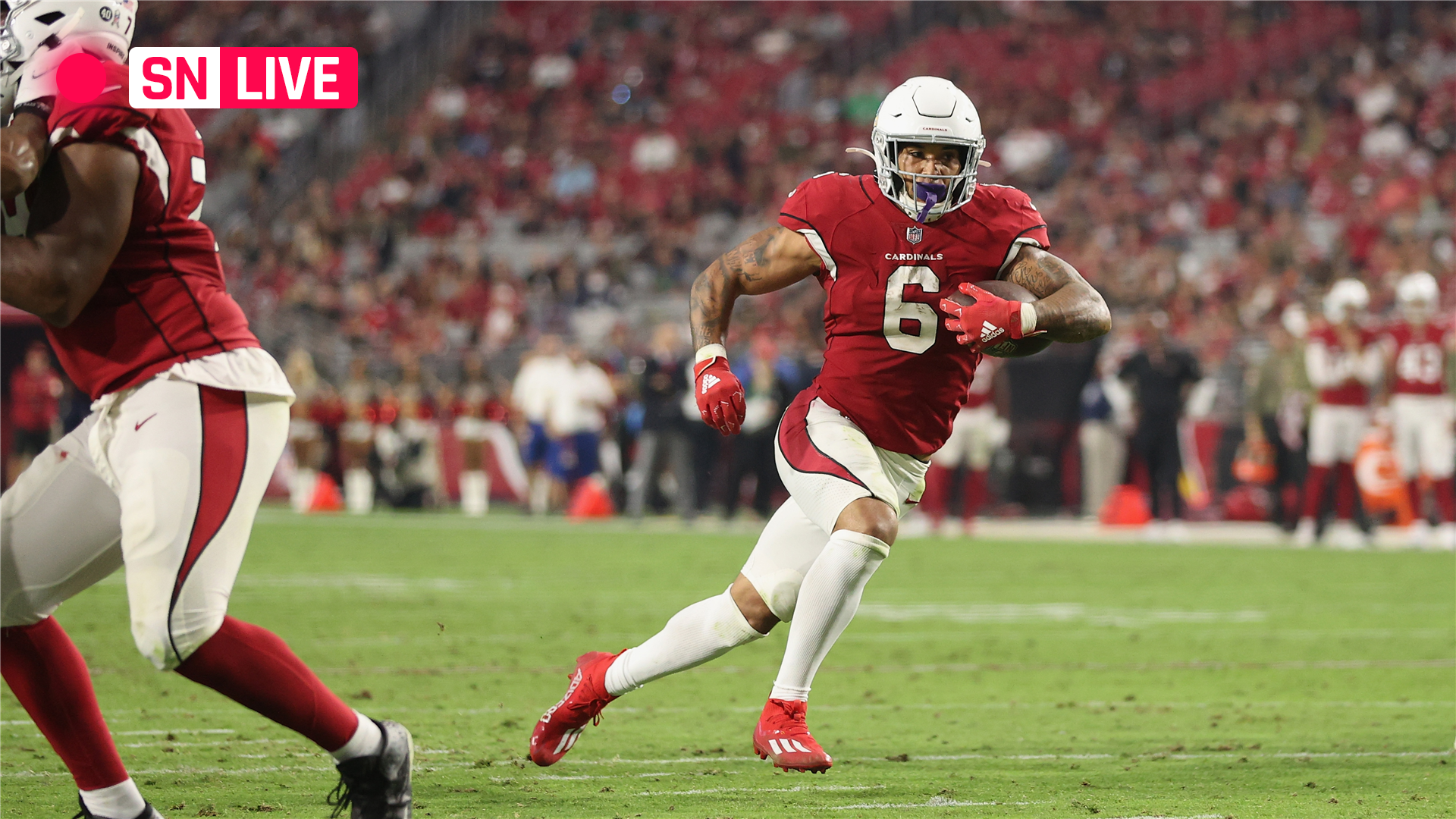 Rams vs. Cardinals live score, updates, highlights from NFL 'Monday Night Football' game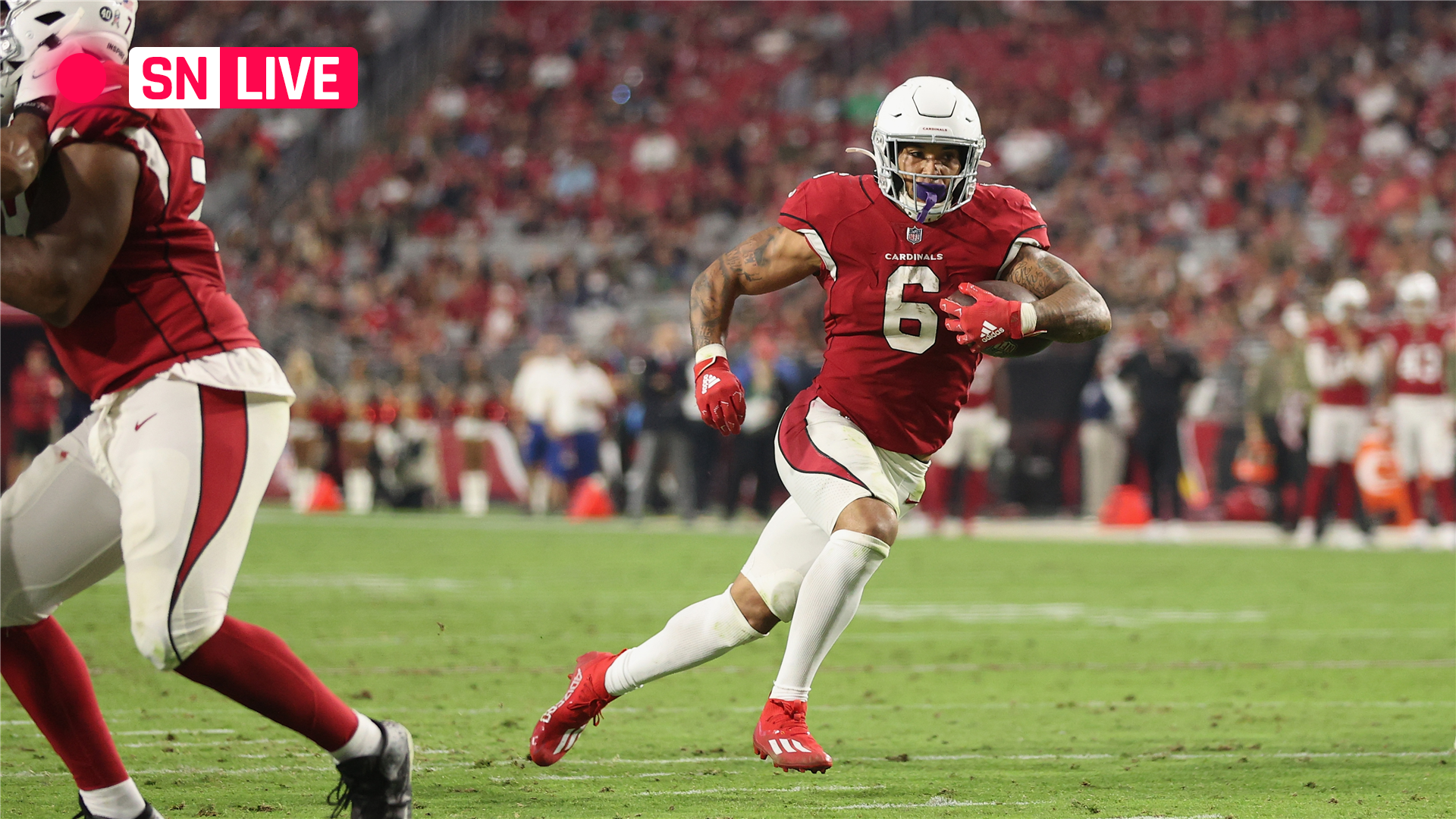 The NFC West has given football fans some of the best teams and best matchups over the years and this year is no different. If the season ended today, three of the divisions' four teams would make the playoffs, headlined by Arizona and Los Angeles.
At 10-2, the Cardinals have the league's best record and already trounced the Rams once this season, winning 37-20 while notching a season-high 216 yards on the ground as part of a 465-total yard effort. The Cardinals are third in scoring offense and fourth in scoring defense as well as second in red zone offense and third in third down defense.
MORE: When is ESPN's next Manningcast for MNF?
So there's very little the Cardinals don't do well, and much of this has been without quarterback Kyler Murray, wide receiver AJ Green or tight end Zach Ertz at various points this season.
The Rams sit at 8-4 but have scuttled a bit of late. Losers of three of their last four, Sean McVay's squad has been its usual prolific offensive self, but has faltered a bit on defense. Even with Aaron Donald, Jalen Ramsey and the addition of Von Miller, the Rams have given up the 17th most points and the 11th most yards, with most of those coming through the air.
MORE: What's wrong with Matthew Stafford?
LA is coming off a dominant 37-7 win over Jacksonville, but the Rams have struggled against better teams this season. They'll be without Ramsey against the Cardinals, meaning an already suspect pass defense could be exploited more. But, if they can stop the run and get to Matt Stafford, they may have a chance at avenging the early season loss.
Sporting News is tracking live updates and highligths throughout the game. Follow below for more coverage.
MORE: Watch Rams vs. Cardinals live with fuboTV (7-day free trial)
Rams vs. Cardinals score
| | | | | | |
| --- | --- | --- | --- | --- | --- |
|   | Q1 | Q2 | Q3 | Q4 | F |
| Rams | – | – | – | – | – |
| Cardinals | – | – | – | – | – |
Rams vs. Cardinals live updates, highlights from Monday Night Football
10:28 p.m.: The pocket collapses but Murray gets outside and on his way out of bounds, chucks it up to AJ Green for 23 as the Cardina;s are at the Rams' 49.
10:27 p.m.: After a gain of 1 on first down, Murray's 30-plus yard pass attempt to Rondale Moore is incomplete by a matter of inches as Moore was ruled out of bounds. 1:12 left for the Cardinals looking at third-and-9.
10:22 p.m.: On third down, Arizona sends pressure and gets its first sack of the night. Rams punt it away for first time since the first quarter. 1:45 left in the third.
10:20 p.m.: Stafford hits Blanton for 23 yards to the LA 37 to give the Rams some more breathing room after the turnover on downs.
10:17 p.m.: The Cardinals' gamble doesn't pay off as the ball bobbles off the hands of Hopkins and Kirk can't come up with it. Rams take over at their own 14.
10:16 p.m.: On fourth-and-2 from the LA 14, Kliff Kingsbury keeps the offense on the field to try and get points. The Cardinals call their first timeout with 4:44 left in the quarter.
10:13 p.m.: James Conner's big night continues as he takes it for 7 yards and the Murray runs it for 17 to the LA 22.
10:05 p.m.: TOUCHDOWN RAMS. Stafford hits Kupp from 4 yards out as Stafford shows amazing accuracy and throws it right through the defenders hands. Rams extend their lead with 9:45 left in the third. Los Angeles 27, Arizona 13.
10:00 p.m.: INTERCEPTION RAMS. Leonard Floyd gets major air and tips Kyler Murray's pass before coming down with it. He returns it 11 yards to the Arizona 19 and that's where the Rams will take over.
9:55 p.m.: TOUCHDOWN RAMS. Stafford loads up and finds Van Jefferson in stride downfield as he hauls it in for a 52-yard score. Los Angeles 20, Arizona 13 with 13:36 left in the quarter. That drive was 75 yards but took just three plays and 1:24 off the clock.
9:54 p.m.: The Cardinals get hit for an unnecessary roughness call which moves the Rams up 15 yards.
9:53 p.m.: On second-and-8, the Rams take a timeout just 14 seconds in to the quarter.
9:51 pm.: The Rams will start the second half with the ball at their own 25 and Stafford hands it to Sony Michel for a gain of 2.
Halftime: Arizona 13, Los Angeles 13
9:37 p.m.: FIELD GOAL CARDINALS. Murray scrambles on third-and-7 for 16 yards. That put the Cards at the Rams' 35 and in field goal range. Prater splits the uprights as time expires. Arizona 13, Los Angeles 13 at halftime.
9:32 p.m.: Murray hits AJ Green for 9 yards to give him 10,000 in his career and up to 50th on the all-time leaderboard. Murray then takes it himself for 12.
9:29 p.m.: FIELD GOAL RAMS. The Rams take the lead with 35 seconds left in the first half and they'll get the ball to start the third quarter. Los Angeles 13, Arizona 10 with 35 seconds left and two timeouts remaining for the Cardinals.
9:26 p.m.: The Rams come out firing after the two-minute warning. Stafford hits OBJ for 39 yards on third-and-6. Rams now have first-and-10 all the way up at the Cardinals' 24.
9:22 p.m.: The Rams take over at their 30 following the kickoff after the touchdown.
9:19 p.m.: TOUCHDOWN CARDINALS. Arizona ties this back up as Conner finds his way into the end zone from the 1 on fourth-and-goal. Arizona 10, Los Angeles 10 with 3:18 left in the half.
9:14 p.m.: After a low snap, Murray recovers, drops back and hits Christian Kirk for 41 yards to the LA 22 as Kirk makes an impressive catch in coverage.
9:13 p.m.: James Conner has been bouncing around the field all night as he continues to be the team's leading rusher and and receiver so far tonight.
9:08 p.m.: FIELD GOAL LOS ANGELES. The Rams extend their lead as Matt Gay splits the uprights from 55 yards out. Los Angeles 10, Arizona 3 with 7:23 left.
9:04 p.m.: On third-and-8, Stafford uncorks one to OBJ and he hauls it in for a first down. First-and-10 now from the Arizona 41 after a gain of 17 and there's a timeout on the field by the Rams.
9:03 pm.: Second-and-20 on their own 30 for the Rams following a penalty. 
8:56 p.m.: The Cardinals will punt for the first time tonight after Murray scrambles for 8 on third-and-23 but it's not enough for the first. Rams take back over at their 29.
8:50 p.m.: TOUCHDOWN RAMS. Stafford hits Odell Beckham Jr. from 2 yards out as OBJ runs an impressive route. His third straight game with a TD. Los Angeles 7, Arizona 3 with 12:53 left in the quarter
8:49 p.m.: The first play of the second quarter is a big run for the Rams. Sony Michel takes it 19 yards to the outside and the Rams are now at the Arizona 9.
End first quarter: Arizona 3, Los Angeles 0
8:43 p.m.: On third-and-6 from the Arizona 46, the Rams convert as Stafford hits Kupp for 7 and 11 yards for big gains. Now first-and-10 for the Rams from the Arizona 28 as the quarter comes to an end.
8:39 p.m.: INTERCEPTION LOS ANGELES. Murray is picked off on the goal line despite the Rams' depleted secondary. Returned 31 yards to the LA 32.
8:36 p.m.: James Conner doing a bit of everything and makes an impressive one-handed catch out of the backfield to the LA 5 for 18 yards.
8:34 p.m.: The Cardinals are steadily marching. Across midfield now as Murray hits Hopkins again, this time for 14.
8:31 p.m.: On third-and-9, Murray ends a streak of four straight incompletions and hits DeAndre Hopkins for 10 yards and the first down. The third third down conversion tonight for Murray and the Cardinals.
8:27 p.m.: The Rams go three-and-out to start and Arizona takes back over on its 33 following the punt.
8:25 p.m.: Los Angeles' opening drive will start at the 25.
8:22 p.m.: FIELD GOAL CARDINALS. After going three-and-out, including Murray missing a wide open Green in the end zone, the Cardinals get on the board. Arizona 3, Los Angeles 0 with 10:58 left in the first as Matt Prater nails the 53-yarder.
8:20 p.m.: AJ Green is the receiver this time on third-and-3 and it's another easy conversion. He takes it for 17 and it's now first-and-10 from the LA 35 for Arizona.
8:19 p.m.: The Cardinals convert on third-and-8 as Kyler Murray hits Zach Ertz for 14 yards.
8:17 p.m.: Another penalty for the Cardinals, this time it's a false start but James Conner gains 13 on second down. Now third-and-8 from the Arizona 28.
8:16 p.m.: The first play of the game results in an offensive holding. Los Angeles declines te penalty and it's now second-and-16 for the Cardinals from their 19.
8:15 p.m.: The Rams win the toss and defer. That means Arizona starts with the ball at its own 25 following a touchback on the opening kick.
Rams vs. Cardinals start time
Date: Monday, Dec. 13
Kickoff: 8:15 p.m. ET, 5:15 p.m. PT
Rams vs. Cardinals is scheduled to kick off at 8:15 p.m. EST, standard time for "Monday Night Football" in Arizona's State Farm Stadium.
What channel is Rams vs. Cardinals on today?
TV channel (national): ESPN
Live Stream: ESPN, fuboTV
Rams vs. Cardinals will be broadcast nationally on ESPN for "Monday Night Football" to close out Week 14. ESPN will have its regular booth broadcasting this game, with Steve Levy, Brian Griese and Louis Riddick. Lisa Salters will be on the sideline.
In Canada, viewers can watch Rams vs. Cardinals on DAZN, which includes every NFL game as part of a 30-day free trial.
NFL live stream for Monday Night Football
Because "Monday Night Football" is aired on ESPN, it will be available to stream live on all of the team's digital platforms (ESPN.com, ESPN App, etc.). This will be the easiest way for viewers with cable or satellite to view the game.
Cord-cutters also have plenty of options with which they can stream "Monday Night Football" during the 2021 NFL season.
| | | | | |
| --- | --- | --- | --- | --- |
| Streaming option | Cable subscription needed? | Free? | Cost | Free trial? |
| ESPN.com/ESPN App | Yes | Yes | – | – |
| NFL App | No | Yes | – | – |
| Yahoo! Sports App | No | Yes | – | – |
| fuboTV | No | No | $60/month | Yes |
| DirecTV Stream | No | No | $55/month | Yes |
| Hulu Plus Live TV | No | No | $55/month | Yes |
| Sling TV | No | No | $30/month | Yes |
| YouTube TV | No | No | $65/month | Yes |
Rams schedule 2021
| | | | | |
| --- | --- | --- | --- | --- |
| Week | Date | Opponent | Kickoff time | TV |
| 1 | Sept. 12 | vs. Bears | 8:20 p.m. ET | NBC |
| 2 | Sept. 19 | at Colts | 1 p.m. ET | Fox |
| 3 | Sept. 26 | vs. Buccaneers | 4:25 p.m. ET | Fox |
| 4 | Oct. 3 | vs. Cardinals | 4:05 p.m. ET | Fox |
| 5 | Oct. 7 (Thursday) | at Seahawks | 8:20 p.m. ET | Fox/NFLN/Amazon |
| 6 | Oct. 17 | at Giants | 1 p.m. ET | Fox |
| 7 | Oct. 24 | vs. Lions | 4:05 p.m. ET | Fox |
| 8 | Oct. 31 | at Texans | 1 p.m. ET | Fox |
| 9 | Nov. 7 | vs. Titans | 8:20 p.m. ET | NBC |
| 10 | Nov. 15 (Monday) | at 49ers | 8:15 p.m. ET | ESPN |
| 11 | BYE | — | — | — |
| 12 | Nov. 28 | at Packers | 4:25 p.m. ET | Fox |
| 13 | Dec. 5 | vs. Jaguars | 4:25 p.m. ET | CBS |
| 14 | Dec. 13 (Monday) | at Cardinals | 8:15 p.m. ET | ESPN |
| 15 | Dec. 19 | vs. Seahawks | 4:25 p.m. ET | Fox |
| 16 | Dec. 26 | at Vikings | 1 p.m. ET | Fox |
| 17 | Jan. 2 | at Ravens | 4:25 p.m. ET | Fox |
| 18 | Jan. 9 | vs. 49ers | 4:25 p.m. ET | Fox |
Cardinals schedule 2021
| | | | | |
| --- | --- | --- | --- | --- |
| Week | Date | Opponent | Kickoff time  | TV |
| 1 | Sept. 12 | at Titans | 1 p.m. ET | CBS |
| 2 | Sept. 19 | vs. Vikings | 4:05 p.m. ET | Fox |
| 3 | Sept. 26 | at Jaguars | 1 p.m. ET | Fox |
| 4 | Oct. 3 | at Rams | 4:05 p.m. ET | Fox |
| 5 | Oct. 10 | vs. 49ers | 4:25 p.m. ET | Fox |
| 6 | Oct. 17 | at Browns | 4:05 p.m. ET | Fox |
| 7 | Oct. 24 | vs. Texans | 4:25 p.m. ET | CBS |
| 8 | Oct. 28 (Thursday) | vs. Packers | 8:20 p.m. ET | Fox/NFLN/Amazon |
| 9 | Nov. 7 | at 49ers | 4:25 p.m. ET | Fox |
| 10 | Nov. 14 | vs. Panthers | 4:05 p.m. ET | Fox |
| 11 | Nov. 21 | at Seahawks | 4:25 p.m. ET | Fox |
| 12 | BYE | – | – | – |
| 13 | Dec. 5 | at Bears | 1 p.m. ET | Fox |
| 14 | Dec. 13 (Monday) | vs. Rams | 8:15 p.m. ET | ESPN |
| 15 | Dec. 19 | at Lions | 1 p.m. ET | Fox |
| 16 | Dec. 25 (Saturday) | vs. Colts | 8:15 p.m. ET | NFL Network |
| 17 | Jan. 2 | at Cowboys | 1 p.m. ET | Fox |
| 18 | Jan. 9 | vs. Seahawks | 4:25 p.m. ET | Fox |
Monday Night Football schedule 2021
| | | |
| --- | --- | --- |
| Week | Date | Matchup |
| Week 1 | Sept. 13 | Las Vegas Raiders vs. Baltimore Ravens |
| Week 2 | Sept. 20 | Green Bay Packers vs. Detroit Lions |
| Week 3 | Sept. 27 | Dallas Cowboys vs. Philadelphia Eagles |
| Week 4 | Oct. 4 | Los Angeles Chargers vs. Las Vegas Raiders |
| Week 5 | Oct. 11 | Baltimore Ravens vs. Indianapolis Colts |
| Week 6 | Oct. 18 | Tennessee Titans vs. Buffalo Bills |
| Week 7 | Oct. 25 | Seattle Seahawks vs. New Orleans Saints |
| Week 8 | Nov. 1 | Kansas City Chiefs vs. New York Giants |
| Week 9 | Nov. 8 | Pittsburgh Steelers vs. Chicago Bears |
| Week 10 | Nov. 15 | San Francisco 49ers vs. Los Angeles Rams |
| Week 11 | Nov. 22 | Tampa Bay Buccaneers vs. New York Giants |
| Week 12 | Nov. 29 | Washington Football Team vs. Seattle Seahawks |
| Week 13 | Dec. 6 | Buffalo Bills vs. New England Patriots |
| Week 14 | Dec. 13 | Arizona Cardinals vs. Los Angeles Rams |
| Week 15 | Dec. 20 | Chicago Bears vs. Minnesota Vikings |
| Week 16 | Dec. 27 | New Orleans Saints vs. Miami Dolphins |
| Week 17 | Jan. 3 | Pittsburgh Steelers vs. Cleveland Browns |