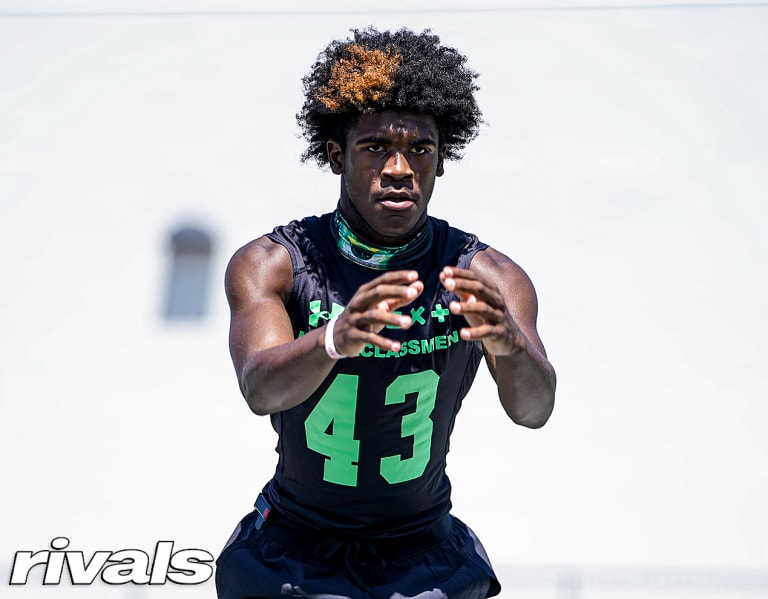 Recruiting Rumor Mill: More of the latest buzz this week
The message from Tennessee to Boley could not be clearer that he's at the top of the quarterback board and that he's a major priority in the 2025 class. That has gone over well as the Lexington (Ky.) Lexington Christian Academy four-star quarterback has hit it off with coach Josh Heupel and offensive coordinator Joey Halzle.
Michigan, Kentucky, Penn State, Florida State, Alabama and Miami also stand out.
*****
Washington, Tennessee, Georgia and Alabama have been showing the most interest in the recent USC decommit, although 13 schools have really piqued Butler's interest at this point. The Calabasas, Calif., four-star athlete is expected to visit Colorado this weekend and it could be interesting to see what he thinks of the Buffaloes after spending more time there with new coach Deion Sanders.
*****
The momentum Tennessee has with Carter is significant. The 2024 four-star athlete from Chattanooga (Tenn.) Chattanooga Christian School was at the Vols' win over Alabama and spent a lot of time at junior day this past weekend with coaches Josh Heupel, Tim Banks, Kelsey Pope and Willie Martinez. From playing Madden to spending time at the basketball game, the Vols are clearly one of the frontrunners. It's still a little too early, though, to count out others.
*****
He's from Wisconsin and the Badgers carry a lot of weight with players across the Midwest, but Illinois is making a significant run at Catalano and his visit there this past weekend only continued to help the Illini. The 2025 linebacker from Germantown, Wisc., loves the staff in Champaign, had a great time during the trip talking to them about football and everything else and continues to have Illinois as one of the early favorites.
*****
Getting back to Florida was definitely beneficial for Guarnera and spending time with coach Billy Napier and assistant Rob Sale was huge as the Gators remain one of the key players in his recruitment. Seeing the business school, getting some time downtown and having a better feel for Napier's vision all helped Florida on this trip as it, along with Penn State, NC State, Rutgers, North Carolina and Michigan, look best.
*****
The pitch from Florida to the 2024 three-star defensive end from Gainesville (Fla.) Buchholz was an interesting one – to not only pick the Gators because it's the hometown team but also because it's the place he wants to be. That definitely struck a good nerve with Jackson, who was equally impressed that each position coach took players to break down film during the junior day. Others are involved, but Florida has to like where it stands right now.
*****
Florida State was the dream school for Jacob, so getting to campus last weekend was definitely a big deal – and then Jacob had a phenomenal time in Tallahassee. The FSU coaches loved the 2024 four-star safety from Orlando (Fla.) Evans on film as the Noles – along with UCF, Maryland, Colorado and others – are involved. FSU could be tough to beat at this point though.
"I just felt like I was already on the team," Jacob said
*****
Johnson is taking a unique approach to recruiting since facilities aren't going to be a big factor in his decision. Meeting with the coaches and getting a specific rundown of how he will be benefited both academically and athletically will be the keys. Last weekend at Florida, the 2024 four-star cornerback from Lafayette (La.) Lafayette Christian Academy liked a lot of what he heard as the Gators, Georgia, Colorado, Texas and LSU stand out most. He will be in Austin this weekend.
*****
Tennessee and Vanderbilt have made an especially big impression on the 2025 quarterback from Brentwood (Tenn.) Brentwood Academy, but it's still very early and others have stood out as well. Coaches are stopping by MacIntyre's school all the time, so his recruitment could continue to be busy, and a new offer from Texas A&M has been noticed because the Aggies are recruiting so well.
*****
Recruiting is just getting underway for Oatis, but it's already highly productive as he's landed double-digit offers. The 2025 defensive lineman from Hattiesburg (Miss.) Oak Grove has paid particular attention to the Georgia offer since it was such a surprise the Dawgs decided to offer, but Texas A&M and Ole Miss also stand out early. All offers are being considered, especially since things are happening so fast.
*****
A top 15 on New Year's Day cut Robinson's list a little bit, but it still didn't give a significant view into which schools are his frontrunners, although after a weekend visit to Florida State, he likes what he's hearing from the Seminoles. Florida, Georgia, UCF and others are very much in the running and the word is the Orlando (Fla.) Jones four-star defensive lineman might not go too far from home. But the FSU coaches not sugarcoating anything and telling him about the expectations they have inside the program definitely impressed Robinson.
*****
The 2024 four-star defensive end from Birmingham (Ala.) Vestavia Hills continues to see his recruitment pick up with at least a dozen offers already, but a half-dozen programs are starting to look best. Texas, Georgia, USC, Tennessee, Vanderbilt and Ole Miss have made the biggest impressions so far, with the Longhorns being his newest offer.
*****
A new offer from Texas A&M is "huge" for Russell, especially because new offensive coordinator Bobby Petrino has worked so well with bigger backs during his coaching career and the NIL opportunities and Aggie Network could set him up even more. The 2024 four-star running back from Benton, Ark., had been previously committed to the Razorbacks, but he reopened his recruitment and the Aggies and others are making things interesting again.
*****
Simmons' new Miami offer is not just another one to consider. It's "really big," since the 2025 quarterback is right up the road in Pahokee, Fla. The Hurricanes will definitely be a school to watch, but Florida State, Louisville, Vanderbilt, Texas A&M and Arkansas are others to watch.
*****
Purdue has offered the 2025 offensive tackle from Waukesha (Wisc.) Catholic Memorial since the Illinois junior day, and the Illini definitely impressed last weekend. Strebig loves the facilities in Champaign, continues to bond with the coaching staff and it meant a lot to him when he was told he's the only 2025 offensive lineman with an offer from Illinois right now.
"They offered me because they believe in me and that their program can take me to the next level," Strebig said.